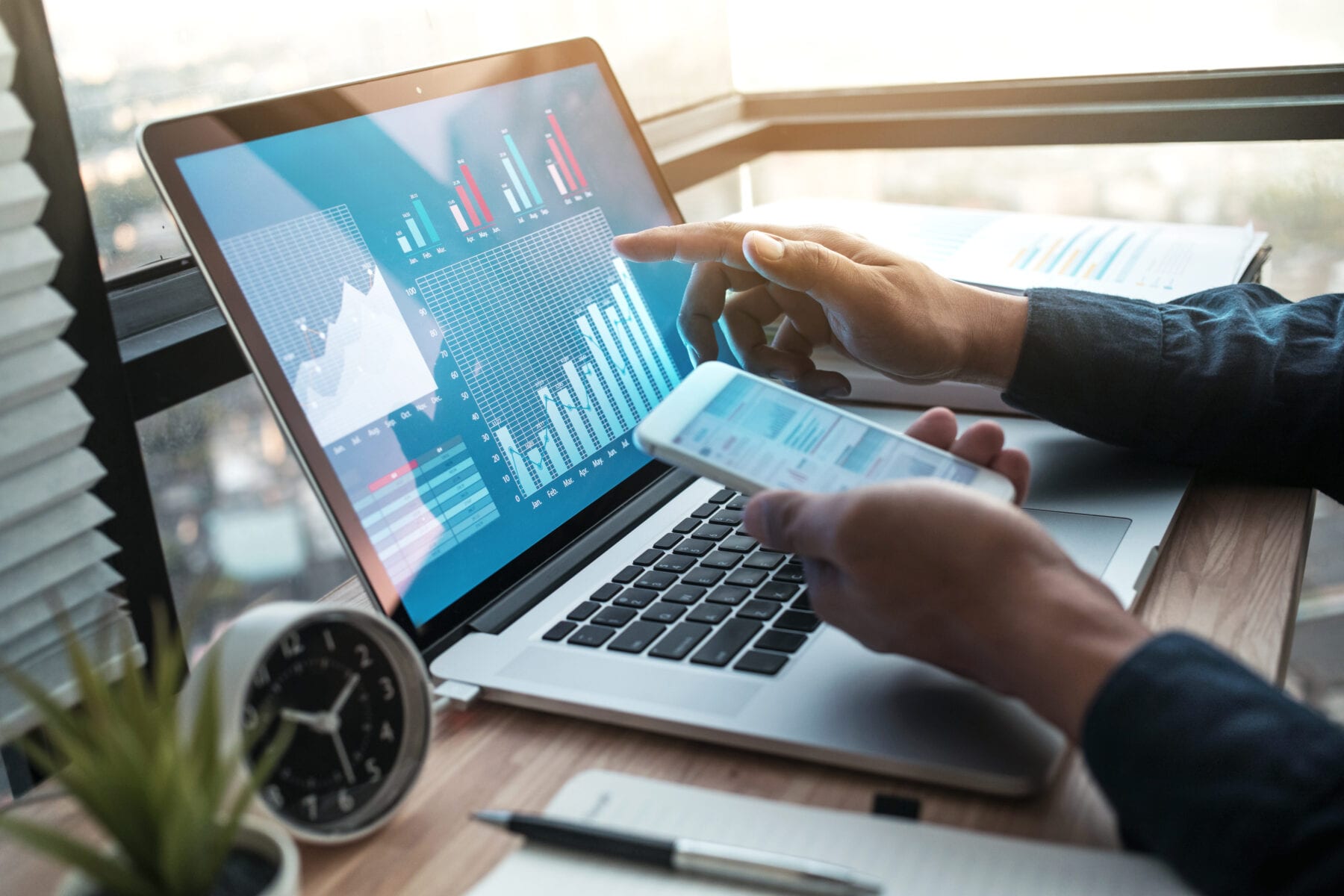 One of the competitive advantages you gain when you become a member of Amazon's Brand Registry program is that you get access to Brand Analytics.
Brand Analytics is Amazon's exclusive suite of data tools that allow you to track customer behavior and search term trends, and see how your products perform compared to your competitors.
The tools inside Brand Analytics provide four main benefits:
Search Term Analysis
Competitor Insights
Customer Behavior Insights
Demographic Insights
With access to this data, you're able to make more well-informed decisions about how to market and advertise your current products and what products to launch next.
In this article, we're going to break down four features that Brand Analytics offers.
Brand Analytics Feature #1 – Amazon Search Terms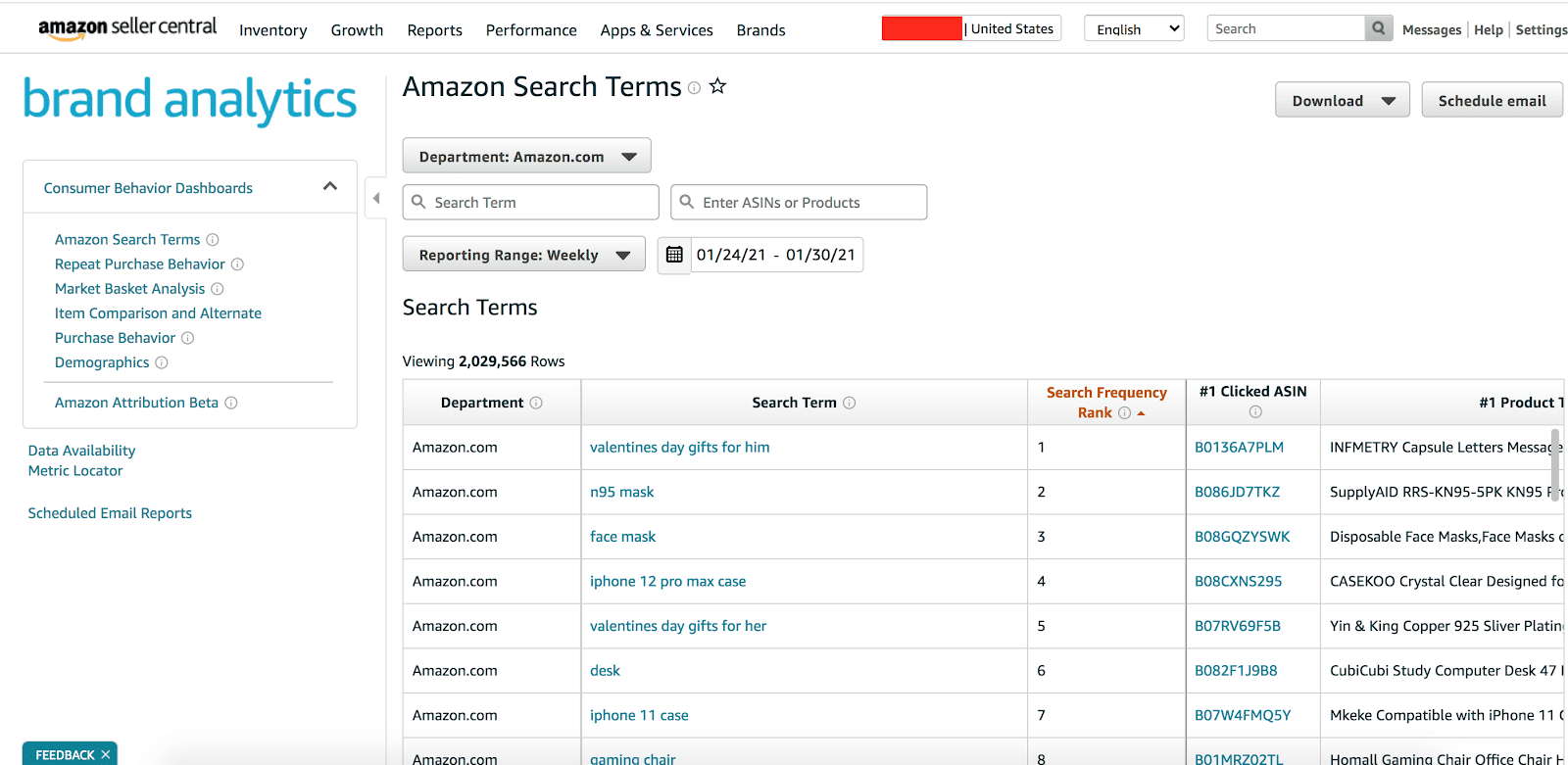 The most valuable feature of Brand Analytics is Amazon Search Terms. This feature gives you insight into how customers find you and your competitors' products.
You can take those insights and optimize your listing with targeted keywords that increase your page visits, and thus your odds of getting sales.
With this feature, you're able to thoroughly identify and analyze your competitors because you'll get to see what listings have the highest clickthrough rates for specific keywords.
Once you identify those listings, you can analyze their title, photos, bullets, and descriptions, and see what areas you might be able to adapt and mold to fit your product listing and offers.
The chart for the Amazon Search Terms feature has four data points:
Search Frequency Rank – A numeric rank given to a search term based on how popular it is compared to other search terms in a given time period. It's important to note that Amazon doesn't reveal search volume for the search terms, but you can get search volume estimates with tools like Helium 10 and JungleScout.
Top Clicked ASINs – The top three ASINs with the highest clickthrough rate for a search term in a given time period.
Click Share – The percentage of clicks an ASIN gets for a search term, compared to the total clicks that search term received in a given time period.
Conversion Share – The percentage of sales an ASIN receives from a search term in comparison to the total sales that the search term produces in a given time period.
You can see each of the columns in the photo below: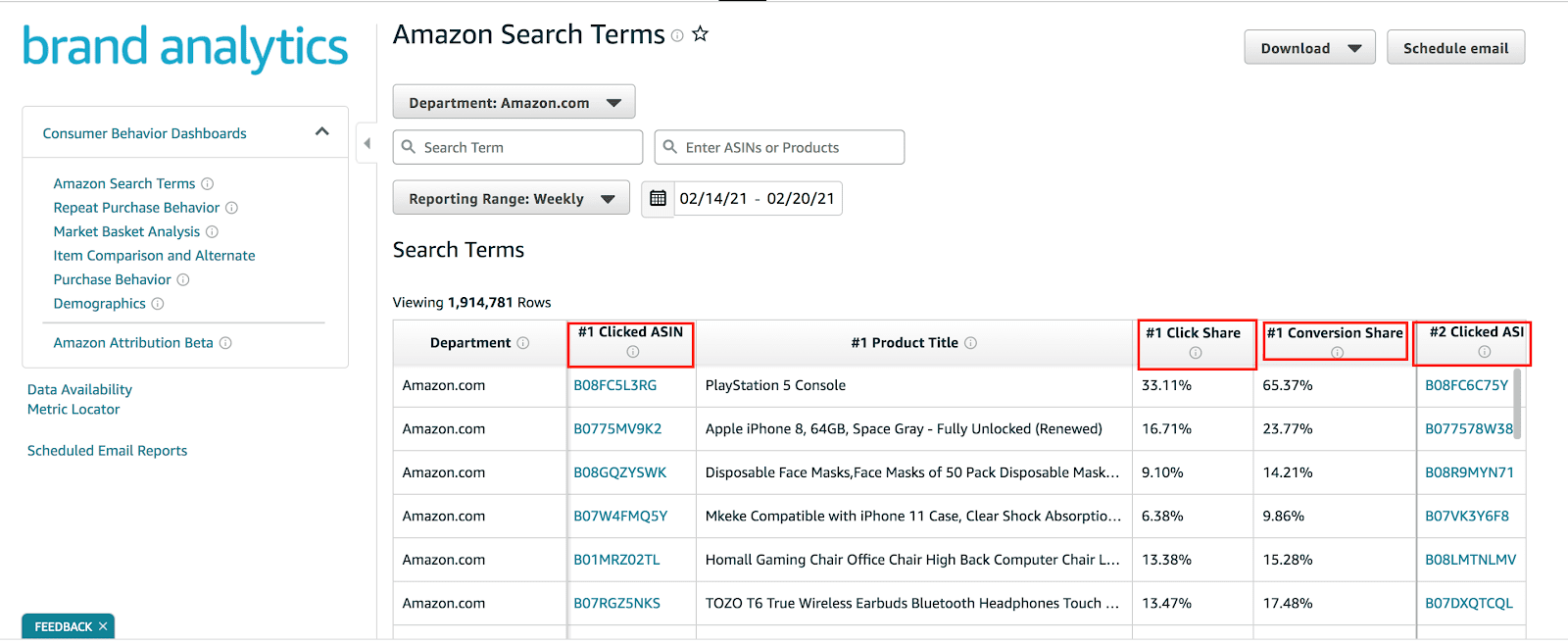 Another way you can use the Amazon Search Term feature is if you see a listing that's selling like crazy, and you want to find out what search terms get that listing the highest clickthrough rate, then you can search the ASIN directly.
Let's look at the OXO Garlic Press product listing on Amazon.
When we enter the product ASIN in the search field, we get the following results: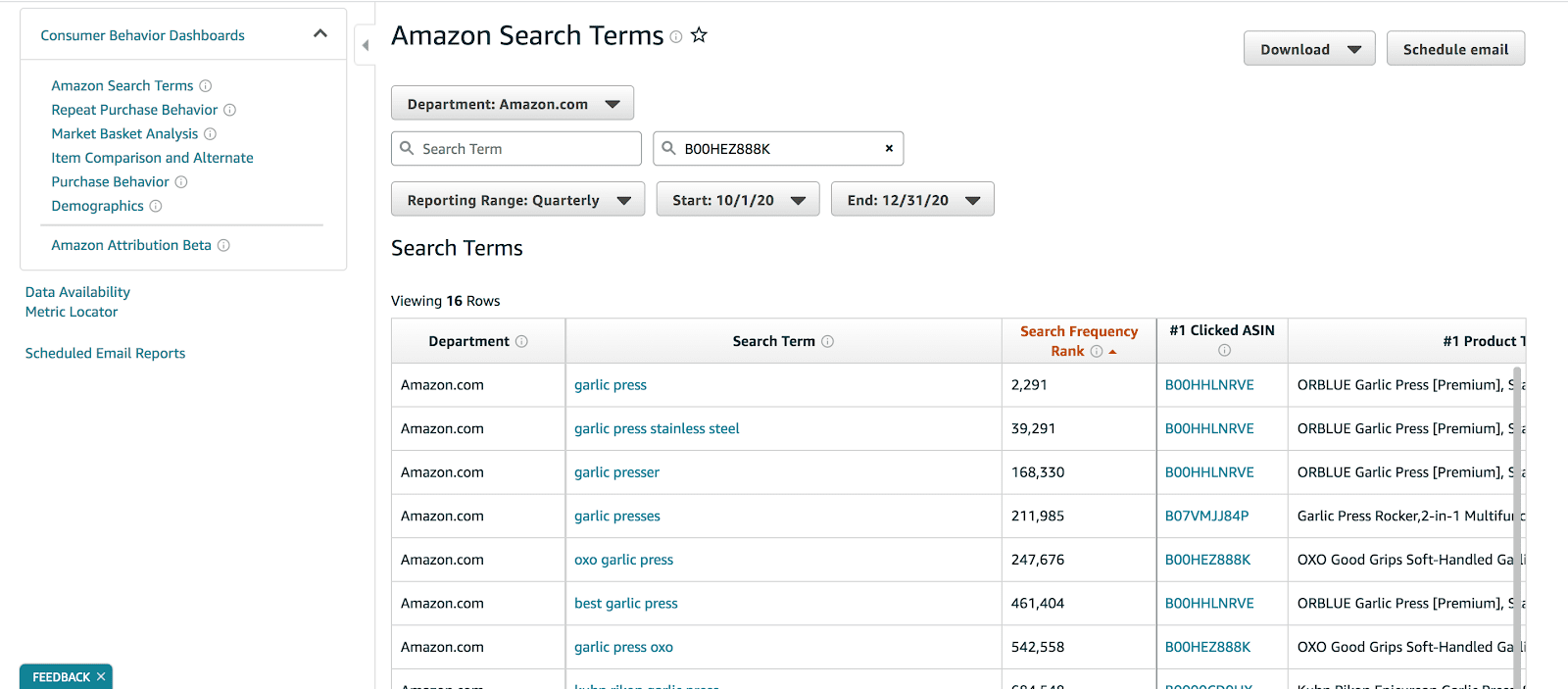 Once you know what's working for your competitors, you can use those same search terms in your listing and your advertising.
With Amazon Search Terms, a lot of the effort and guesswork is removed because you get data straight from the source—i.e., Amazon.
Brand Analytics Feature #2 – Market Basket Analysis
The Market Basket Analysis feature allows you to see what products your customers purchase along with your product. With this information, you gain clarity on what new products or bundles you can launch that would most likely succeed.

A very valuable aspect of this feature is that you can also search other brands' products to see what customers tend to buy with those products.
And if you want to expand your product line, you can use this data to develop a product (or bundle) that is new and valuable to the marketplace and is likely to succeed.
Brand Analytics Feature #3 – Item Comparison and Alternate Purchase Behavior
The Item Comparison and Alternate Purchase Behavior feature is where you find out who your real competitors are and how customers view you in comparison. This feature also gives you insight into how your market sees their problem and what they believe the best solutions are.
Let's start with the Item Comparison feature:
The Item Comparison feature gives you insight into customer browsing patterns. The chart shows you the top five products that are viewed parallel to your product.
On the chart, besides each product, you'll see the percentage of times each product was viewed by customers who viewed your product on the same day.

Similar to the Item Comparison feature, the Alternate Purchase Behavior feature shows you the top five products that prospects purchase after viewing your product.
On the chart, you'll see each product ranked from the top alternative product that's most frequently purchased, to the lowest. You'll also see a percentage of the sales each alternative product got compared to the other five alternative products.
Once you know what items prospects who viewed your product end up purchasing, you can analyze those offerings and listings and see what those sellers are doing that makes prospects purchase from them instead of you.
Another advantage of the Item Comparison and Alternate Purchase Behavior feature is that you get to see your main competitors' ASINs, so you can target them directly in your PPC campaigns.
Brand Analytics Feature #4 – Demographics Insights
Understanding your customer demographics helps you target the right audience and craft the right marketing messages that lead to sales.
The Brand Analytics Demographics Insights feature gives you sales statistics across five demographics:
Age
Household Income
Education
Gender
Marital status
The feature allows you to see the demographics of your customers, but you can also search the demographics of other ASINs.
If you've run ads on Facebook, this feature is similar to Facebook's Audience Insight tool.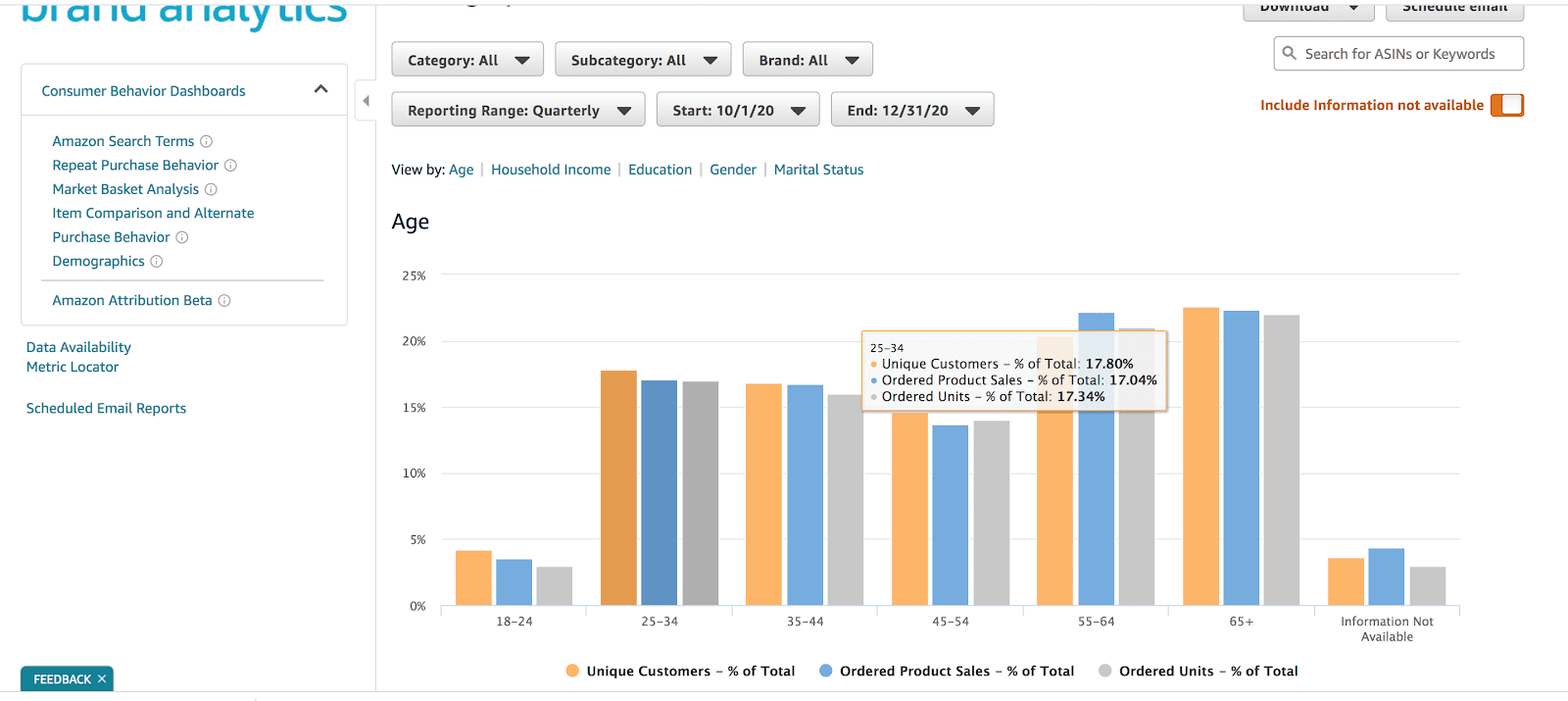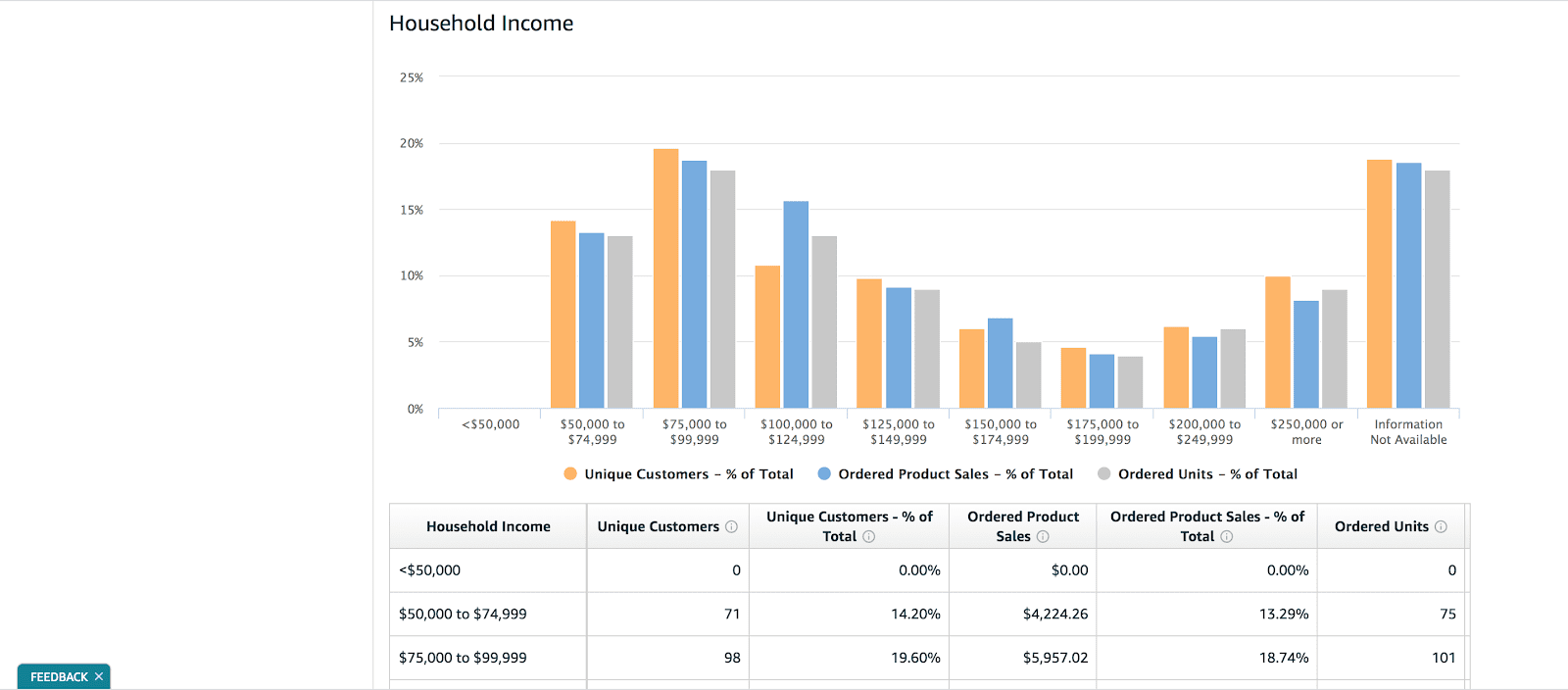 Wrapping Up
Amazon's Brand Analytics tool is a great addition to your other third-party research tools like Helium10, Zonguru, and JungleScout.
But what's great about Brand Analytics is that you get first-hand data from Amazon—so you're getting the most accurate data.
If you're not already brand registered, make sure you enroll in Amazon's Brand Registry program so you can get access to these exclusive tools to help you make accurate and successful decisions.
Happy Selling,
The Page.One Team
The Last Word:
Because Amazon keeps a lot of their data private, anytime you can get data from them directly, you save yourself time, money, and effort.
Use the Amazon Search Term tool to see what search terms are most responsive. Then enter those search terms in a third-party search volume tool and strategically target keywords in your listings and advertising from there.