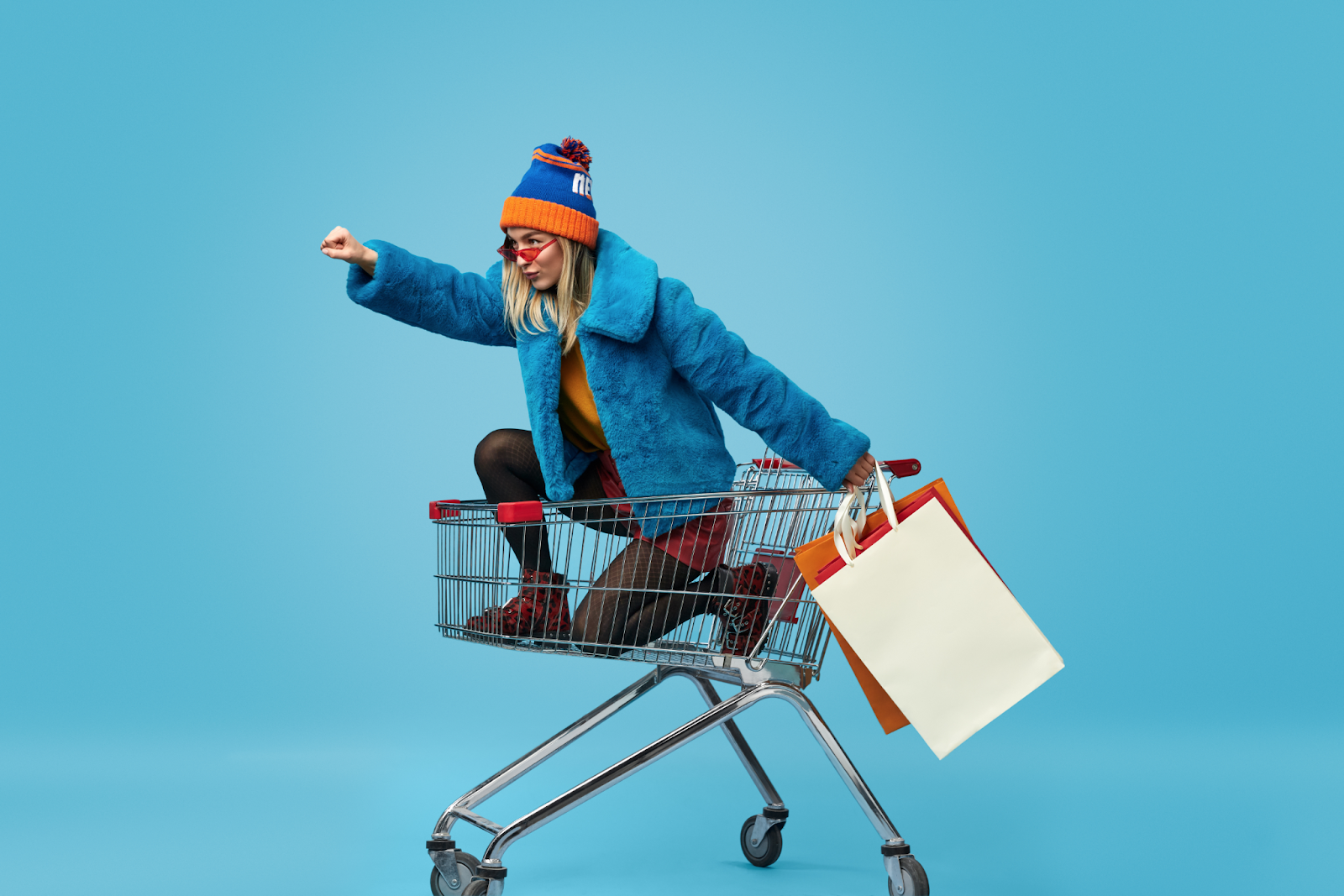 ***Hey, I know you came here to read about our tips on how to prepare for Amazon Prime Day 2021 but here's an update you won't want to miss!
Amazon Coupons Announcement
Drive even more traffic to your products by offering coupons! All ASINs with coupons will now have an Amazon coupon badge attached to them when appearing in search results, product details pages, coupons home page, and all throughout Amazon.
Here's what we know so far about the requirements:
Discount is at least 20%
Targeting is Prime Exclusive
ASINs are Prime
Coupons are submitted by 5/14/2021
Also straight from the official announcement: "Since Prime Day dates have not been announced, you will need to schedule your coupons for Prime Day Lead-up & Prime Day using the above placeholder dates. The placeholder dates are not the actual Start and End Dates of the event period and will not be the Start and End Dates that your coupon will run. Once Prime Day dates are announced, Amazon will automatically update the Start and End Dates for your Coupon to the actual Start and End Dates of the event period you chose and will be reflected in Seller Central. Coupons must meet the all criteria above to become eligible for Prime Day Coupon Date Adjustment."
More information about this at Seller Central here.
The Amazon Prime Day: 4 Tips to Prepare for the 2021 Sales Surge article continues below…
========
In 2015, Amazon launched its Black Friday-mimicking sales event called Prime Day. We're not sure if it was intended to last beyond 2015, but that year marked the 20th anniversary of Amazon, so the event was marketed as such.
Either way, the event has been held annually since then, and sales and revenue soar each consecutive year.
The event is exclusive to Amazon Prime members. In fact, the event itself drives a lot of new Prime membership sign-ups. According to one source, more people signed up for Prime memberships on Prime Day 2019 than any other prior day in Amazon's history.
While originally it started as a one-day event, it's now become a two-day event.
Interestingly enough, other eCommerce giants like Walmart, Target, and eBay have started to launch their own simultaneous deals days alongside Prime Day.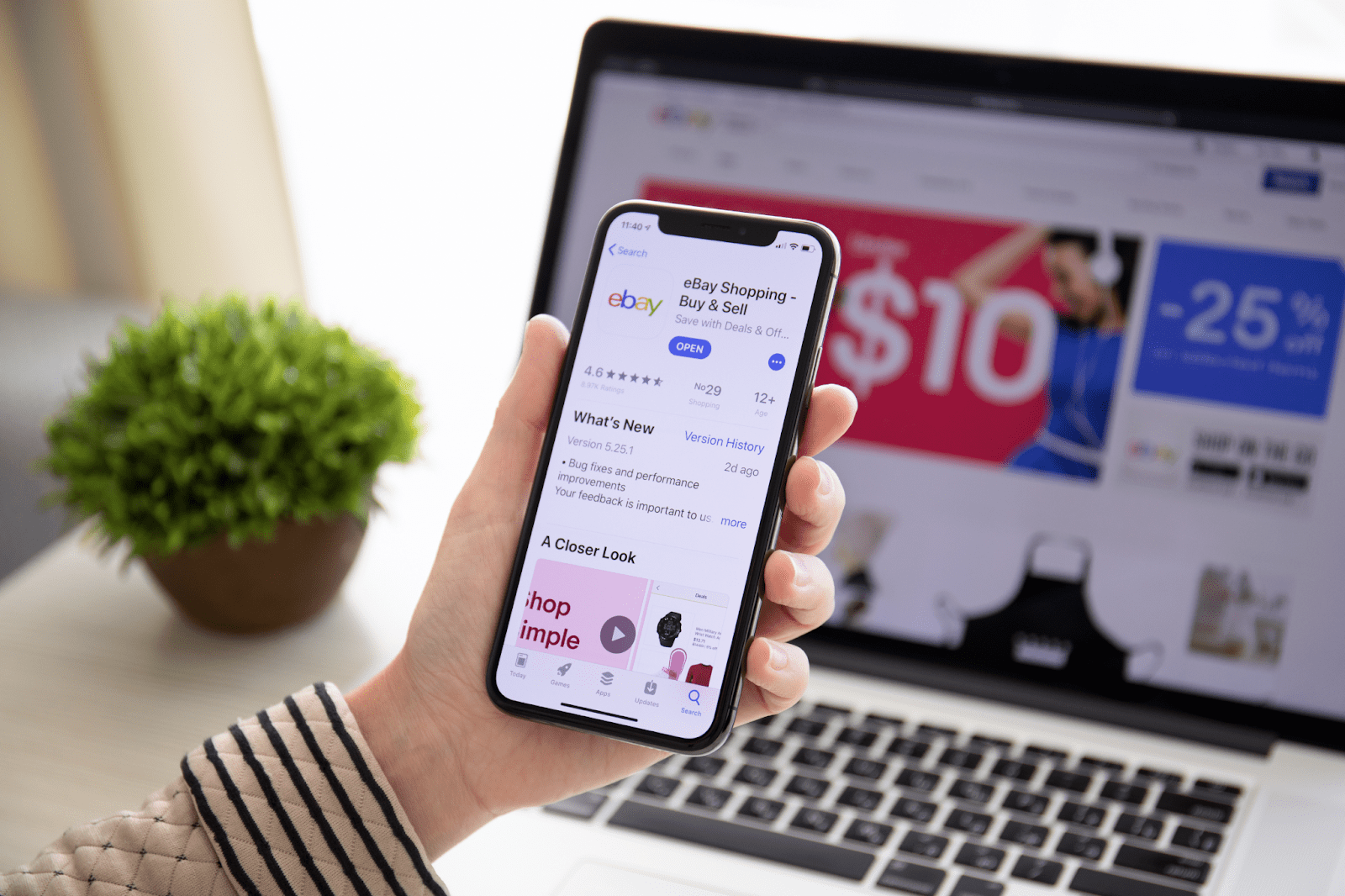 Smart move on their part: According to some market share data, as of 2020, Amazon holds at least 50% of the entire eCommerce market share. But on Prime Day, those other eCommerce giants get a major spike in traffic.
With summer approaching, we're getting closer to Prime Day. That's why you want to start preparing now.
Last year, due to the pandemic, Prime Day was delayed to mid-October, but recently Amazon announced Prime Day deal deadlines for April and May.
With those deadlines in place, it sounds like Prime Day should be on track to take place this summer. In the past, it tended to occur in early July. But at this point, no one knows for sure the exact dates.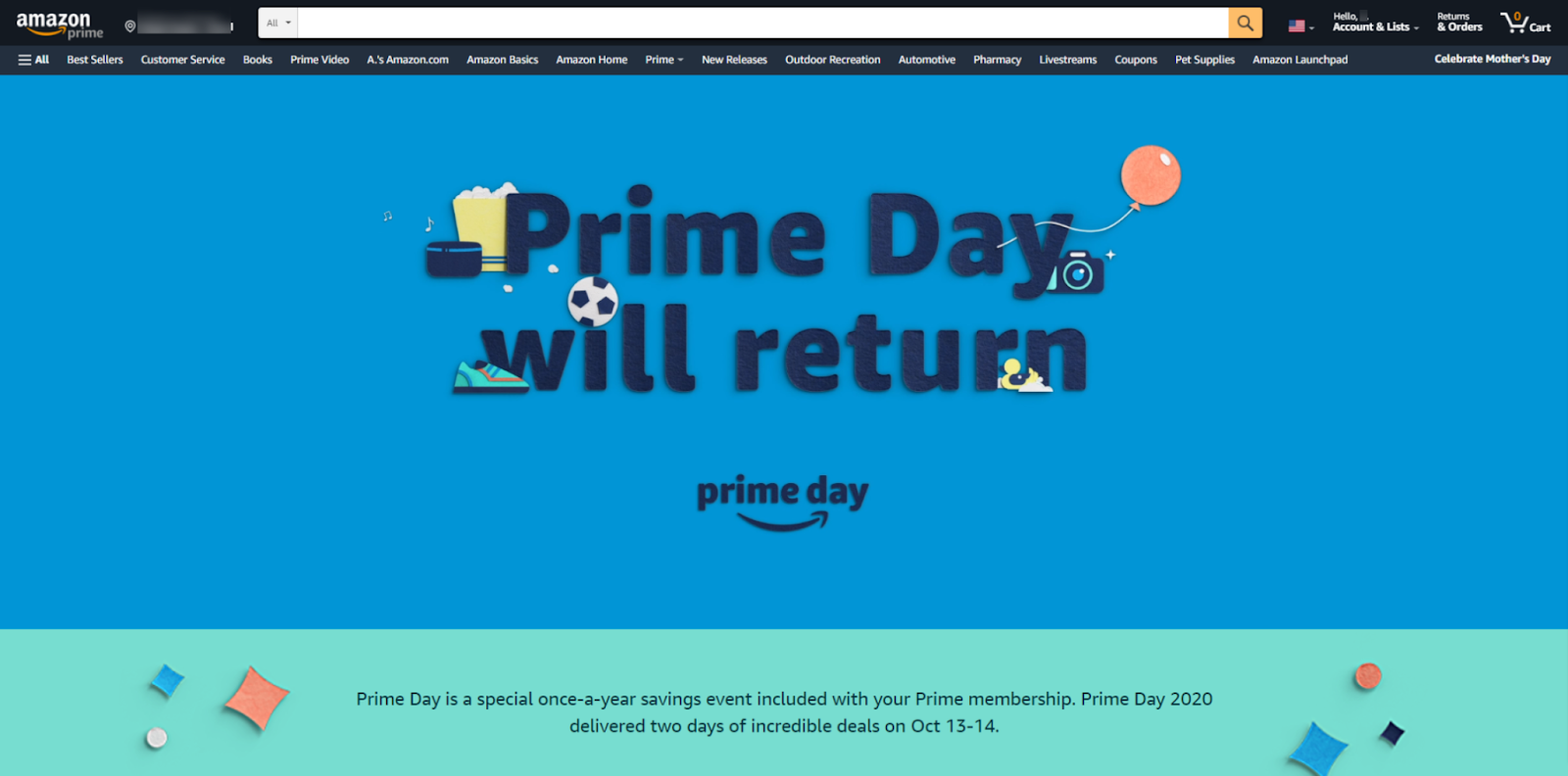 What we do know is that Prime Day 2020 saw a 45.2% increase in sales (with $10.4 billion sold) compared to 2019.
Amazon has a way of raising the bar. With the 2020 pandemic and the accelerated adoption of online purchasing, there's little doubt that Prime Day 2021 will be even bigger.
That's why, in this article, we're going to cover four key tips to prepare for Prime Day so that you capture the surge in traffic and enjoy a hefty boost in sales.
Amazon Prime Day Tip #1 – Product Selection
Prime Day is all about deals; therefore, the products you decide to promote can make all the difference in how well you sell.
If you want to run a coupon discount or Lightning Deal, you have to submit a Prime Day deal application. But here's the problem, there are only a limited number of products selected for each category. So, you want to choose products that already have a reliable sales history, a high rating, and a decent chunk of reviews.
Even if you don't run a coupon discount or lightning deal, think about what products will likely sell on Prime Day?
You'll want to make sure they're in stock, you have the inventory to support a surge, and you've collected enough advertising data that will allow you to run strategically targeted ads.
Amazon Prime Day Tip #2 – Integrated Feedback
In general, the longer your listing is live, the more feedback you accrue. You get emails from customers, questions on product pages, reviews, ratings, returns, and so on. These things tell you whether you're meeting customer expectations or not.
Audit your reviews and customer emails and update your listing with a copy that speaks to the most common concerns. Also, consider updating your product images and A+ Content to address those concerns.
Let's look at an example of how we might use reviews to update our listing copy. Here are several reviews on a blender listing: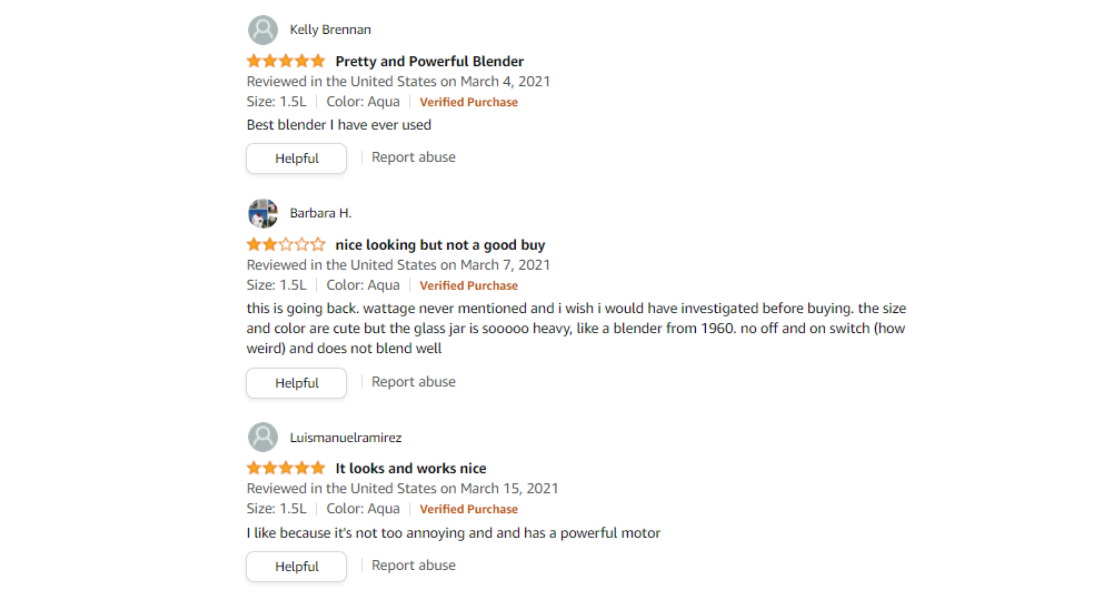 There's a decent amount to work with here. This seller could easily extract some copy upgrade ideas from all three of these reviews.
From the first review, they could borrow the phrase "pretty and powerful blender" and plug it into their listing copy.
In the second review, they could use the comment on the missing wattage details and emphasize that a bit more in your copy.
In the third review, they could extract the "not too annoying" line and use it as well.
Now, you can't always address each and every complaint right away. So, you might have a list of changes that you want to make to your product, listing, or promotions. If you've been putting off those changes, do them now.
Do whatever you can to your listing to make it more persuasive to visitors. Remember, Prime Day is a one-time-a-year event (as of now), use it to take advantage of the surge in traffic. Speak to prospects' concerns. Gain more customers. Deliver. And they'll come back to you for more.
Amazon Prime Day Tip #3 – Dedicated Marketing
Proper preparation for Prime Day happens way before the event occurs. In this period, you can set up a subpage on your Amazon Storefront that's dedicated to the products that you want to push on Prime Day. You can then drive traffic to this subpage from your email list, social media, and off-Amazon advertising.
Here's an example of a storefront that has a "Featured Deals" subpage: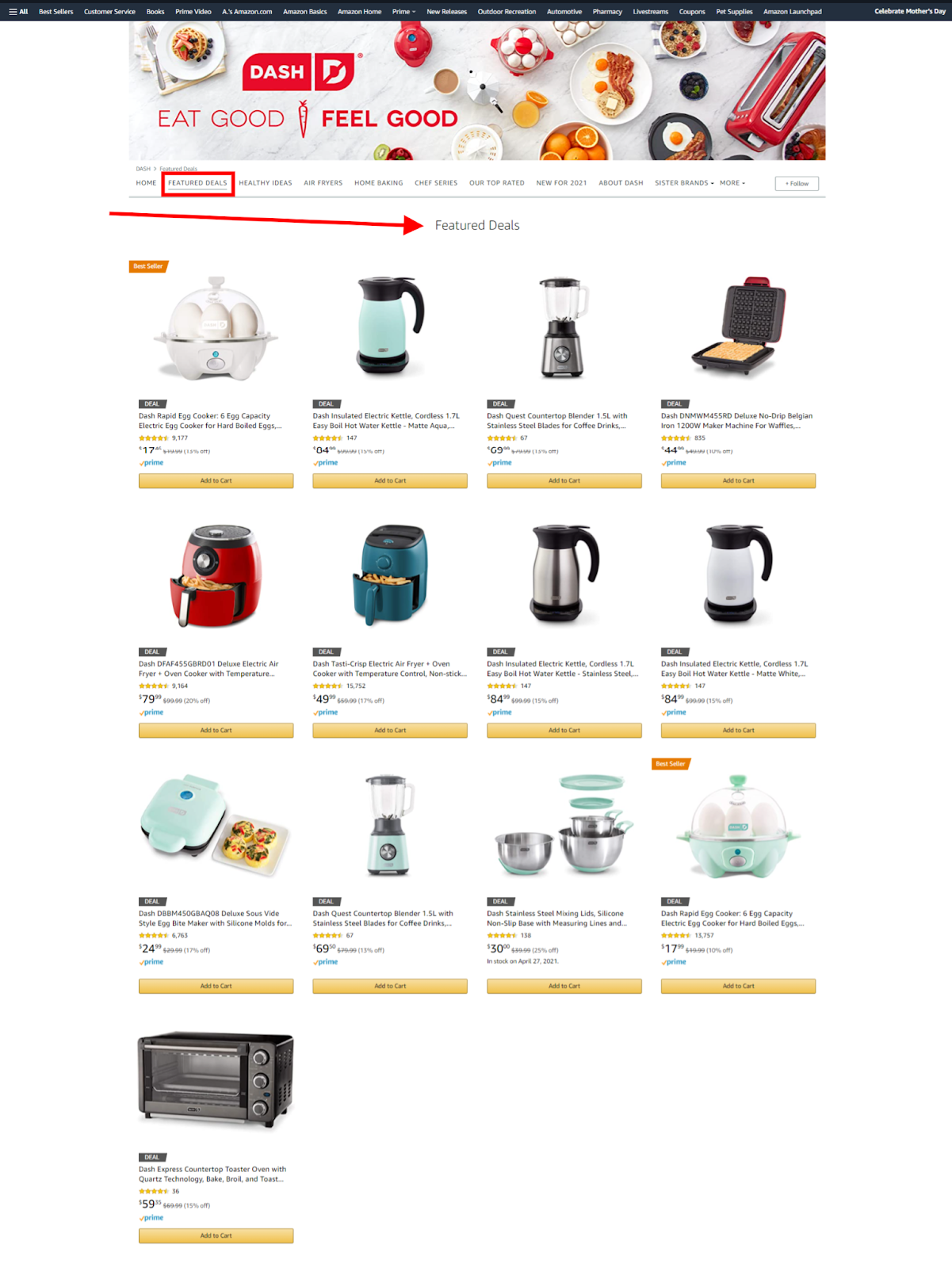 Consider doing the same, but for Prime Day
For products that you want to discount, be sure to submit your Prime Day coupons for approval. Once these coupons are live, they show up as a bright orange tag, so they're very apparent.
Even if you don't use coupons, you could still discount your products by manually reducing the price. Problem is, customers may not be aware that it's discounted, so they might not be driven to buy because it's not seen as an outright deal.
Don't hesitate to post on social media leading up to the event. One way some brands run their Prime Day social media promotions is by teasing Prime Day event participation, but not revealing the discounted products until the day before (or the day of) the event.
Amazon Prime Day Tip #4 – Advertising Finesse
Amazon Advertising is a part of any serious sellers' everyday promotional plan, but when it comes to Prime Day, you want to be extra prepared.
First, you might consider raising your bids to increase your visibility. The increased traffic on Prime Day may lead to increased revenue, so keep that in mind if/when you're setting bids 2x your previous bids.
Another way to use advertising for Prime Day is to advertise on other platforms like Facebook and Google AdWords.
Like mentioned earlier, market data shows that searches on other platforms increase dramatically on Prime Day.
Maybe your ads won't show up on Amazon as much—due to increased bid competition, but you can still use less direct methods to gain traffic.
The cool thing about advertising on other platforms around (and on) Prime Day is that audiences are already primed to shop on Amazon with all the Prime Day ads that appear on the radio, streaming services, and tv, days leading up to the event.
Finally, one other way to finesse advertising is by setting up Amazon Lightning Deals. Lightning Deals are scarcity-driven promotions on an Amazon product that limit the number of recipients and have a several-hour time limit.
Typically, Lightning Deals show up on Amazon's "Today's Deals" page or randomly in other locations on the platform, but on Prime Day, they're also on the dedicated Prime page.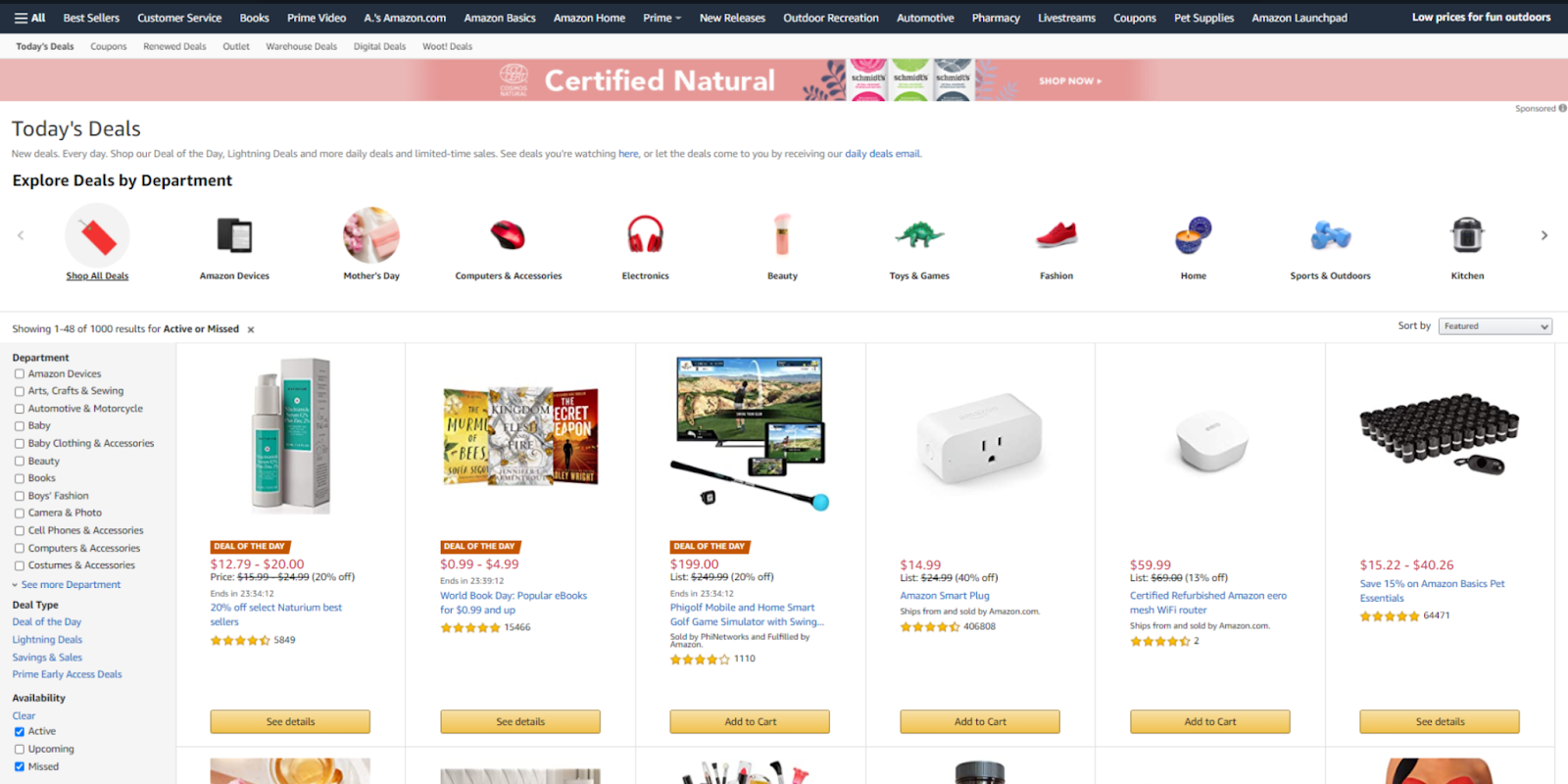 Now, you might be wondering, what's the cost?
On Prime Day, Lightning Deals cost $500.
If you want to run on the week of Prime Day, you'll pay $300.
Keep in mind: Amazon warns that the fees are subject to change.
Wrapping Up
Similar to Black Friday and Cyber Monday, to truly take advantage of Prime Day, you must prepare. Sure, you might inadvertently get sales with no extra work, but that's not what serious sellers do.
Think of Prime Day as a longevity play. The more prospects that get exposed to your brand and purchase from you on Prime Day, the more repeat sales you can get, the better your ranking and the more market share you can retain.
Deploy these four tips and be sure to check out Prime Day deal deadlines if you plan to run one this year.
Happy Selling,
The Page.One Team
The Last Word:
Prime Day is often talked about in light of increased revenue, but another way to think about it is as an opportunity to save costs.
If you have inventory that's been moving slow, Prime Day is a great opportunity to get rid of products so that you don't have to pay pricey storage fees. Since Prime Day brings so much traffic, you can still make decent money. So, if you're in the slow inventory camp, consider lowering your price and promoting the discount on your social media pages.