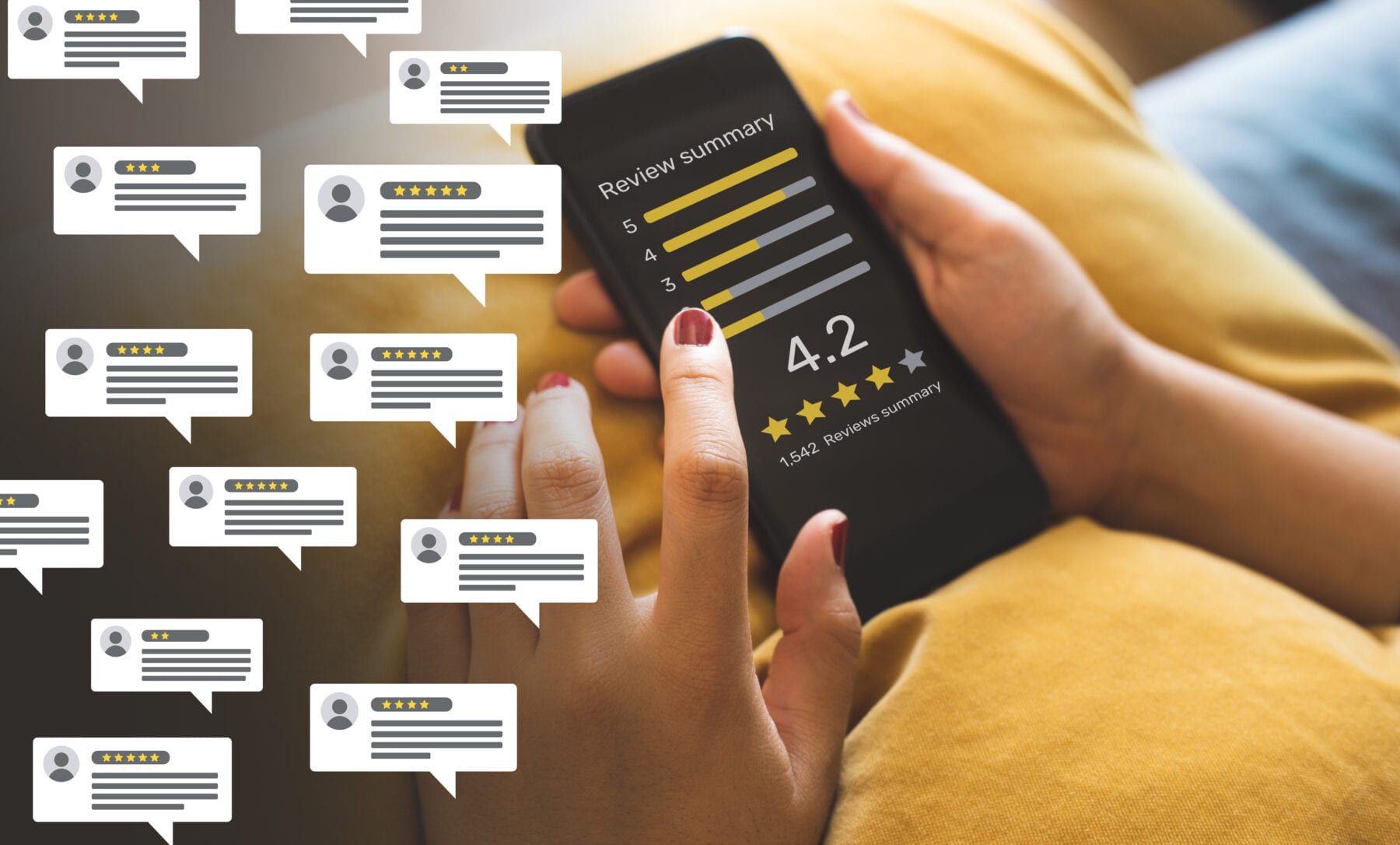 One of the major factors that influence an Amazon customer's decision to click on your product listing is whether or not you have product reviews.
From a psychological point of view, reviews help a prospect determine which products they should explore further.
A product listing with little to no reviews gets passed up because it forces the prospect to invest more time and energy exploring the potential pros and cons of the product. People don't like to make mistakes, so they outsource their mistake-making to others by selecting products with higher review counts.
Now, if you're a new brand and you just started selling on Amazon, getting reviews can seem like a big hurdle to jump.
In the past, you were able to incentivize reviews by giving customers a hefty discount or offering them an item in exchange. Today, you're not allowed to do that. You also have to be very careful with your messaging. For example, you're not allowed to use language that sounds manipulative, such as, "We're a small mom and pop business and need as much support as we can get."
While it used to be easier to get reviews, there are still a few methods that are quite reliable. In this article, we're going to cover three reliable Amazon product review methods. But first, let's cover the ways you can get reviews using Amazon-driven services.
How to Get Reviews on Amazon Using Their Services
Amazon offers a few ways to get reviews that don't require you to do much. One of those ways is through their automated satisfaction email.
Amazon will regularly (but not always) send a follow-up email a few days after a customer's package is delivered. In this email, they ask the customer how satisfied they are, and they give them an opportunity to rate your product.
Here's what a review from an Early Reviewer looks like: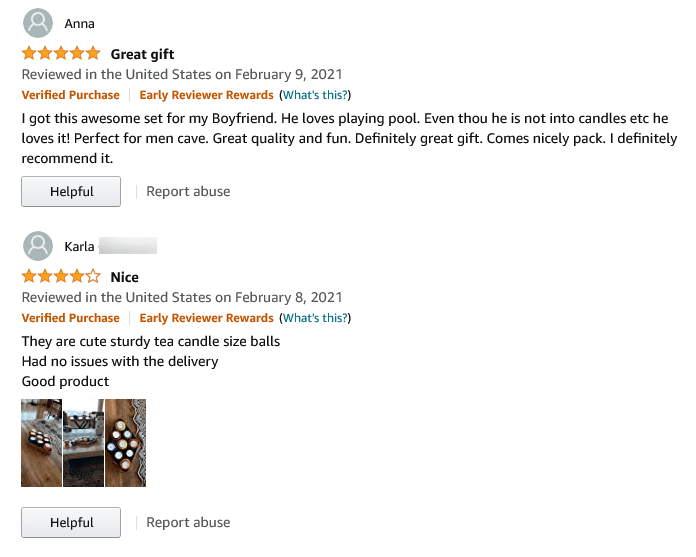 You don't have to do anything to have Amazon send a follow-up email. They do it on their own.
A second way that allows you to get Amazon product reviews easily is through their Early Reviewer Program.
Amazon started offering this program a few years ago. While your brand is not able to incentivize customers for a review, Amazon is. And that's what they do through their Early Reviewer program.
You sign up on your seller dashboard under advertising. Once you're enrolled and submitted your products, Amazon will offer customers a $3 gift card in exchange for a review.
Once you get one review from the program, you're charged the one-time $60 fee, and then Amazon will continue to make the $3 gift card offer to your customers for up to a year until you get five reviews through the program.
Both of these methods are really simple. One requires you to do nothing. And the other requires you to enroll and pay $60. Compared to a lot of methods that were used "back in the day," these options are a lot simpler.
Now that we've covered the Amazon-driven review methods, let's discuss some review methods that you have more control of as a seller.
Amazon Product Review Method #1 – The Request Button
In 2019, Amazon launched the "request a review" button in Seller Central.

For each order, you're now able to manually request a review within 4 – 30 days of purchase. However, some sellers find they're able to request a review in under 4 days.
Amazon only allows you to request a review once. But it's a great feature because it allows YOU to control when you ask for a request.
Sure, Amazon may send an automated email that gives the customer an opportunity to review your product, but now you can too.
One of the benefits of this push-button review request approach is that the emails are Amazon-branded, so it might make the customer more likely to respond than if the request was coming from your brand directly.
One of the limits to this method is that you can't control the messaging.
Currently, these "request a review" emails have a standard message that says something along the lines of, "Your opinion matters! Seller John is requesting your feedback," along with an image of the product, and five empty stars for the rating.
Not bad, but also not very personalized.
Amazon Product Review Method #2 – Inserts
So, how to get reviews on Amazon, but retain the ability to control the messaging? Well, one way to do that is through a product insert.
Now, while you can control your messaging, there are rules. For example, you can't ask for a 5-star review, or offer a coupon or product if your customer leaves you a review.
Here are some best practices for inserts:
Offer important information—like warranty or cleaning instructions—about the product on the insert. This makes it more likely that the customer will read the insert and see your note that asks for a review.
Place photos on your insert. An insert with only text is easy to overlook. Including a few graphics (maybe of how to use the product) can help attract attention.
Remind the customer of the unique benefits of your product and why they bought it in the first place. Doing this can help reduce feelings of buyer's remorse that may come up after the purchase.
Offer support and ways to contact you. If a customer has a problem, you want them to go to you first instead of leaving a negative review. But you don't want to tell them to not leave a negative review. Just offer your customer support information without connecting it to your review request.
And keep in mind…
You want to make sure the support phone number or email you provide is regularly monitored. You don't want to encourage a negative review like this one:

Amazon Product Review Method #3 – Email Follow Up
For whatever reason, you're not able to get inserts prepared in time before your Amazon product goes live. No problem. Here's how to get reviews on Amazon without an insert:
Third-party email services.
Similar to inserts, what's great about emails is that you can control the messaging. There are several services that offer Amazon email automation.
These services allow you to pull data from Amazon orders and send automated emails on specific dates that offer customers more information about their orders and ask them for a review.
Also, similar to inserts, there are rules for your email communication. Amazon only wants you to send what they call "permitted messages". Here are their words:
"We define permitted messages as those communications necessary to complete an order or to respond to a customer service inquiry."
What that basically means is that you're not able to send simple goodwill messages that say things like, "Hi John, I just want to say thank you for choosing us."
You can only send messages within 30 days of purchase that are necessary to close the transaction. Fortunately, included in those allowed messages are review requests. But here's the thing: You're only allowed to send one.
What's great about using third-party email services is that you can see your open rate and click rate data. This allows you to optimize your messaging for the most response.
This method also allows you a second opportunity to send your customer instructions. If a customer loses the physical copy of the product instructions, they now have a clear place to go to get them: their email.
This "backup" set of instructions decreases the likelihood of them leaving you a negative review.
Here's an example of how an instructional email can help boost reviews:

This customer directly states that what gave them great satisfaction was the "kind customer service" and suggestions they received via email.
Now, there are some things you can't include in your emails, for instance, coupons, links to your website, and any attachments or links that aren't needed to complete the order.
You're also not able to ask for only positive reviews or request a review to be removed.
Keep your message neutral. Tell them you're happy they purchased and you'd love to hear their feedback on Amazon.
Wrapping Up
There's no skirting around the issue, Amazon product reviews hold a lot of weight in how successful you are in selling a product. Particularly, in a competitive niche. You want to make sure you have a steady system that gets you reviews on a regular basis. With the three methods we laid out for you today, combined with Amazon-driven services, you should be able to acquire reviews reliably.
Happy Selling,
The Page.One Team
The Last Word:
Most of the methods we described in this article are pretty hands-off after you initially set them up. The only exception is the request a review method. But there's a solution for that.
When you're using the request a review method for getting Amazon product reviews, you can help simplify the process by requesting reviews in bulk. There are services—like JungleScout—that allow you to do this very easily.