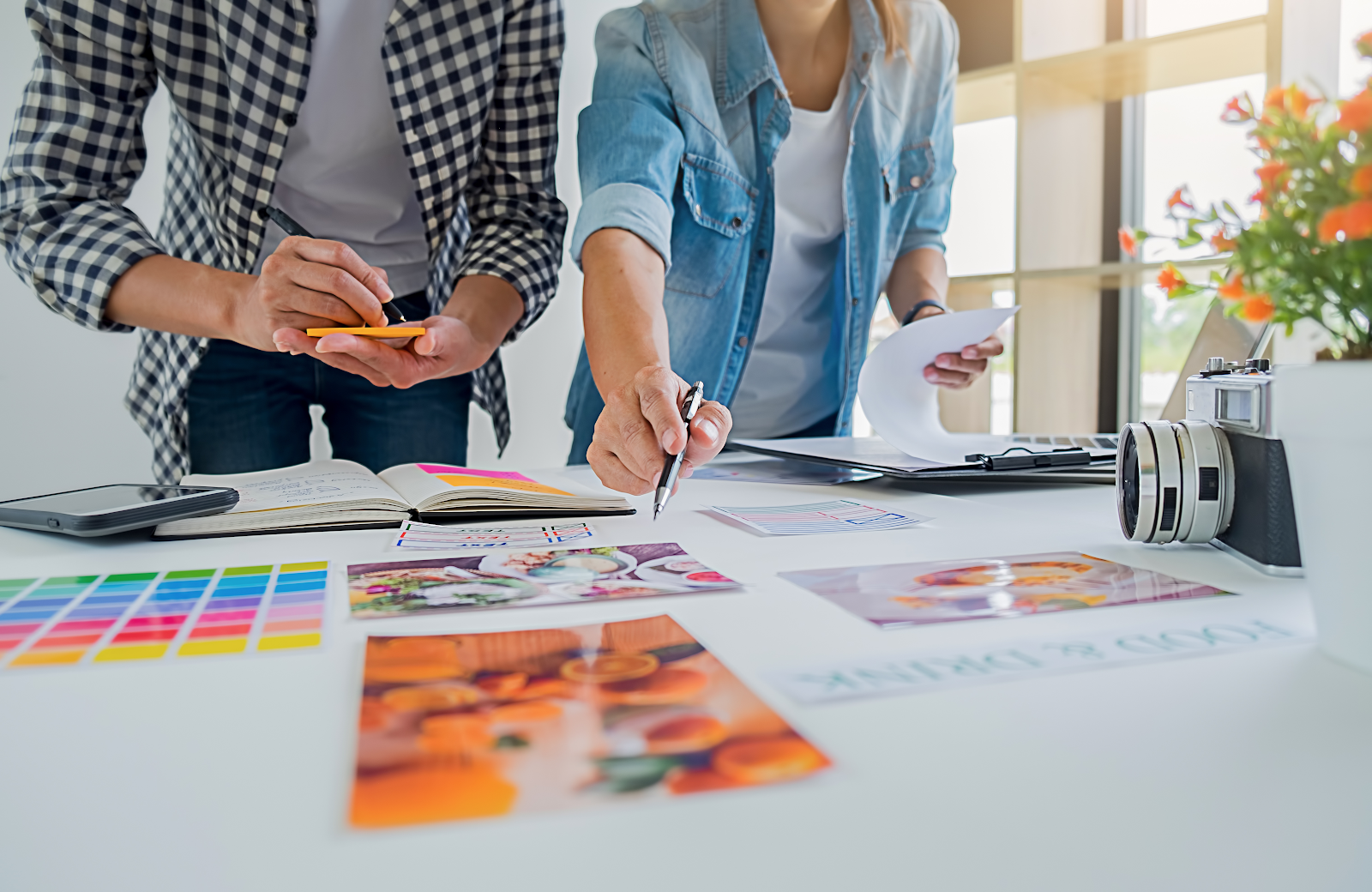 As brands and sellers continue to flood the Amazon marketplace, launching a new product can feel like an uphill battle.
When you launch a product on Amazon, you're focused on increasing early sales velocity to boost your organic ranking, and encouraging reviews and ratings so that prospects who see your listing will give your product a chance.
Simply put: You're doing everything you can to make sure you establish visibility. And that goes for every product you launch, no matter how many products you have.
But one way to help shortcut the success of your newer products is through Amazon's Sponsored Brands Ads.
Sponsored Brands Ads is one of three Pay Per Click (PPC) options that Amazon offers to sellers.
The other two Amazon PPC options?
Sponsored Product Ads (the most common) and Sponsored Display Ads.
Sponsored Brands Ads are the second most commonly used PPC option on the platform, but you have to take one extra step to get access to it: you have to register for Amazon's Brand Registry program.
Similar to Sponsored Product Ads, Sponsored Brands Ads allow you to target keywords on a cost per click basis.
You place a bid on each keyword, and depending on what other sellers are bidding, your ad will show up on the search results page. As far as placement, the ads show up either at the top, bottom, or middle of the search result page.
Here's an example: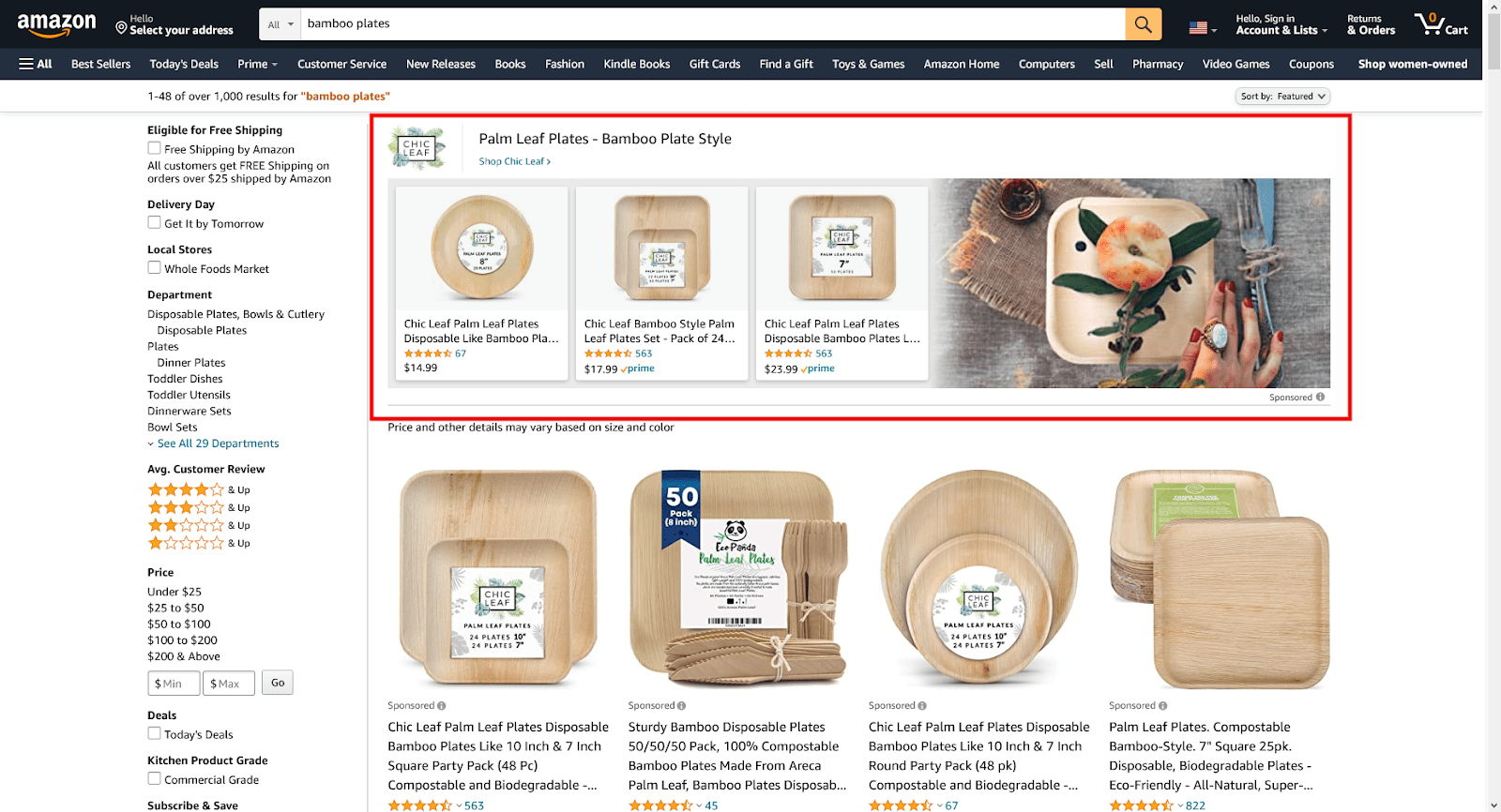 There are three Sponsored Brands Ad types: product collection, store spotlight, and video. In this article, we're going to cover all three ad types to show you how you can use these ads to boost your entire product line.
But, before we get into the different ad types, let's clarify some of the benefits of Sponsored Brands Ads.
The Benefits of Sponsored Brands Ads
(a) Promote Your Brand
One of the benefits of Sponsored Brands Ads is that you get to promote your brand. For two of the Sponsored Brands ad types: product collection and store spotlight, your brand name/logo sits in the top left corner of the ad.
(b) Greater Visibility
Here are some examples of your standard Sponsored Product Ad: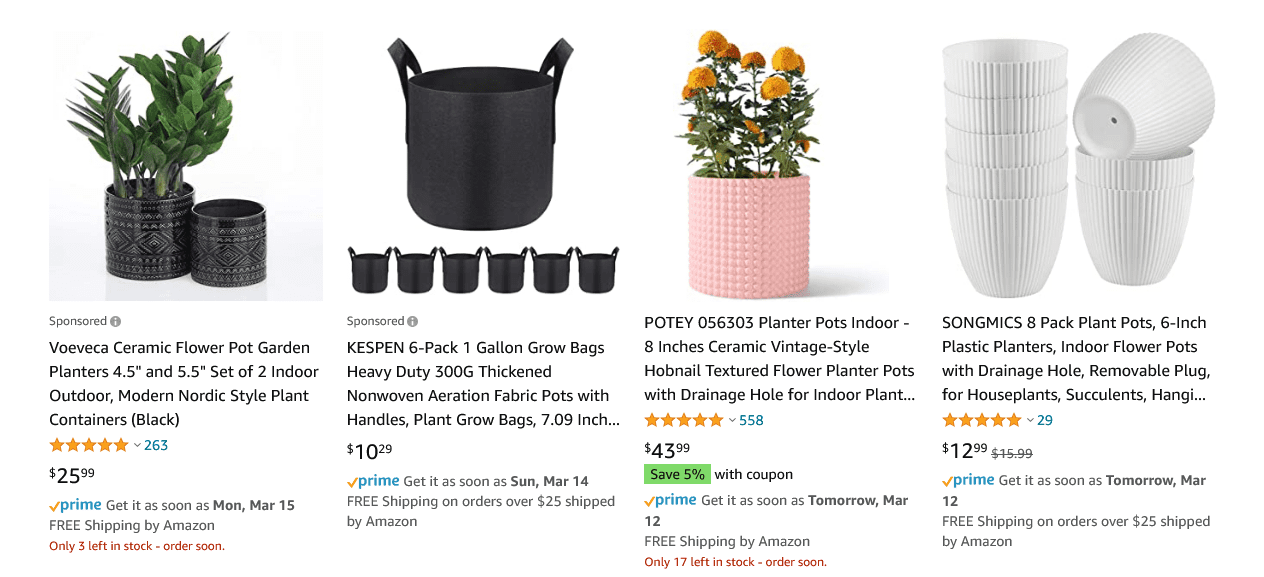 Sponsored Product Ads look very similar to organic listings. The only difference is the "Sponsored" text underneath the product images.
Well, with Sponsored Brands Ads, your ad takes up more real estate. The ads show up as a banner. They extend from the left to right, with no competitors at your side.
(c) Promote Multiple Products
With Sponsored Brands Ads, you don't have to promote just one product, you can promote multiple products. This is especially useful if you have products that have crossover; for example, you sell a file holder and file folders.
(d) Promote Multiple Categories of Products
Your products might not have any linkage, but with Sponsored Brands Ads, you can promote product categories. For example, if your brand promotes sustainability, and you have products in different categories, you can promote each category under the umbrella of sustainability.
Sponsored Brands Ad Type #1 – Product Collection
The product collection ad type features your brand logo or a product image, a custom tagline, and up to three of your products.
If you choose to promote more than one product, then ideally, you want to choose products that have some sort of relationship, but of course, you don't have to.
For your tagline, you're allowed up to fifty characters. Try to choose a tagline that promotes your brand identity and values.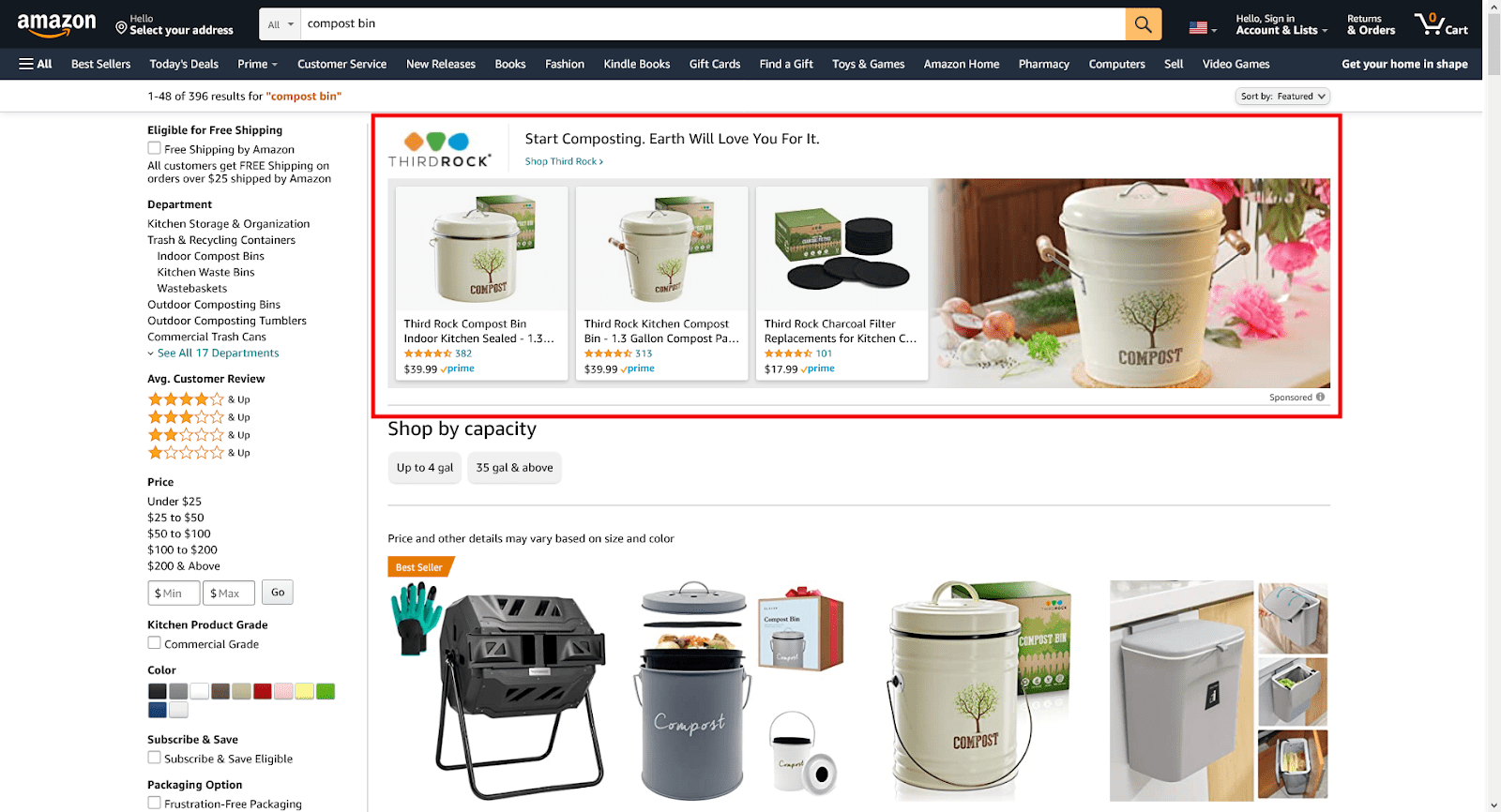 When a prospect clicks on your brand logo, they'll navigate to your Amazon storefront (if you have one) or a custom Amazon landing page that features your products.
When they click any of the product images, they'll navigate to the individual product listings.
One major benefit of the product collection ad type is that you can use the success of one product to promote another product.
If one of your products has a lot of reviews (i.e., social validation), and you just launched another product that only has a couple of reviews, then placing the products side-by-side under the same brand lends some trust to the listing with fewer reviews.
Sponsored Brands Ad Type #2 – Store Spotlight Ad Type
The store spotlight ad type allows you to promote your Amazon storefront with up to three subpages. If your brand sells products in different categories, then this could be a great option for you.
For example, if your brand creates a variety of eco-friendly products, you might have a category for eco-friendly utensils, eco-friendly cleaning products, and eco-friendly clothing.
Take a look at this example of a store spotlight ad type: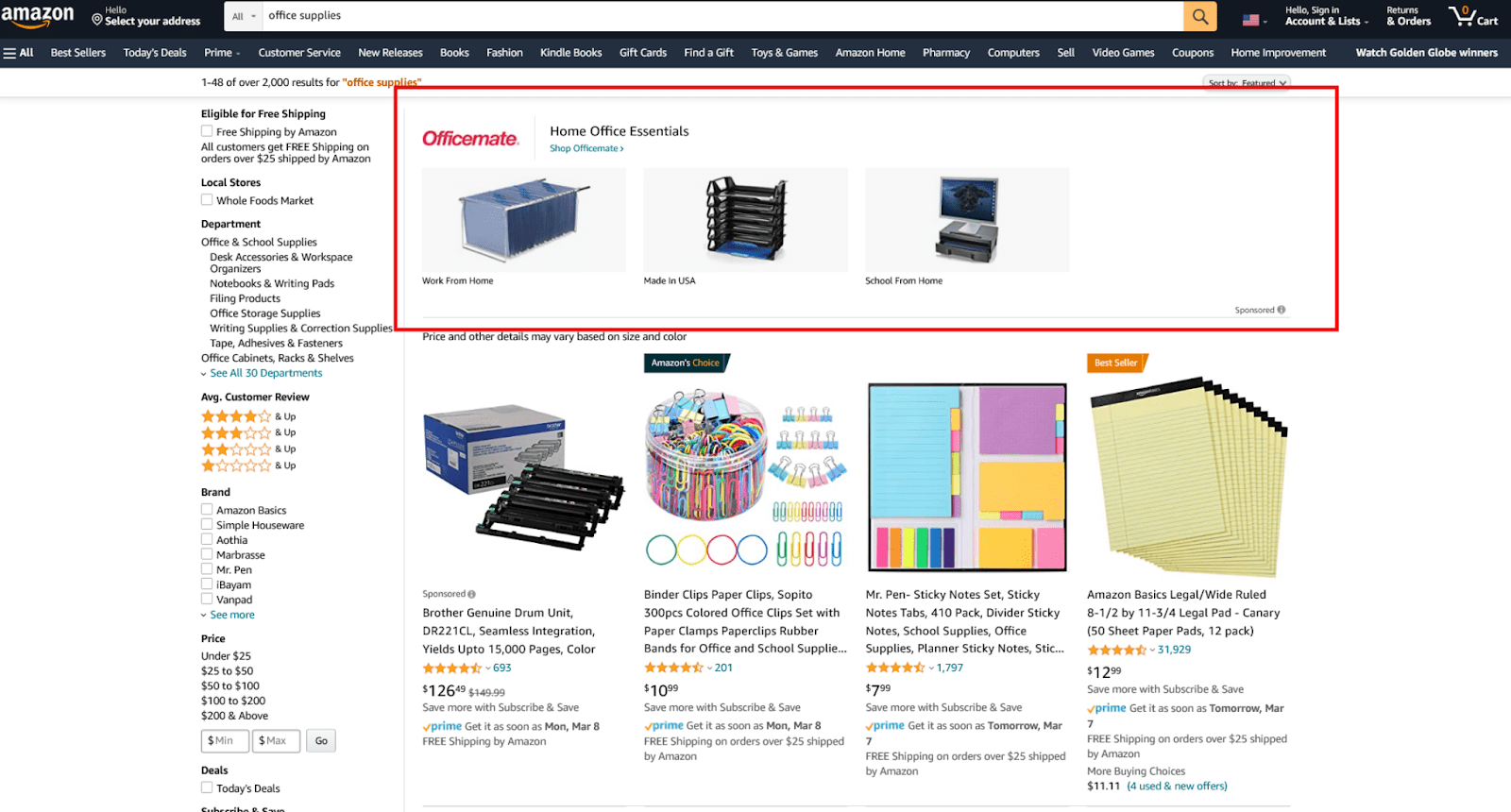 When we click on the image above the "School from Home" category, we're taken to this page: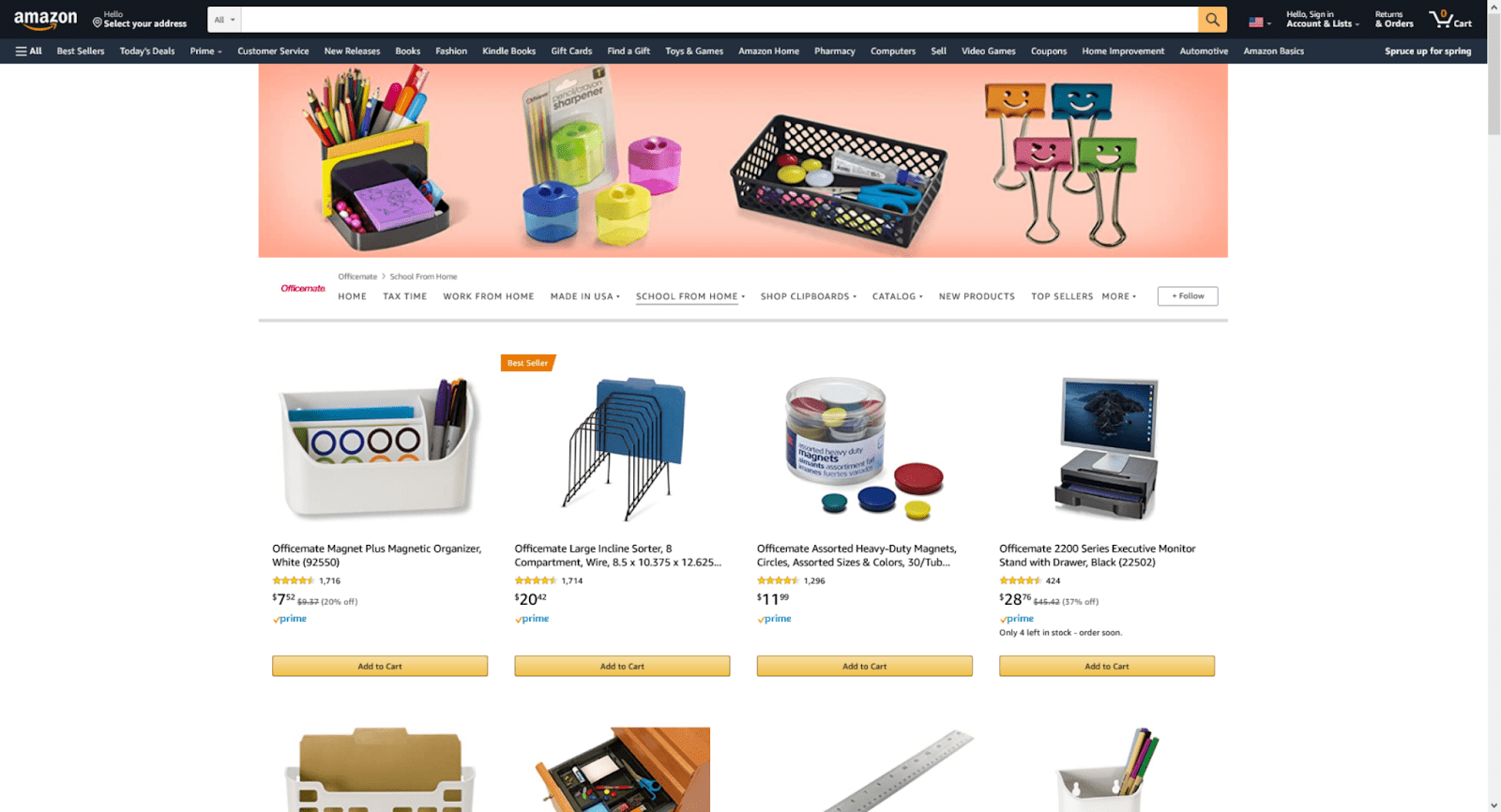 It's a page of several products that might be helpful for someone doing homeschooling.
Think about it…
People go to Party City for party supplies, and Office Depot for office supplies, but on Amazon, you have to search for each item individually or visit Amazon's main category page.
Well, if you have multiple products that fit in specific categories or niches, you can promote each category as if you were a department store.
Sponsored Brands Ad Type #3 – Video Ad Type
The video ad type can be attractive if you have a product that sells best when it's demonstrated.
The video ad will play automatically, which makes it draw attention easier than static ads. The audio is muted. Once a prospect clicks the sound button at the bottom right of the video, they'll hear the audio.
For this ad type, you have two columns: a video in one column and your product image, headline, and price, in the other column.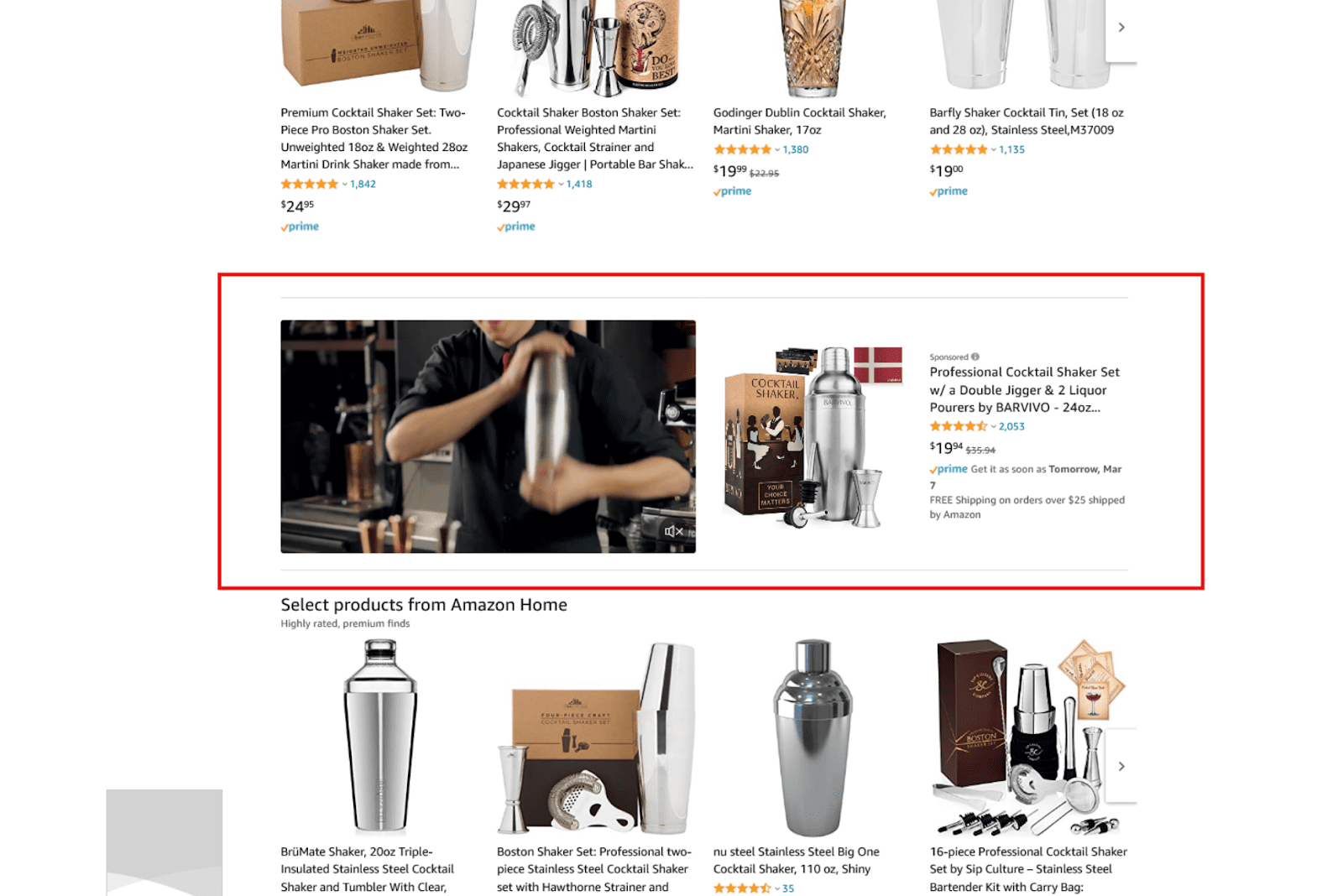 Amazon recommends that you keep the videos between fifteen and thirty seconds.
You might also consider using the video ad type if you have a product that has a strong identity or lifestyle-based aspect to it.
For example, if you're selling a bluetooth sports headphones that are waterproof, you might create a video ad of someone running and sweating heavily in one scene, and then have them swimming underwater in another scene.
In summary, words are nice, but videos help quickly validate that the product does what your copy says it can.
Wrapping Up
Once you have a few products selling on Amazon, Sponsored Brands Ads can help create a synergy that allows your products to support each other.
And for each new product launch, you can get an early sales boost because you get to profit off the success of your prior products.
While you'll pay a little more for Sponsored Brands Ads, you want to remember that you're getting to promote your brand and multiple products—in the case of product collection and store spotlight ad types. In most cases, the extra cost to position your brand as a leader in the marketplace is worth it.
Happy Selling,
The Page.One Team
The Last Word:
If you prefer to have your Sponsored Brands Ads show up at the top of search results pages—instead of at the middle or bottom, then try turning off automated bidding in your campaign settings, and then set the "Custom Bid Adjustments for Placements Below Top of Search" setting to "Decrease by 0.99%."