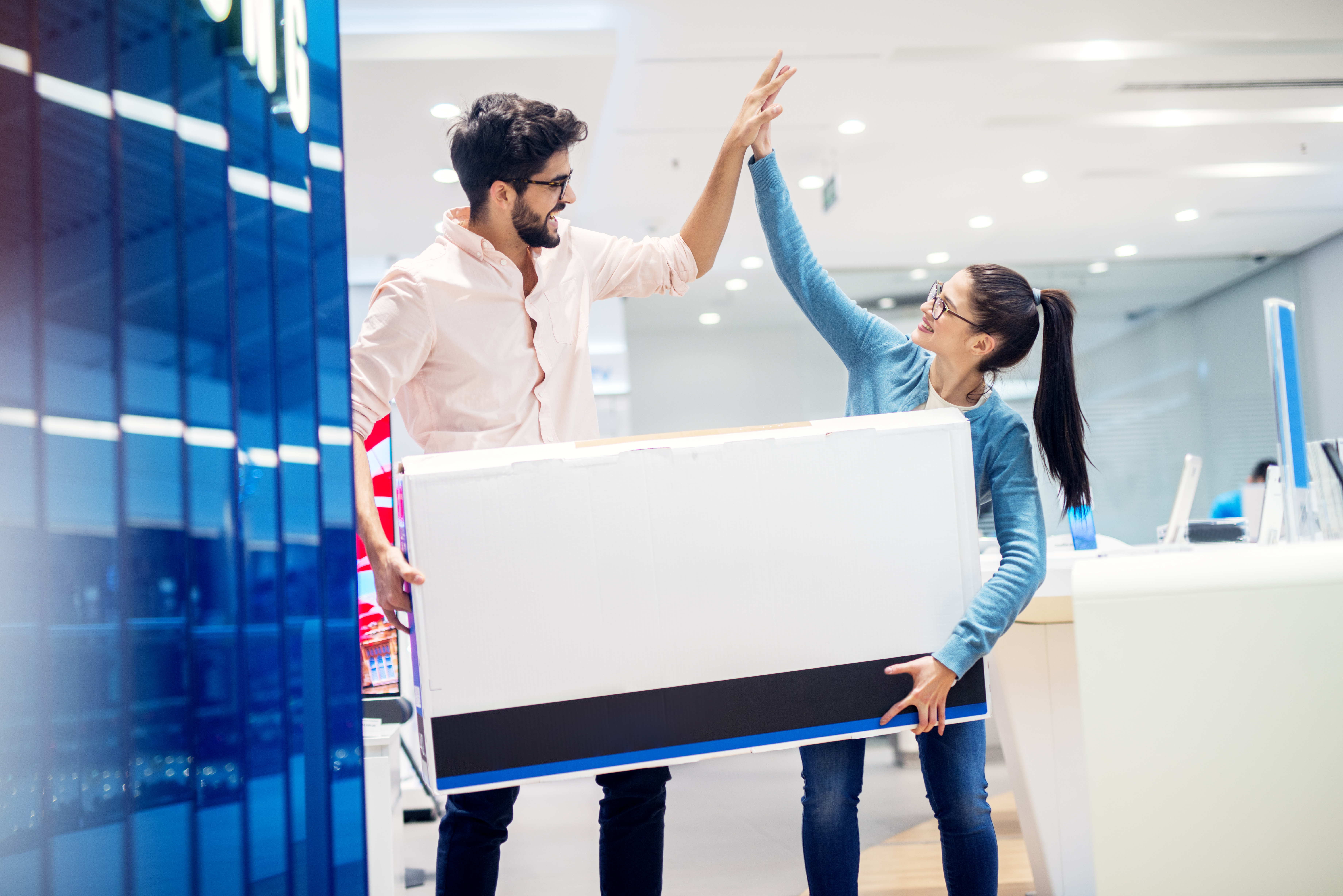 Ever notice how some Amazon listings have large images and charts in the middle of the product page?
Well, those added features make up what's known as Amazon A+ content (formerly called Enhanced Brand Content).
To get access to A+ content, you have to register your brand through Amazon's Brand Registry program.
Currently, to join Brand Registry, you don't have to pay; but beware, Amazon has made comments before that suggest they are open to charging for A+ content in the future.
Now, why would you want Amazon A+ Content? Aren't your images, bullets, and product description, enough?
Well, they can be.
But in a time when brands are flocking to Amazon, the more ammo you can add to your listing to persuade visitors, the better.
2 Main Benefits of Amazon A+ Content
1. Increase Conversions
While the standard Amazon product listing allows a maximum of seven product photos, five bullets, and a text-based product description…
With A+ content, you're able to add extra images, videos, infographics, and charts to your listing.
And it's not just about having more content. Amazon A+ content offers you a more compelling way to present your product.
The added ability to include different types of graphics and illustrations allows you to share information and insights in a visually appealing way. This helps ensure your prospect actually sees and understands what your product can do for them.
The more benefits a prospect can imagine, the more likely they are to buy.
2. Fewer Returns and Less Negative Feedback
One less obvious, although incredibly powerful, the reason you want to include A+ content on your listing is that it can help you reduce returns and negative feedback.
How?
It helps you inform your buyer.
Let's face it: Not everyone reads every word on a listing. And visuals are more likely to capture attention. So if you can provide visual insights, you're likely going to have more buyers that know what to expect from your product.
The more informed a buyer is, the less likely you are to get negative reviews like this:

If this seller used A+ content to clarify that the piece of the product (i.e., the booklet) that this buyer was referring to was going to be sent via email, then the buyer might've not left this 3-star review.
By presenting your product details in a way that makes it likely customers will consume it, you're bound to get a more informed and satisfied customer.
How Amazon A+ Content Works
Once you're accepted into Amazon's Brand Registry program, you can start creating A+ content. The way it works is that Amazon gives you a handful of content templates (or you can create your own from scratch). As of now, each template allows you 5 modules max, but you don't have to use all of the modules.
Unlike your standard listing bullets and product description, A+ content doesn't index in Amazon. Meaning, if you have a keyword in your A+ content, it doesn't help you rank for that keyword in Amazon's search engine.
But on the bright side…
The positive twist to having A+ content that doesn't index is that when you produce your A+ content, you can devote all your focus to positioning.
In this article, we're going to cover 5 ways to position your product using Amazon A+ content.
Selling Point #1 – Envision Paradise
Every product solves a problem. But as a seller, you don't want to just focus on the initial problem. You want to think about 'the problem chain'—i.e., the secondary problems that your product solves.
And that's what this brand did: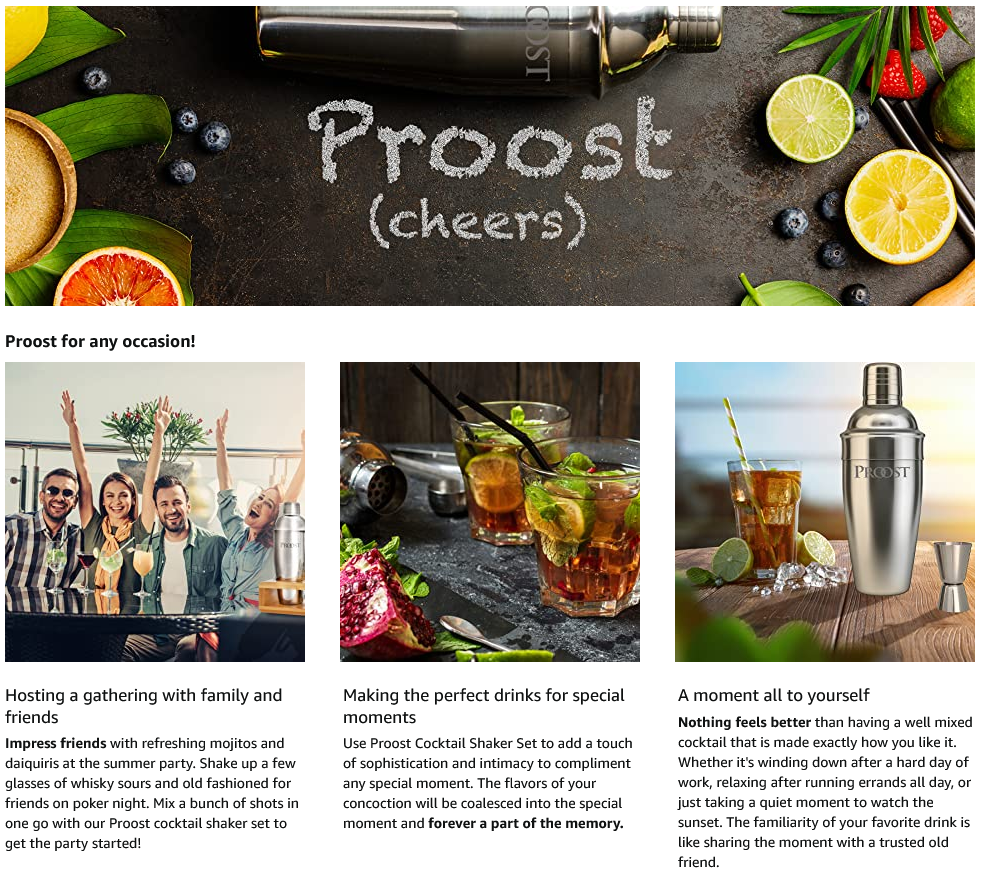 This image is from a listing for a cocktail shaker.
Right at the top of the A+ content, they have a brand header, and then a 3-column module that addresses the secondary benefits of the cocktail shaker: social capital, memorable moments, and self-soothing.
The prospect likely never thought about those things at first.
They probably thought, "I want to make specialty cocktails."
But this seller didn't allow them to stop there. They reminded them of all the secondary benefits that come along with the cocktail shaker. In essence, they helped them to envision paradise.
Selling Point #2 – The Science Behind It All
A+ content is a great way to establish credibility. One way of doing that is to talk about the science behind your product.
Now, you want to be careful here. You don't want to make false claims or attribute the science directly to your product. Instead, you want to talk about the science that relates to your product.
That's what this listing did: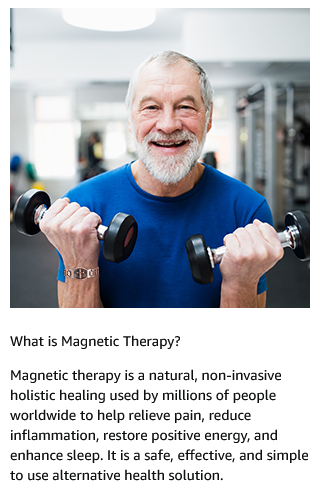 Notice how the product (a copper bracelet) is not mentioned in this image?
The seller talked about the scientific benefits of magnetic therapy, but he/she didn't claim that using the copper bracelet equated to undergoing magnetic therapy.
The visitors to this listing likely know something about the scientific benefits of the copper bracelet, but calling out the science on your listing helps them to verify that they're in the right place.
So, ask yourself:
Is there a feature or function of my product supported by science?
If so, then talk about it.
Selling Point #3 – Tell Me How It Works
One aspect of the selling process that's easy to undermine when you're selling on Amazon is telling your prospect how the product works.
Some sellers may think that the instructions are self-explanatory, or the instructions come with the product, so they don't need to mention it. Problem solved, right?
Not quite.
One of the reasons why a prospect might want product instructions before they buy is to help them determine if the product requires effort that they're not willing to spare.
For instance, you'll often see it in Amazon reviews: a customer complains that they have to do 'x' thing to operate the product. And if they knew they had to do that thing, they wouldn't have bought.
Another reason a prospect may want instructions before they buy is that they're not sure whether they'll be able to operate the product or not. As a result, their uncertainty with themselves makes them uncertain about your product.
The solution?
Take their concern away by showing them how simple it is to use your product.
Here's an example: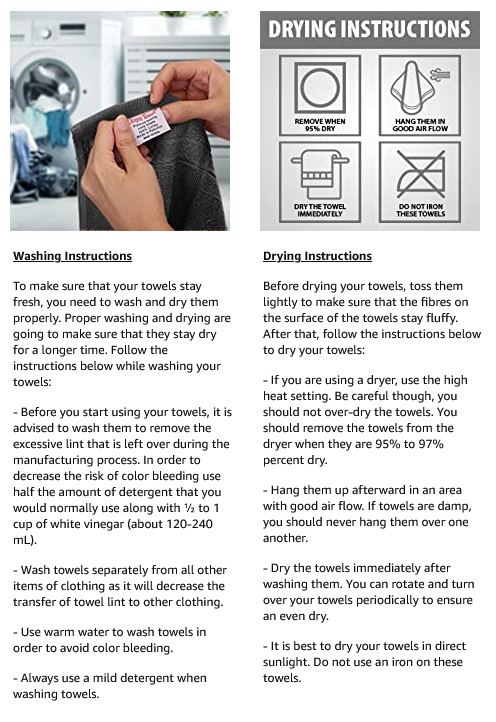 This seller took an everyday product—that you might not think comes with instructions—and broke down the care instructions.
Will instructions interest all buyers?
No.
But it's information that satisfies a certain segment of buyers.
In addition to that, if a buyer happens to lose your product instructions…
When they return to your listing, they might find the instructions they were looking for, instead of leaving a negative review.
Selling Point #4 – Make It Special / One-Of-A-Kind
What unique features does your product have? How do those features make the product's results better?
Zeroing in on unique features is a great way to use your A+ content.
Sure, you probably pointed them out in your main listing images, but zeroing in on them can make them a more influential selling point.
Check out this listing: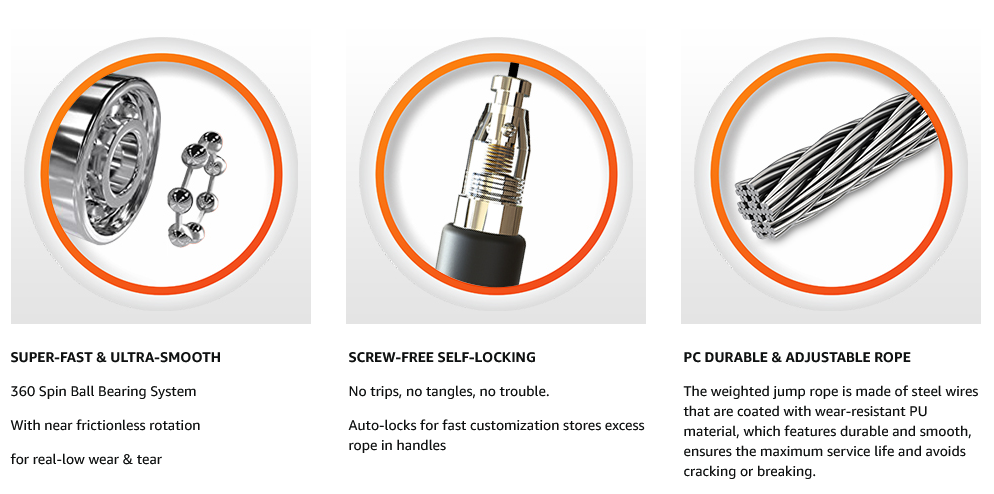 The listing is for a jump rope. The seller took 3 columns to break down specific features of the rope, and then he/she highlighted how those features translate into benefits.
And here's something important…
Even if your product is not much different from your competitors, you can still highlight specific elements that would impress a buyer. That way you can have those commoditized elements working for you.
Selling Point #5 – Why Your Brand?
Today, more than ever, consumers want to know what your brand stands for. Think about this in the context of Amazon. Amazon is basically a large catalog of product listings. Some products look so similar that deciding which to buy seems futile.
That's where your brand story (and promise) comes in.
In your A+ content, include at least one section that covers some aspect of your brand.
Here are some brand-related points you might address:
Core Values and Mission Statement
Satisfaction Promises
Company Origin
Social Impact or Donation Practices
Now, the key here is to focus on an element that can help sell the product. You don't want to just give information for its own sake.
Here's a brand module from a tactical backpack listing:

This brand shared a brief story that explains the origin of the company's name, and then they immediately shifted to the brand's values.
Your brand story is likely not going to be the main selling point, but for some shoppers, it's the thing that pushes them over the edge.
Wrapping Up
If you don't already have A+ content, adding it to your listing should be high on your priority list. Amazon is getting more competitive by the day. But that doesn't mean your listing has to get lost in the Amazon abyss.
Reality is, there's only so much you can do with seven main images, five bullets, and a text-based product description. After a certain point, a lot of listings end up looking the same. But with Amazon A+ content, you can get creative and really stand out.
So, if you're not registered with Brand Registry yet, go sign up.
And once you get the ball rolling, build out an A+ content strategy using the 5 selling points we laid out for you today.
Happy Selling,
The Page.One Team
The Last Word:
A+ content is not indexed on Amazon. But there's good news: Your A+ content is indexed by Google.
This means if you add search terms to your listing, you might be able to get your listing to appear in the search engine results page (SERP) of Google.