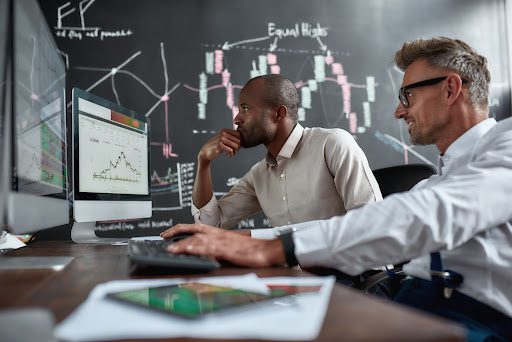 Amazon's catalog-style website has made it easy to get your products in front of a large audience of potential customers, but with that exposure to consumers, and the potential to earn a profit, comes exposure to counterfeiters.
A counterfeiter is someone who copies your product but tries to pass it off as an original.
In the Amazon selling community, you'll frequently hear sellers call counterfeiters "listing hijackers". When a listing is hijacked, it means that someone is selling a fake or similar version of your product on your listing. Usually, they'll sell for a cheaper price, which means they'll have the Buy Box.
By default, sales go to whoever has the Buy Box. That means that if you have a listing hijacker, you're losing out on revenue.
This has been an issue that Amazon has been battling for years. They have strict guidelines against counterfeiting, but enforcement has been tough.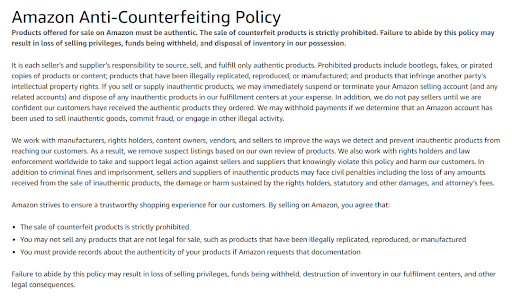 Just this May, Amazon released a report saying that they blocked more than 10 billion listings believed to be counterfeited. The number of counterfeiters rose during the pandemic as these fake sellers tried to capitalize on the increase in online shopping.
The report also said they destroyed 2 million products that arrived at their warehouses due to counterfeiting. They claim to have spent more than $700 million in efforts to reduce counterfeiting.
While Amazon appears to be working hard to reduce this issue, as a seller, it's your job to stay on top of your listing, so that hijackers don't steal your revenue. But that's not the only problem.
When your listing is hijacked, you don't only lose out on money, but you can also hurt your brand reputation. If a customer orders off your listing, and they're sent a product that doesn't match the listing, or that is inferior in quality, they may be apt to leave negative reviews on your listing or seller feedback page, which subsequently taints your reputation on Amazon.
In this article, we're going to show you how to detect whether a listing has been hijacked. And, we'll show you five strategies you can use to help protect your brand from hijackers.
How Do You Know You've Been Hijacked?
A simple way to tell if a listing is hijacked is if the brand doesn't have authorized sellers or doesn't sell on a discount site, but there are other sellers on the listing.
One way to see if there are other sellers on the listing is to check out the "Sold by" section under the buy box: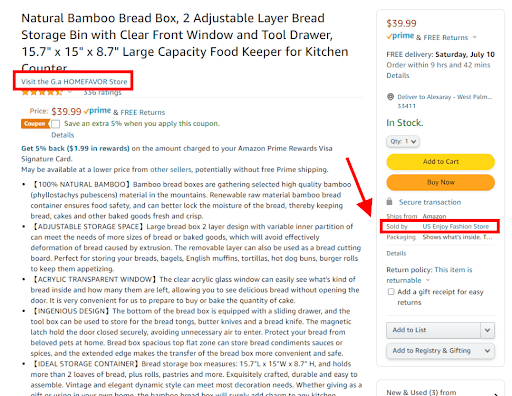 Notice that the two don't match? This listing may have a hijacker.
Another way to check a listing for hijackers is to look at the "New & Used from" section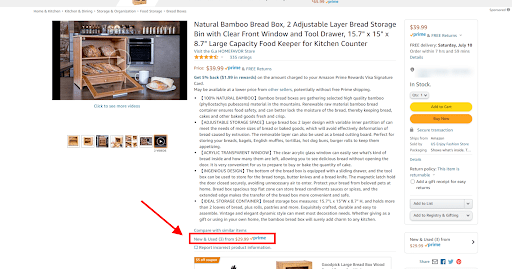 In this example, you'll notice that the hijacker is selling higher than the product list price. Using price change history software, this listing recently dropped from $45.99 to $39.99. Makes you wonder if that was in response to losing the Buy Box.
5 Ways to Protect Your Brand from Hijackers
1. Different Packaging
One way to proactively protect your brand from hijackers is to provide a more thorough branding experience. For example, if currently, your product comes in a polybag or non-decorative box, you might consider changing that. You don't want your product coming in packaging that's easily replicable.
For Amazon to remove a seller from your listing, you'll need to have proof that the other seller has created a fake copy of your product. One way of doing that is to show the difference in packaging.
2. Create a Bundle
Consider adding another physical item to your product. By doing that, you deter hijackers because they have to jump through more hoops to reproduce your product. For example, if you sell a remote control toy car, maybe add a carrying case to the product. This sort of differentiation makes it harder to copy you.
Here's an example of a brand that bundled a butter dish with their bread box product: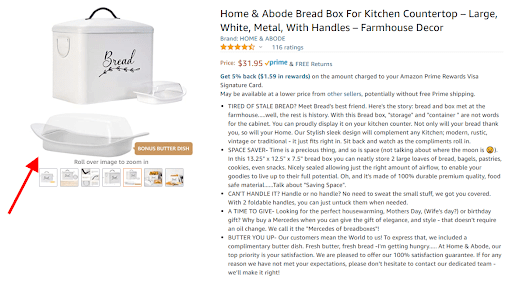 3. Offer a Brand-Tethered Warranty
In the U.S., you're allowed to resell a product as long as you bought it in an authorized manner. Early on, one of the issues brands would face when they filed counterfeit claims on Amazon is that if their packaging was the same and they didn't have a bundle, they couldn't prove to Amazon that the seller was selling an unauthorized copy because materially both products were the same.
Well, one way you might get over this hurdle is by adding a brand-tethered warranty. On your listing, mention that products sold by your brand will have a warranty. By doing that, you make the counterfeiter's product materially different, and thus, they shouldn't be able to sell on your listing.
4. Use a Buy Box Alert Tool
In recent years, software companies like Helium 10 and Jungle Scout have software that will tell you whether you have the Buy Box or not.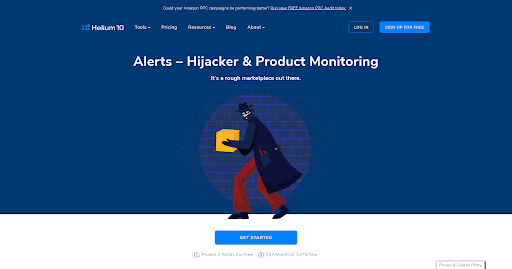 Using tools like these is a simple way to get alerted to hijackers, but it doesn't prevent them, to begin with. Historically, if you're not part of Brand Registry, it can take a while for Amazon to settle a counterfeit claim.
5. Join Brand Registry
Brand Registry is an Amazon program where they offer exclusive tools to sellers who register. To get into the program, you need a registered trademark. You can also get in with a pending trademark if you apply through Amazon's IP Accelerator program.
Once you're in Brand Registry, you have access to tools that proactively search for counterfeiters. You also have a self-service tool that allows you to manually remove sellers from your listing.
As a member, you'll get access to Amazon's counterfeit protection labeling service called Transparency. With Transparency, you apply unique labels to each product packaging, and when Amazon gets ready to send out a product to customers, they scan the product to authenticate it.
Through this program, Amazon says they've been able to stop millions of counterfeit products from getting to customers.
Wrapping Up
Dealing with listing hijackers is never pleasant. It takes time out of your schedule and money out of your pocket. That's why it's important to put steps in place to deter listing hijackers, to begin with.
Using these five methods, you can help ensure your revenue and brand reputation are protected as you sell on Amazon.
Happy Selling,
The Page.One Team
---
The Last Word:
Most buyers don't look at the "New and Used from" section. They just hit the "add to cart" or "buy now" buttons. As an Amazon seller, you want to proactively protect your ownership of the Buy Box. Keep in mind: Your Buy Box status is influenced by several factors, including using FBA (instead of FBM) and keeping your seller rating high.