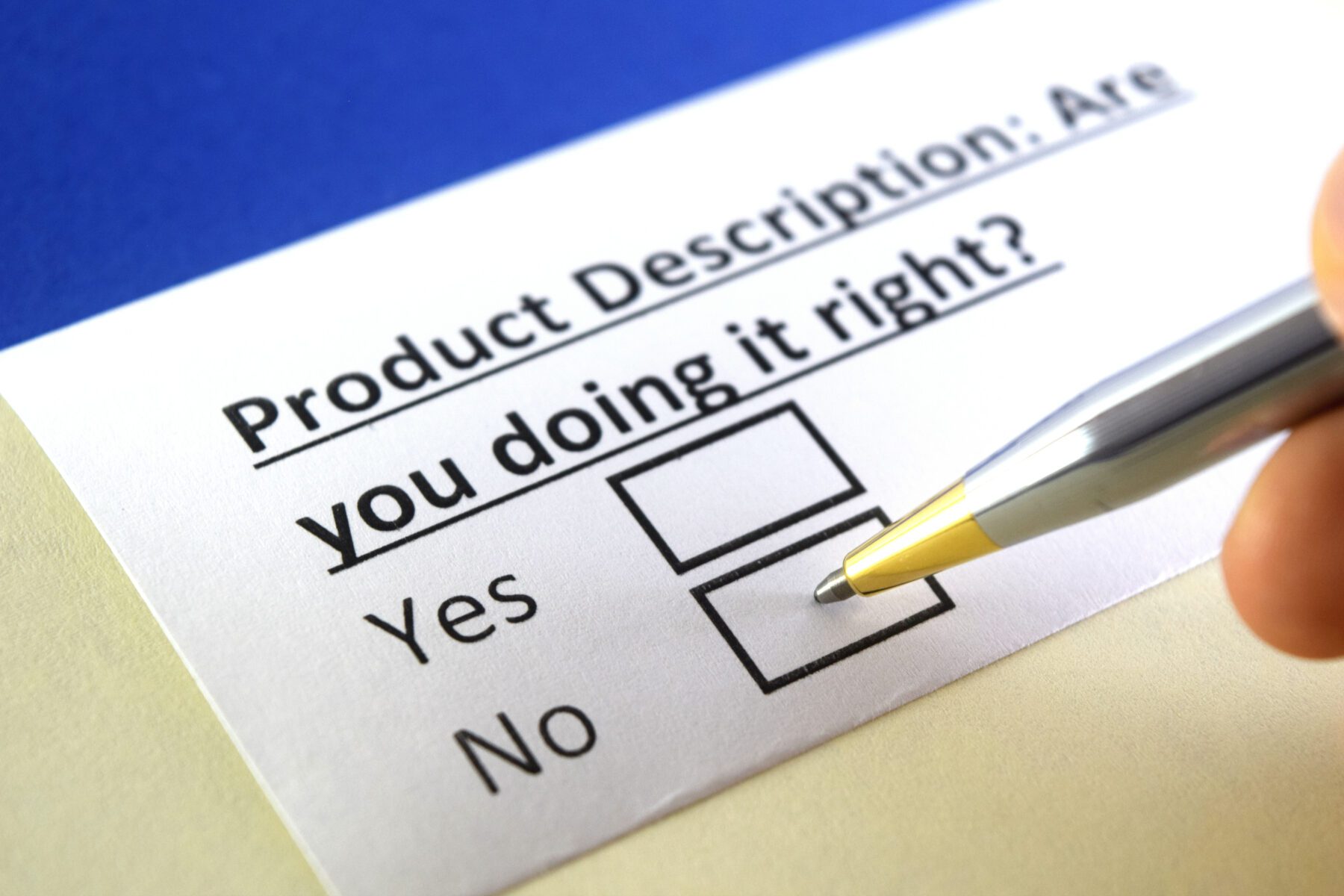 One of the most important things you'll do as an Amazon seller is routinely optimizing your product listing.
There are three main parts of a listing that your customer will focus on: the title, bullets, and product description.
Amazon Bullet Points: 8 Best Practices to Optimize Your Listing and Increase Sales
On product listing pages, the product description sits lower on the page—below one of the sponsored ads carousels, but right above the reviews, so many sellers will underestimate this section. Don't.
Your product description has a two thousand character limit. This area is prime real estate for highlighting product features and the story behind your product and brand, and how that fits into the customer's journey.
Additionally, one other important thing to consider is that Google may crawl your product description to rank your product in their search engine. They use the first 170 characters or so to form the "meta description" on their search results pages.
That aside, in today's article, we're going to cover seven tips for writing a powerful product description that will convert the most skeptical prospects.
Tip #1 – Use "</br>" Tags
For years, Amazon allowed you to use various icons and HTML in your product description. In recent months, they've changed their policy to only allow the line break HTML.
It looks like this: </br>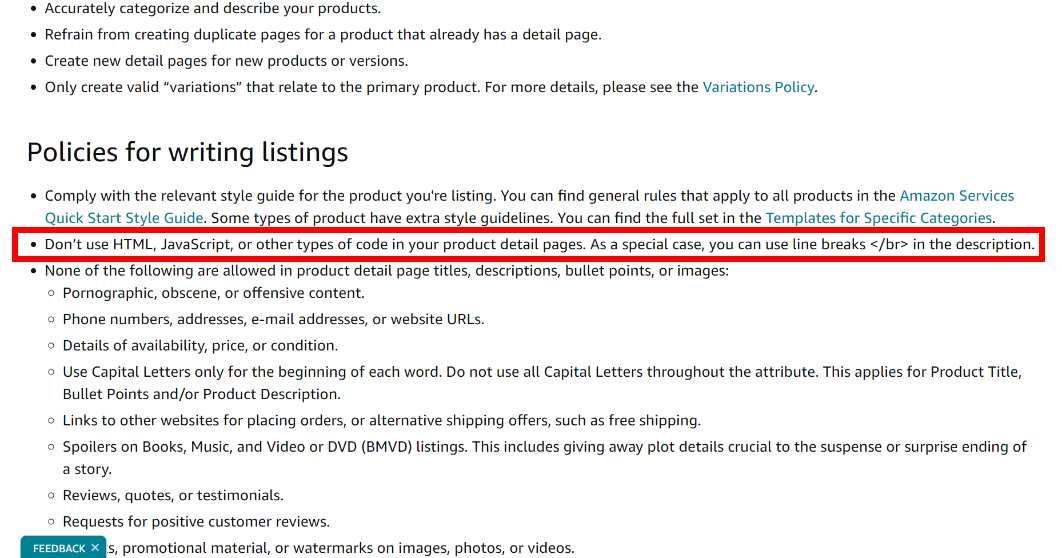 You'll want to add a </br> tag between the lines in your listing so that your product description is easy to read. If you don't add those tags, your description can end up looking like this: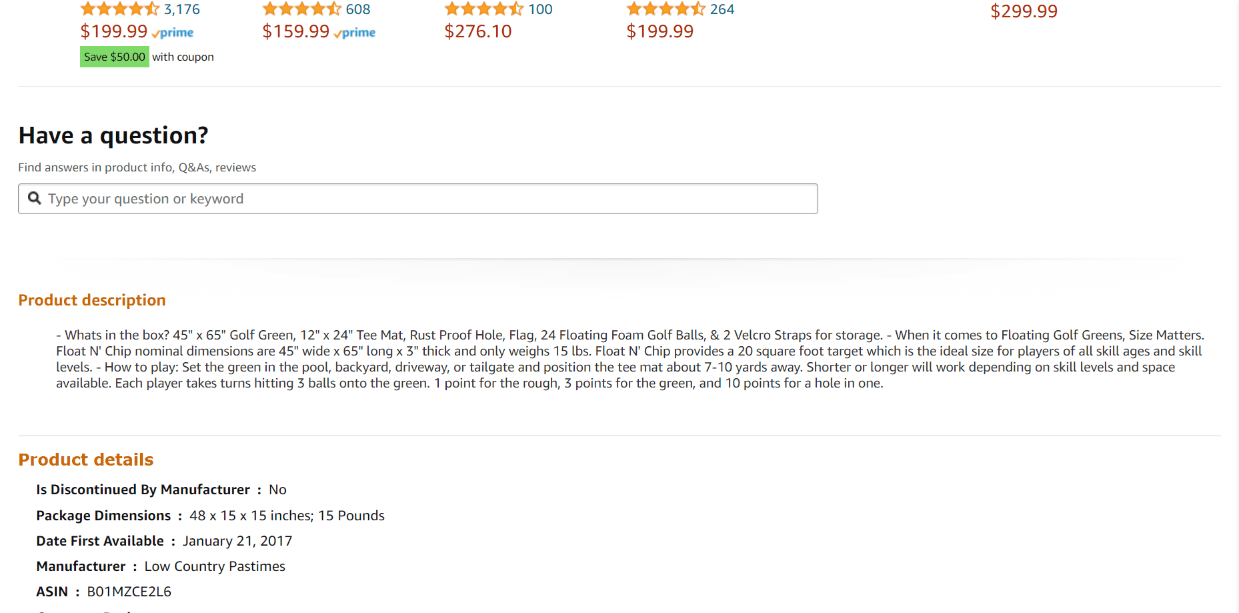 You don't want that. Instead, you want it to look like this: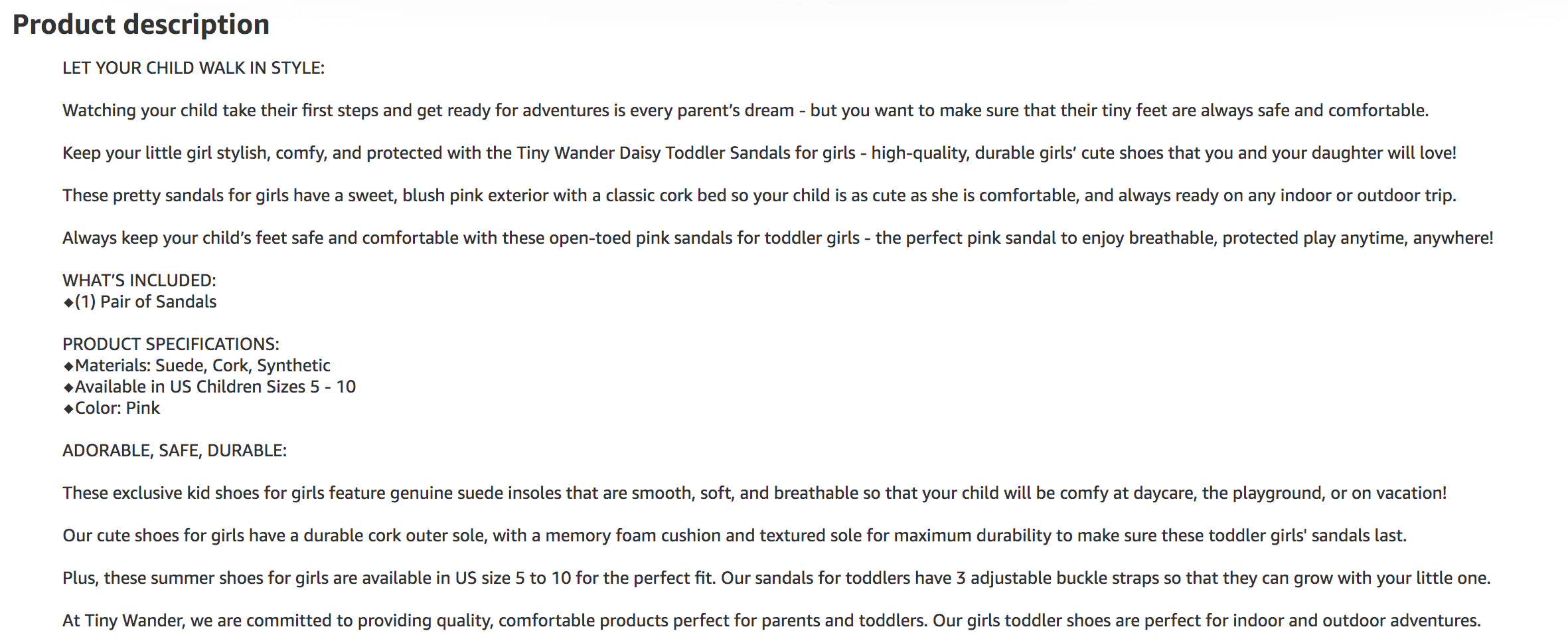 A block of text with no HTML is boring. It's likely your listing visitors will scroll past it. Sure, you may have your product's features and benefits in your bullets and images, but you don't want to miss out on the opportunity to tell a full story.
Tip #2 – Customer's Story
When consumers search for a product, one of the questions they ask themselves is whether they are the right fit for that product.
As a seller, it's your job to help them qualify themselves by mentioning the demographics and psychographics that your product mostly appeals to.
Here is a list of some demographics you might call out in your copy:
Age Group
Gender
Geographic Area
Education Level
Career
Here is a list of some psychographics you might call out in your copy:
Hobbies
Opinions
Values
Groups They Belong To
For instance, if you're selling a Zen garden kit, you might describe some of the philosophies of Zen and how using your product falls in line with the philosophy.
In another instance, you might call out firefighters and law enforcement officers, and describe how your product helps them fulfill their job.
Tip #3 – How to Use
Many sellers overlook this point. They figure that instructions come inside the package and that's enough. It's not. You want to explain your product in a way that boosts the consumer's confidence that they'll be able to successfully use it.
List out the steps for using your product or write a simple sentence that highlights how fast and easy it is to use the product.
Here's a cocktail shaker listing that does a great job of outlining how to use the product: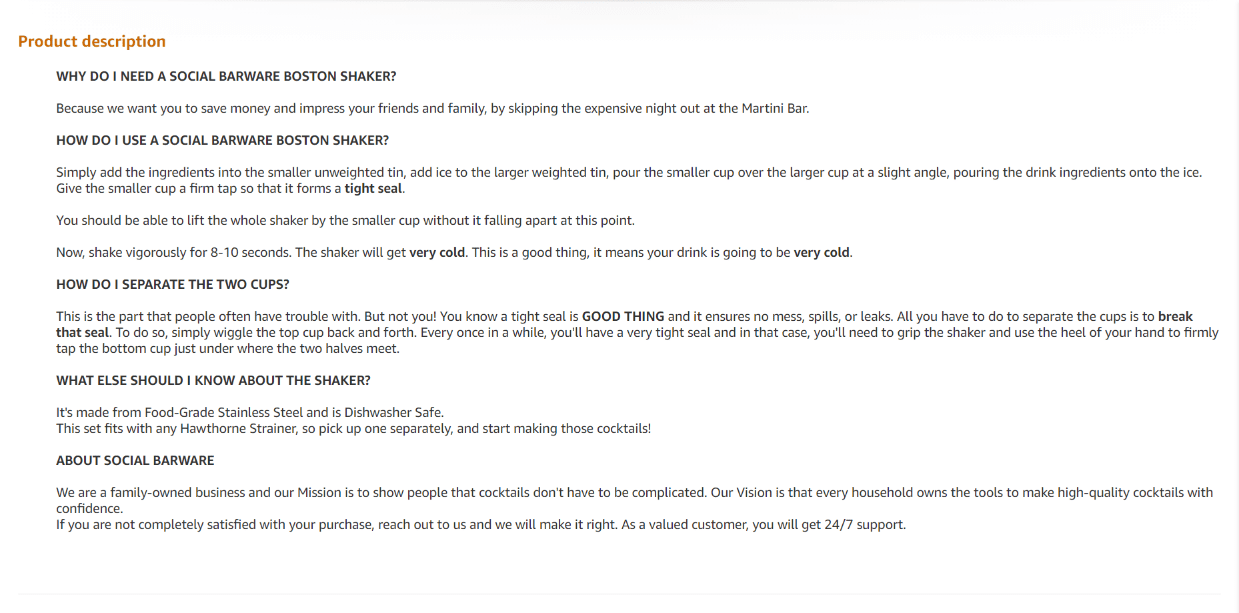 Under their "How Do I Use A Social BarWare Boston Shaker" heading, you have the following description:
———
"Simply add the ingredients into the smaller unweighted tin, add ice to the larger weighted tin, pour the smaller cup over the larger cup at a slight angle, and pour the drink ingredients onto the ice.
Give the smaller cup a firm tap so that it forms a tight seal.
You should be able to lift the whole shaker by the smaller cup without it falling apart at this point.
Now, shake vigorously for 8-10 seconds. The shaker will get very cold. This is a good thing, it means your drink is going to be very cold."
———
In this copy, the seller doesn't just tell the reader how to get started, but he/she also tells them what to expect.
This is key.
If you inform customers on what they should expect, you build their confidence that they can successfully use the product.
Tip #4 – Care Instructions
Similar to Tip #3: How to Use, many sellers leave out the care instructions for their product.
Some customers want to know how easy your product will be to clean or if it requires extra care to make it last longer.
If your care instructions are simple, this is a great point to highlight in your product description.
Additionally, by telling them how to care for the product, you help them have a better experience with it. It's likely the product will last longer and function smoothly. By getting out ahead of it, you save yourself from some negative feedback.
Tip #5 – Package Contents
What comes inside your product packaging? Sure, your images show all that's included with your product, dimensions, and possible use cases, but it can be helpful to list them out in your product description for extra reinforcement.
Here's a listing that did a great job of listing out the package contents and what each piece is used for: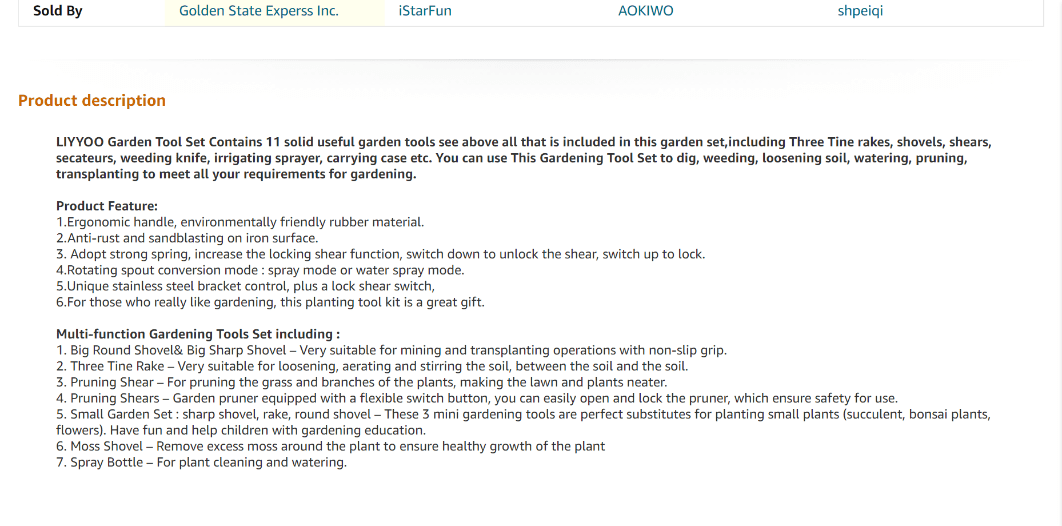 It's not entirely necessary to include what each item in your product packaging is used for, but if you're selling a set—like this seller is—it can be helpful to clarify exactly what each piece is for.
Images don't do a great job of this. And simply writing out the contents may not help either because the customer might not know what that particular piece does.
Tip #6 – Product Details
One of the most basic pieces of information many consumers want to know is the product features.
In copy, you usually want to focus on tying the benefits to features, but you'll also want to include a section where you just lay out the features.
This will make it easy for prospects to see if your product matches their requirements.
The last thing you want is a customer leaving negative feedback because your listing didn't clearly list out the dimensions of your product or the material it was made from.
Here's a list of some product details you might consider adding to your product description:
Product Color
Product Dimensions
Product Material
Product Weight
Country of Origin
Guarantees
Special Features (e.g., waterproof, battery-powered)
Tip #7 – Brand Story
Consumers are becoming increasingly interested in the brand behind the product. With a two-thousand character limit, your product description is your opportunity to inform your customers about what you stand for and any missions you support.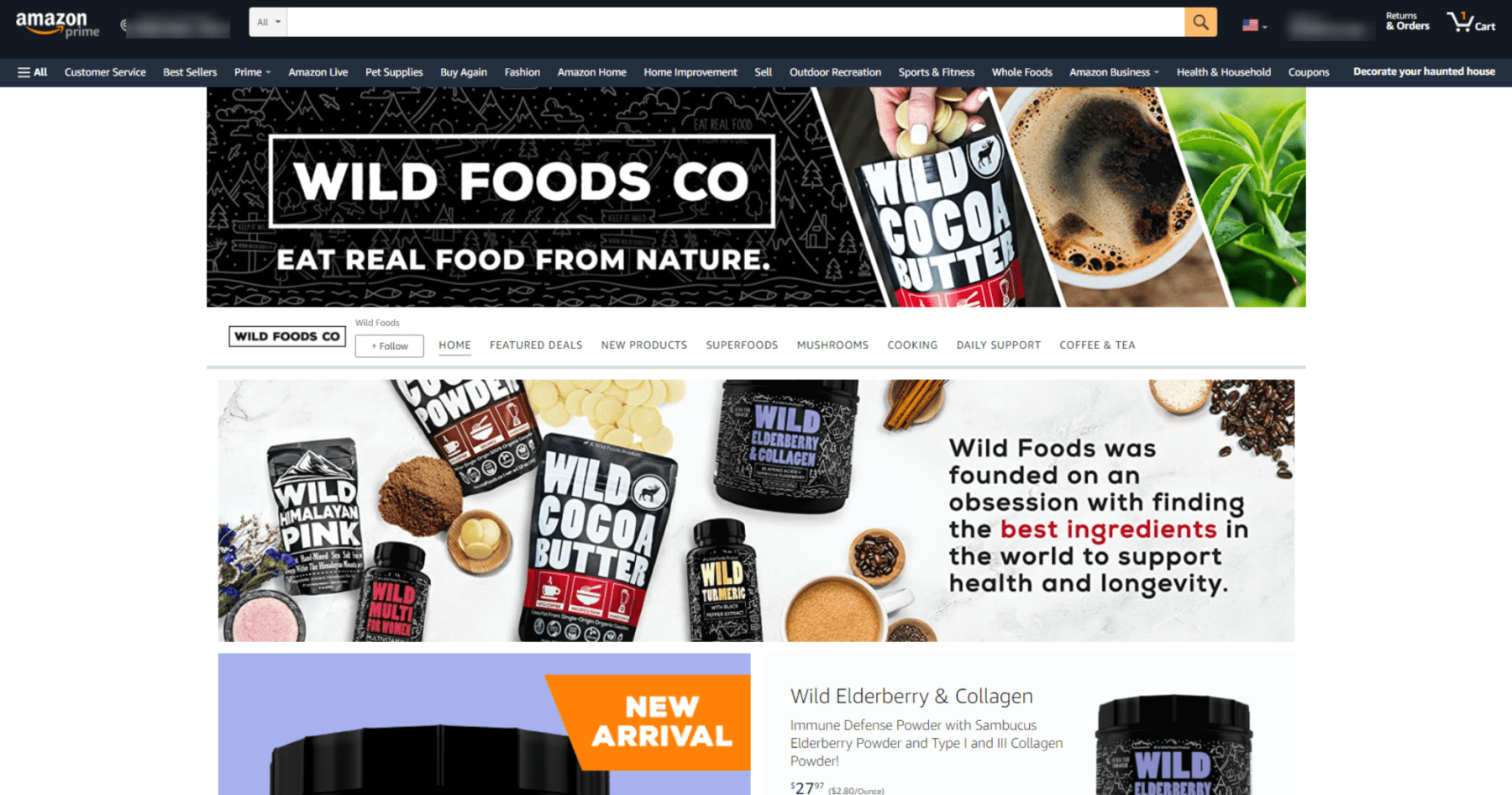 The Don't(s) of Writing Product Descriptions
Amazon's Product Detail Page rules list out some things you'll want to avoid including in your product description.
Here are several of them:
Phone numbers, addresses, e-mail addresses, or website URLs.
Details of availability, price, or condition.
Links to other websites for placing orders, or alternative shipping offers, such as free shipping.
Reviews, quotes, or testimonials.
Requests for positive customer reviews.
Avoid promotional languages like "sale" or "free shipping."
Wrapping Up
While your product description is likely one of the later parts of a listing your prospect will look at, don't underestimate its value.
Your product description is the perfect place to paint a story for your customers that are prone to assimilate information better by reading, rather than visuals.
Happy Selling,
The Page.One Team
The Last Word:
Tell a story in your description, but don't forget to include the facts. List out your product contents and details. Doing this will help affirm what customers read and see in other parts of your listing like your product images and bullets.