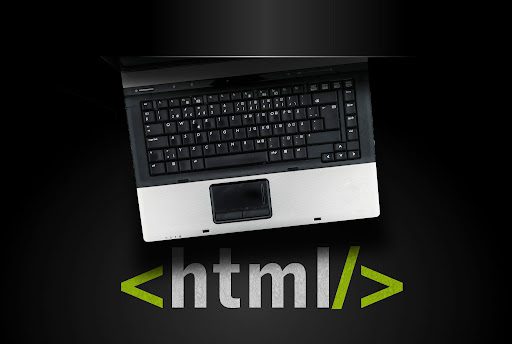 On Monday, May 19th, Amazon announced that they won't be supporting HTML tags in the product description on product listings. The change goes into effect on July 18th for the U.S., and June 9th for the U.K.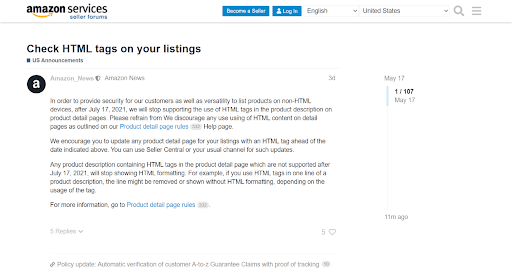 The reason for the change?
Versatility and security.
Amazon doesn't want HTML descriptions affecting how listings show up on non-HTML devices. And, according to them, they want to improve security.
Unfortunately, this change is going to monotonize product descriptions.
Today, Amazon sellers overcome the blandness of a text-based product description by using HTML to bold, underline, and italicize words, as well as create bulleted lists. These distinctions organize the text in a way that makes it easier to read.
What will take the place of HTML?
Nothing.
Amazon says, "Any product description containing HTML tags in the product detail page which are not supported after July 17, 2021, will stop showing HTML formatting. For example, if you use HTML tags in one line of a product description, the line might be removed or shown without HTML formatting, depending on the usage of the tag."
The one exception is the "<br>" tag. It's used to create line breaks.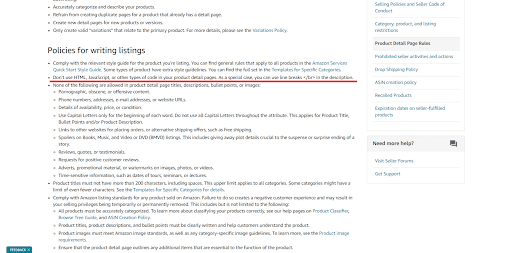 This is what a product description without HTML, except for the "<br>" tags might look like:

Here's a product description without any HTML and "<br>" tags:

Now, here's the problem:
Product descriptions help sellers to further outline features and benefits and provide answers to potential questions a prospect may have.
If your product description becomes hard to read, customers are more apt to glaze over it and miss out on key information that would help them decide to choose your product—thus, potentially negatively impacting your sales.
Additionally, things like product size or care instructions that might mean a lot to a buyer—without them even knowing to look for it—might be missed in an image, but likely found in a product description.
If the description is not easy to read, a prospect may not read it, but then purchase the product and leave a negative review because, for example, they didn't realize the product had a certain care instruction.
That's why, in this article, we're going to share four tips you can use to adjust to this new HTML tag ban so your Amazon sales are not negatively impacted.
HTML Ban Tip #1 – Include Product Details In Your Bullets
Now that product descriptions will not be as visually differentiated and easy to consume, you'll want to make sure prospects are getting the same information they might get in a product description, in your bullets.
If you haven't already, be sure to include important product details in your bullets.
Examples include:
Product Size
Product Compatibility
Product Use Cases
Here's an example of a bullet that includes use cases and product size: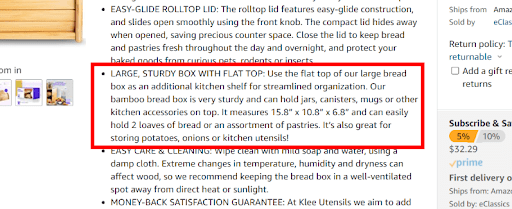 HTML Ban Tip #2 – Use All-Cap Words
Another way to adjust to the HTML ban is to use some all-caps words in your product description. Ideally, you want to save those for your headings like "package includes" or "product size."
For the longest time, and still today, all-caps were used in writing to add extra emphasis.
While you're not trying to emphasize words like "product size" (or maybe you are), you might consider adding all-cap words to create distinctions between pieces of information and make your product description easier to read.
Here's an example of a neatly aligned product description without all-caps words:

While this product description isn't just a block of text from left to right—which is a good thing, it would benefit from having some capitalization so that the elements don't all visually blend together.
HTML Ban Tip #3 – Use Symbols and Punctuation
One way to make your product description easier to read without HTML is to use symbols and punctuation.
Here are a few you might consider: +, -, =, >, <, /, |, :
Once again, we don't have the same distinctive tools of bolding, underlining, and italicizing, so we gotta get creative.
Take a look at this product description: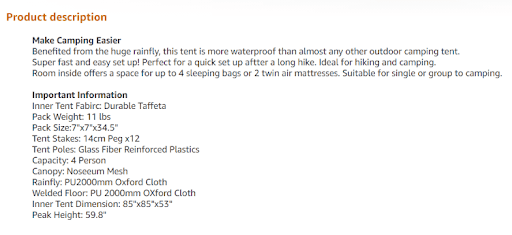 They have two bolded headlines and product details listed out with line breaks.
In general, it looks good, but with the coming HTML ban, they wouldn't have the benefit of bolding. Instead, they might do the following to their headlines:
>> MAKE CAMPING EASIER <<
Or
| + Make Camping Easier + |
HTML Ban Tip #4 – Use A+ Content
Finally, for our last tip, you'll want to get brand-registered—if you're not already, and set up your listing with A+ Content.
Here's an example of A+ Content on a camping tent listing: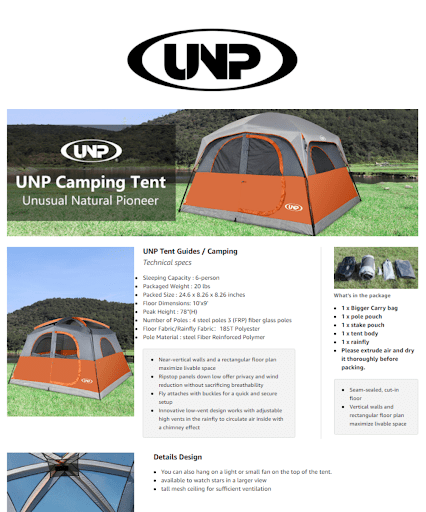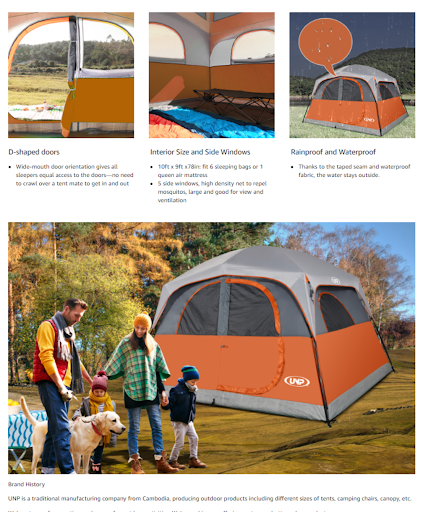 Looks much better than a plain text product description, doesn't it?
With A+ Content, you're given several content templates, or you can create one from scratch. Each template allows you to have five modules.
According to Amazon, listings with A+ Content tend to have higher sales conversions. One of the reasons for this is because it allows you to demonstrate the features and benefits of your product in a more visually appealing way. It also gives you an opportunity to show the prospect more ways to use the product.
You might include text that says your product can be used outdoors, but having an image of it being used outdoors can drive that point further home and reduce any doubts.
This is an advantage you don't get with your standard product description.
To get access to A+ Content, you must be enrolled in Amazon's Brand Registry program. You have to get a registered trademark to participate in the program.
The process can take a few days if you use their IP Accelerator program, but if not, it can take months. Either way, you'll want to prioritize joining Brand Registry right away. You also get numerous other marketing, advertising, and analytic benefits for being a member.
Wrapping Up
It's unfortunate that Amazon will be getting rid of HTML tags. Some argue it's a disservice to Amazon customers and sellers because it'll make listings harder to read and reduce conversions. Regardless of what we may think about it, it's coming, and it's best to be prepared.
Here at Page.One, we plan to prepare for this change by removing HTML in product descriptions and monitoring it throughout the next several weeks.
Go through your listings and update your HTML by the enforcement date—July 18th for the U.S. and June 9th for the U.K. At the time of this writing, we're about two months away in the U.S. That's enough time to get your listing set up with A+ Content too. The name of the game is adaptation.
Happy Selling,
The Page.One Team
---
The Last Word:
There's still some uncertainty on exactly what will happen to product descriptions that continue to use HTML. We doubt Amazon will show the bare tags in the product description, but according to their announcement, they said:
"If you use HTML tags in one line of a product description, the line might be removed or shown without HTML formatting, depending on the usage of the tag."
What determines which lines will disappear and which ones will show up condensed? Right now, no one outside of Amazon seems to know.
---