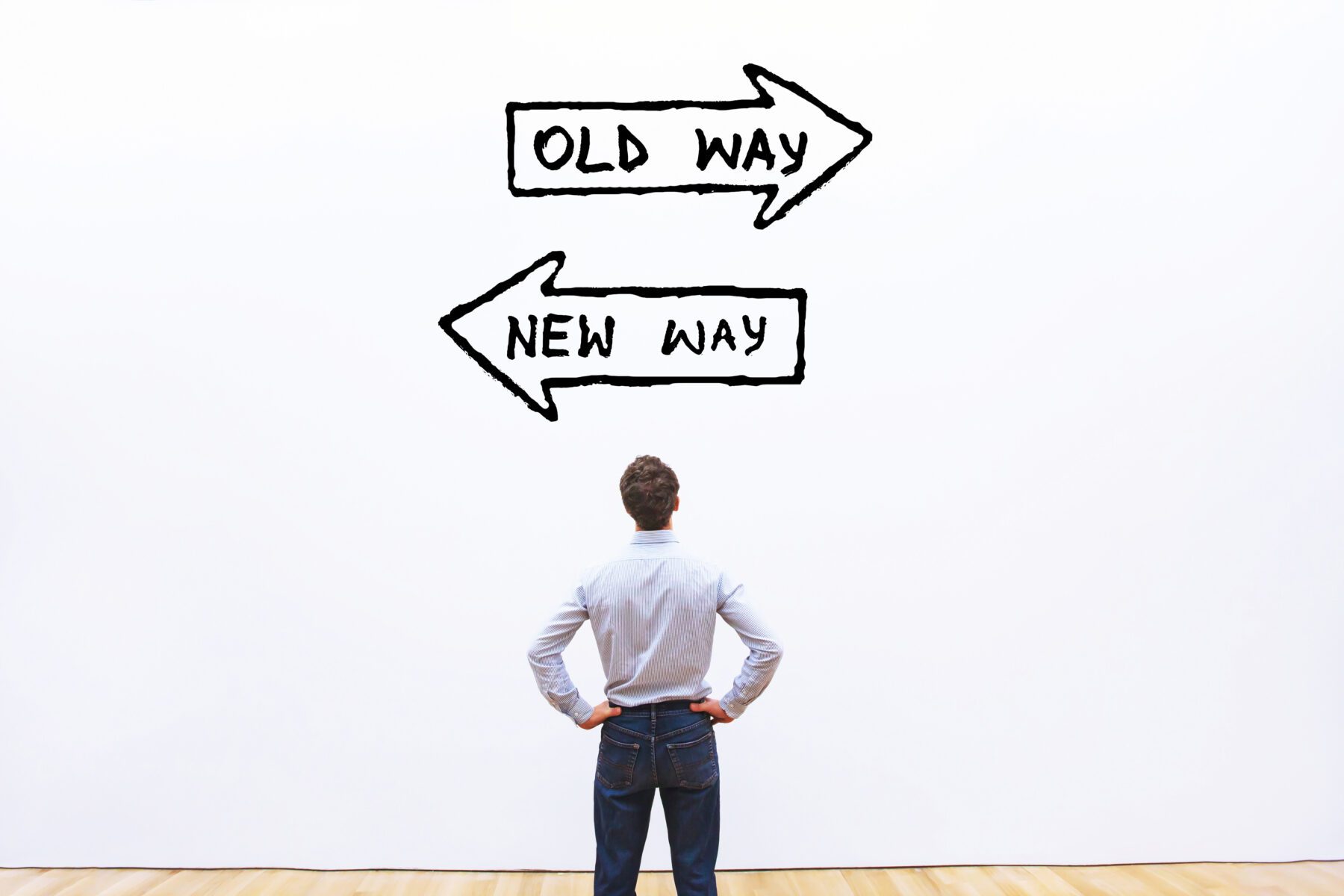 When you sell a product, you could be liable for any bodily injury or property damage a customer experiences when using your product.
Generally, you try to reduce your liability by formally incorporating your company, but that only provides so much protection.
To gain further protection, you might choose to purchase product liability insurance.
Product liability insurance generally covers medical expenses, legal fees, and settlements.
If you sell on Amazon, you're required to have product liability insurance once you reach a certain revenue threshold. Up until now, Amazon didn't check to verify sellers were following this guideline, but that may be changing soon.
On August 10th, Amazon announced that they'll be making changes to their product liability claims process.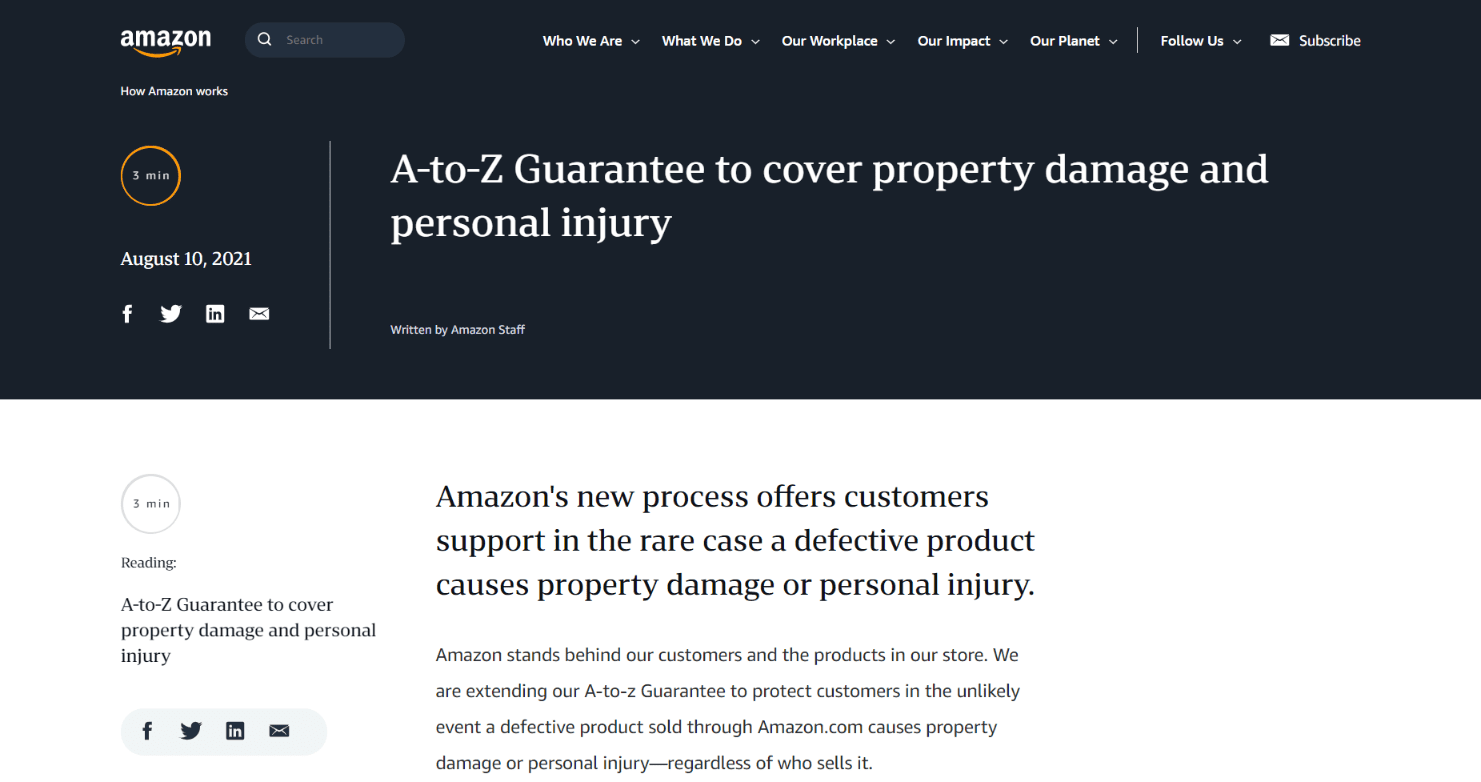 They're trying to make the claims process more efficient for both sellers and customers to navigate.
In this article, we're going to cover the latest changes to Amazon's A-to-Z claims process so you know what to expect and how to protect your business going forward.
Amazon's Insurance Requirements
Previously, Amazon's policies stated that once you reach $10,000 per month in revenue for three consecutive months, then you're required to get commercial liability insurance.
But, one of the changes they're making to their policies starting in September is that if you reach $10,000 in gross sales in any month, you're required to have liability insurance
If you're selling on Amazon and you don't currently have liability insurance, you'll want to know Amazon's ten criteria for insurance policies:
Policy limits must be at least $1 million per occurrence and in aggregate, covering all liabilities caused by or occurring in conjunction with the operation of your business, including products, products/completed operations, and bodily injury;

Policy type can be either commercial general, umbrella, or excess liability insurance and must be written on an occurrence basis;

Your insurance provider must have global claim handling capability and a financial rating of S&P A- and/or AM Best A- or better (if S&P or AM best is not valid or used in the country where you are required to obtain insurance, a local equivalent is allowed);

Your insurance provider must give Amazon at least 30 days' notice of cancellation, modification, or non-renewal;

The policy must name " Amazon.com Services LLC., and its affiliates and assignees" as additional insureds;

The deductible for any policy(ies) must not be greater than $10,000 and any deductible amount must be listed on the certificate(s) of insurance;

The policy must cover all sales from products you have listed on the Amazon website;

Your insured name must match the "legal entity" name you provided to Amazon (To view your legal entity name, see your Account Info page);

The policy must be completed in its entirety and signed; and

The policy must be valid for at least 60 days from the date of submission.
If you choose to ignore Amazon's insurance requirements, there could be consequences.
What Happens if I Don't Have Insurance?
If you don't have insurance and a customer files a claim, Amazon will resolve the claim but then seek reimbursement from you for the costs incurred during the resolution process.
Their policy page also says they may place restrictions on your account for specific categories or they may suspend your account until you provide proof of insurance.
When you purchase a policy, your insurance company will issue a Certificate of Insurance that includes the property/people covered, the amount of coverage, exclusions, and deductibles.
In some circumstances, Amazon says they may ask for the invoice that has your policy purchase on it.
Additionally, with this latest change, there's extra incentive to get liability insurance, because if you do, you'll benefit from a new policy that states Amazon will cover claims up to a certain amount.
If you have insurance, Amazon will take care of the entire claim up to that threshold, but if you don't, you may have to cover it.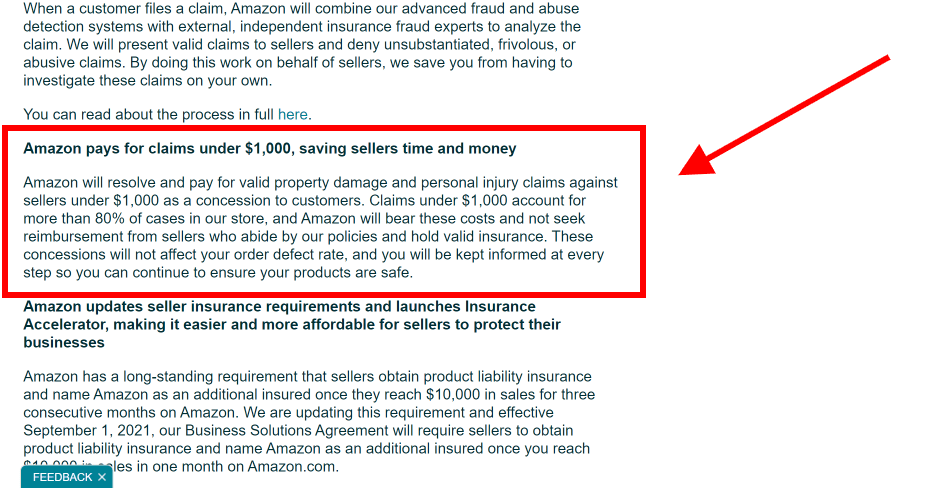 Changes to Amazon's A-to-Z Claims Process
Now that you know Amazon's insurance requirements, let's cover the changes they made to the claims process in their August 10th announcement.
Starting September 1st, Amazon will be a default intermediary in resolving property damage and personal injury claims for products purchased off Amazon.com
On Monday, September 13, 2021, an email was sent to sellers requesting proof of liability insurance for products sold on Amazon.com. Here's a snippet of what was said:
"As of September 1, 2021, Section 9 of the Business Solutions Agreement (https://sellercentral.amazon.com/gp/help/G1791) requires you to obtain and maintain at least $1 million of commercial general, umbrella, or excess liability insurance, within 30 days after exceeding $10,000 in gross proceeds in sales in one month on Amazon.com or if otherwise requested by Amazon."
They also state that the deadline to submit proof of insurance is 30 days after you receive the email.
What happens if you miss the deadline?
Well, it's not entirely clear.
Prior to this change, you (as a seller) were responsible for handling all claims. Now, Amazon will get involved and make sure customers are taken care of.
If a customer files a claim that you don't respond to, Amazon will address the claim, take care of the costs, and then pursue repayment from you separately.
All claims will be processed by independent insurance fraud experts to judge if they're legitimate. If they're deemed so, then Amazon will move the claim on to the seller.
You might be wondering, why the sudden change?
It appears part of this move is to protect Amazon's brand image and relationship with customers.
For most of Amazon's history, when claims were filed Amazon was not found liable, but recently, a court found Amazon liable for a defective battery product sold on their website.
By streamlining the claims process, Amazon will help get these issues solved quicker, gain the confidence of shoppers, and it will help them keep abreast of what products tend to come with the most risk.
Another way this change benefits sellers is that if the cost of resolving a claim is less than $1,000, then Amazon will cover the cost without seeking reimbursement from the seller.
If the cost is higher than $1,000, then you and your insurance company will need to take care of the costs.
Getting Insurance Through Amazon's Insurance Accelerator
With these new changes, Amazon partnered with Marsh, an insurance brokerage company, to connect you with insurance providers that they've vetted.
If you've heard about (or used) Amazon's IP Accelerator—Amazon's trademark brokering program, then you should know that the way this works is similar.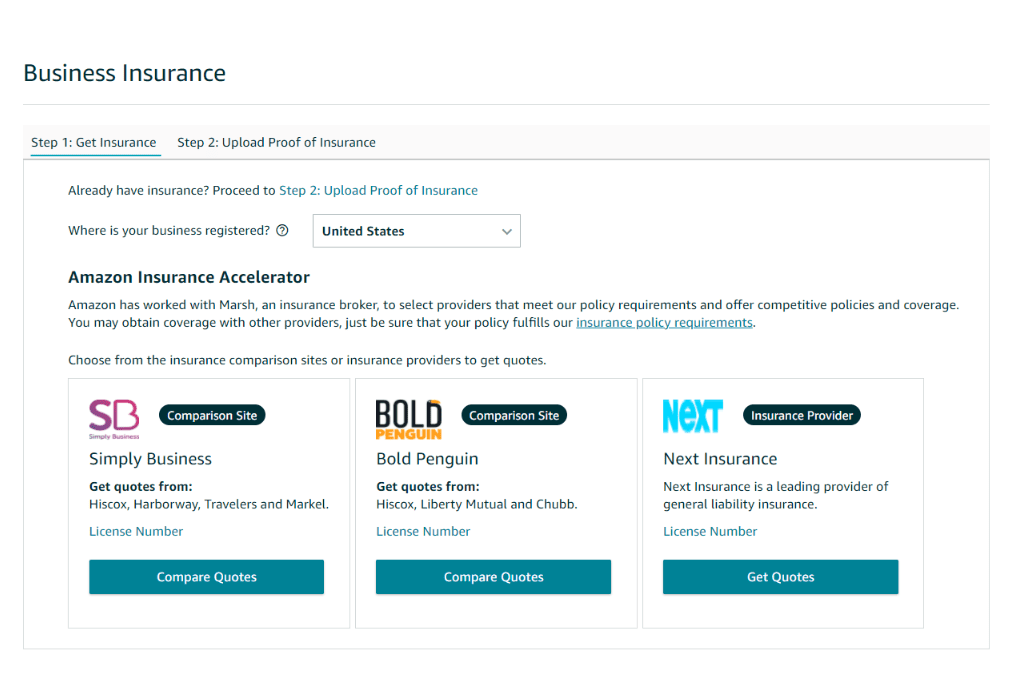 If you don't use the Insurance Accelerator, you'll still need to get insurance and upload your Certificate of Insurance (COI)—as proof of coverage—to the Business Insurance page under your Seller Central account settings.
Note: The document must be in PDF, DOC, or DOCX format.
Wrapping Up
Preparing for what could happen isn't a priority on most peoples' lists, but it should be. With Amazon's $1,000 threshold and their Insurance Accelerator program, they're providing sellers with extra incentives to comply with the guidelines.
Don't wait for Amazon to ask you for proof of insurance. As they've stated, they may suspend your account until you can provide proof. The revenue loss on top of the cost of the claim isn't worth the hassle. Give yourself time to shop around. Liability insurance claims vary based on your estimated annual revenue, but some companies may offer better coverage options. As the old saying goes, "The best time to start was yesterday. The next best time is now."
Happy Selling,
The Page.One Team
The Last Word:
Overall, these changes appear to be positive. With Amazon acting as an intermediary between customers and sellers, it takes a little bit of the fear of account suspension and/or retaliation off sellers' shoulders when they're battling back and forth with a potentially fraudulent claim.