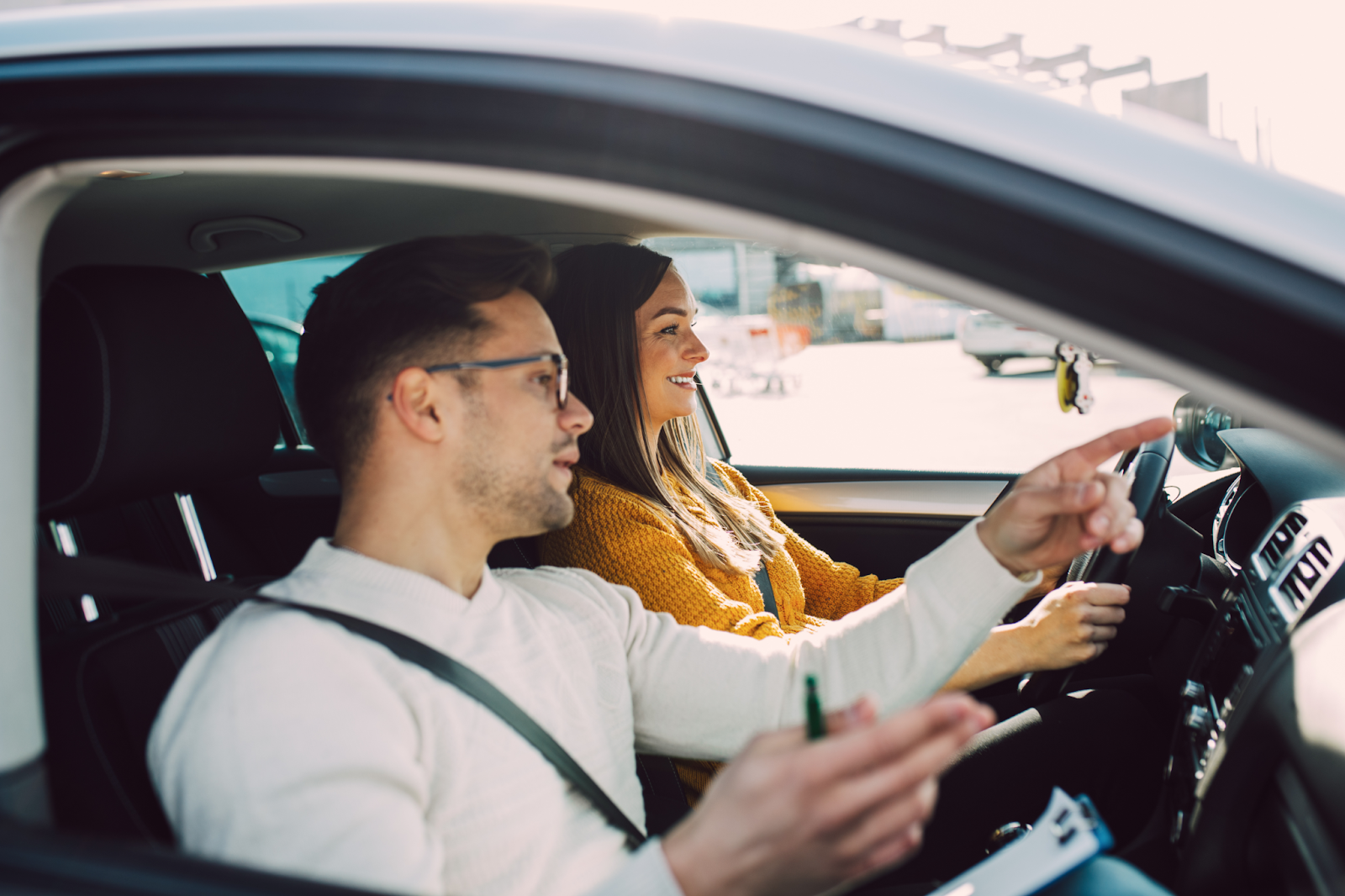 Amazon offers such a surplus of products and solutions that it makes staying on top of your prospects' and customers' minds hard to do. In fact, for a while, it was next to impossible without getting a prospect or customer off Amazon and onto your website or social media channels.
Problem is, doing that isn't easy either, because Amazon is against sellers that take customers off the platform.
But there's good news: Today, Amazon offers a key solution to easily retarget prospects and customers. It's called Sponsored Display Ads (formerly known as Product Display Ads).
To get access to these ads, you have to be a part of Amazon's Brand Registry program. It's not hard to do, but you need a trademark to get accepted.
Amazon launched Sponsored Display Ads in September 2019.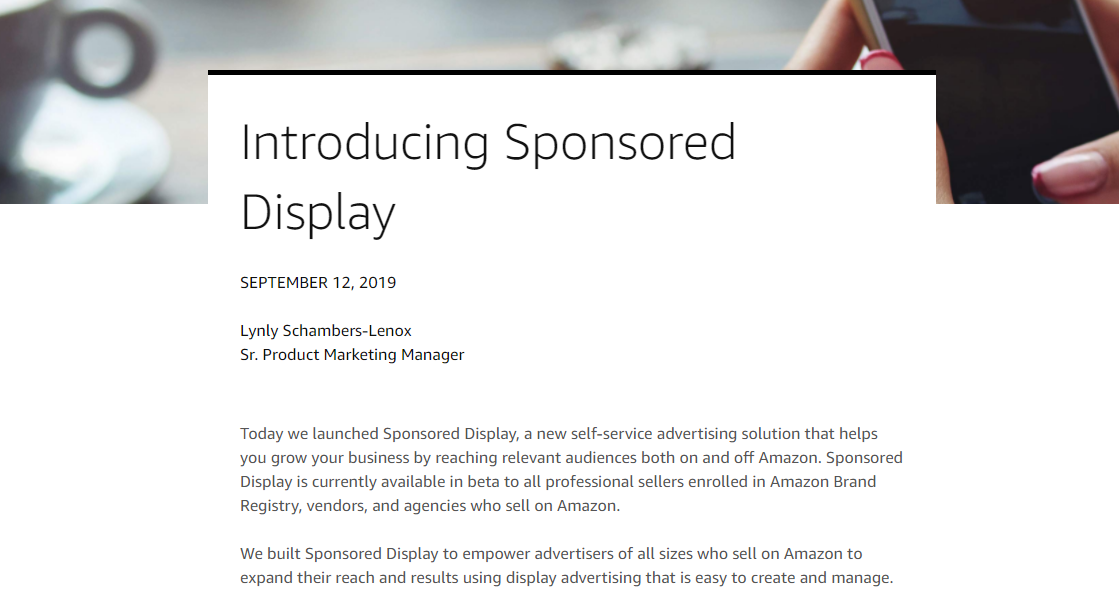 They're one of three Amazon self-service PPC options. They allow you to target audiences based on interests and behavior.
If you don't know what PPC is, it stands for Pay Per Click advertising. It's a form of advertising where you place a bid to show your ad in a location, and when someone clicks your ad—whether they make a purchase or not—you pay a fee.
With Sponsored Display Ads, you can target specific locations that you want to show your products.
What's special about these types of ads is that you can promote your products on and off Amazon. The off-Amazon use is limited to Amazon-partnered or Amazon-owned third-party websites and apps (e.g., IMDb and GoodReads).
Here's an example of where a Sponsored Display Ad might appear: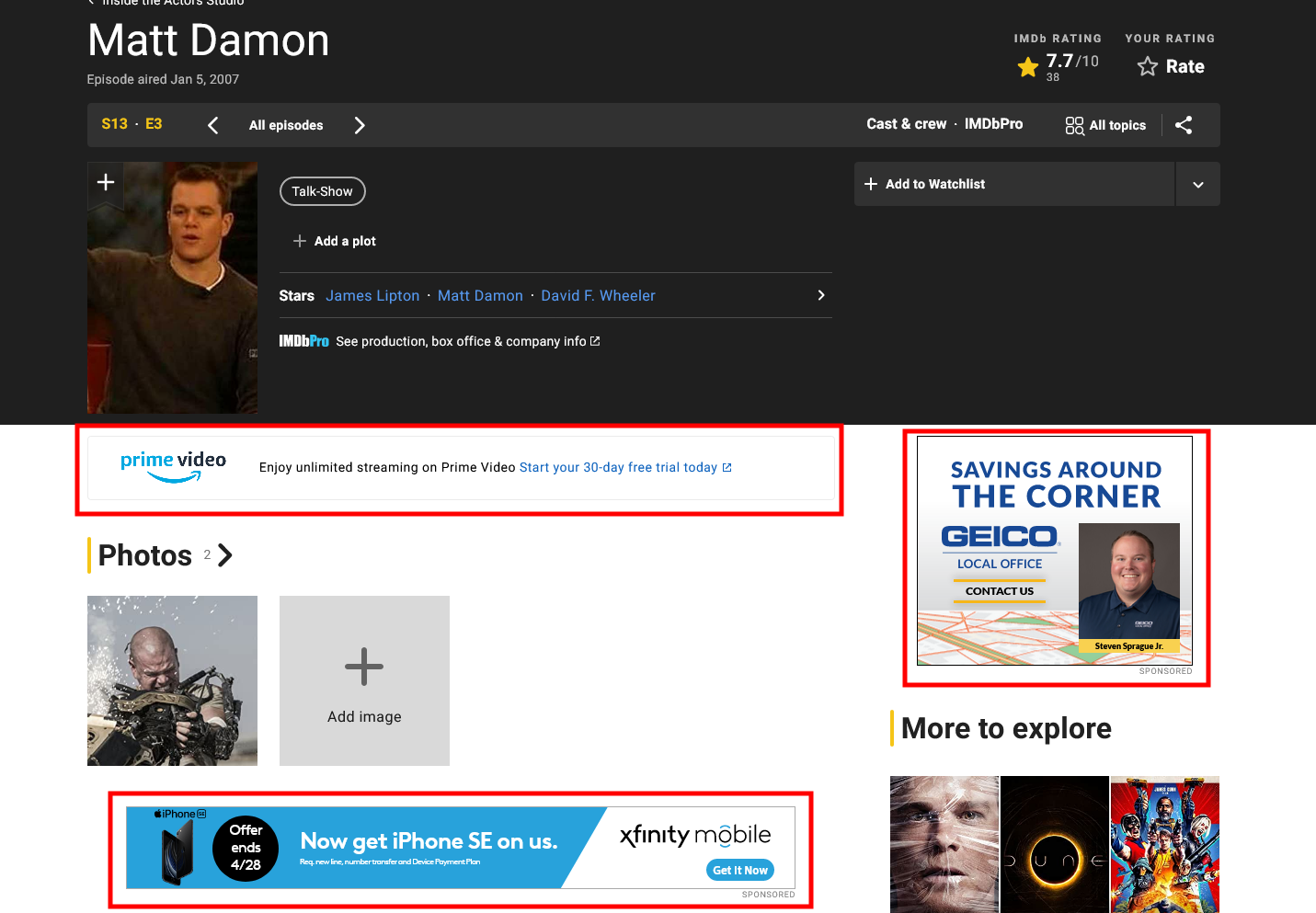 Note: This is on IMDb—an Amazon-owned third-party site.
These ads are still relatively new, so many brands and sellers aren't using them to their full advantage. That means you have an opportunity to get cheaper clicks and more visibility if you know how to use it.
In this article, we're going to give you a breakdown of Sponsored Display Ads and how you can use them to drive interested traffic to your product page.
An Overview of Sponsored Display Ads
You might be wondering what makes these ads so useful when Sponsored Products Ads and Sponsored Brands Ads already do a great job.
Well, they're a way of supporting your other advertising efforts. They can be used as a brand awareness tool, as a method for boosting new listings, or to capitalize on a competitor's traffic.
For example, you might use Sponsored Products Ads to increase your search rank, but then use Sponsored Display Ads to remind the prospects who visited your listing to come back to your product.
So, where do they appear?
These ads show up as an auto-generated rectangle or square. You'll find them all over Amazon's website. On product pages, they sit below the bullets, under the buy buttons in the right-hand column, or at the very top of the page. You'll also see them on the Amazon home page, review pages, and search results pages.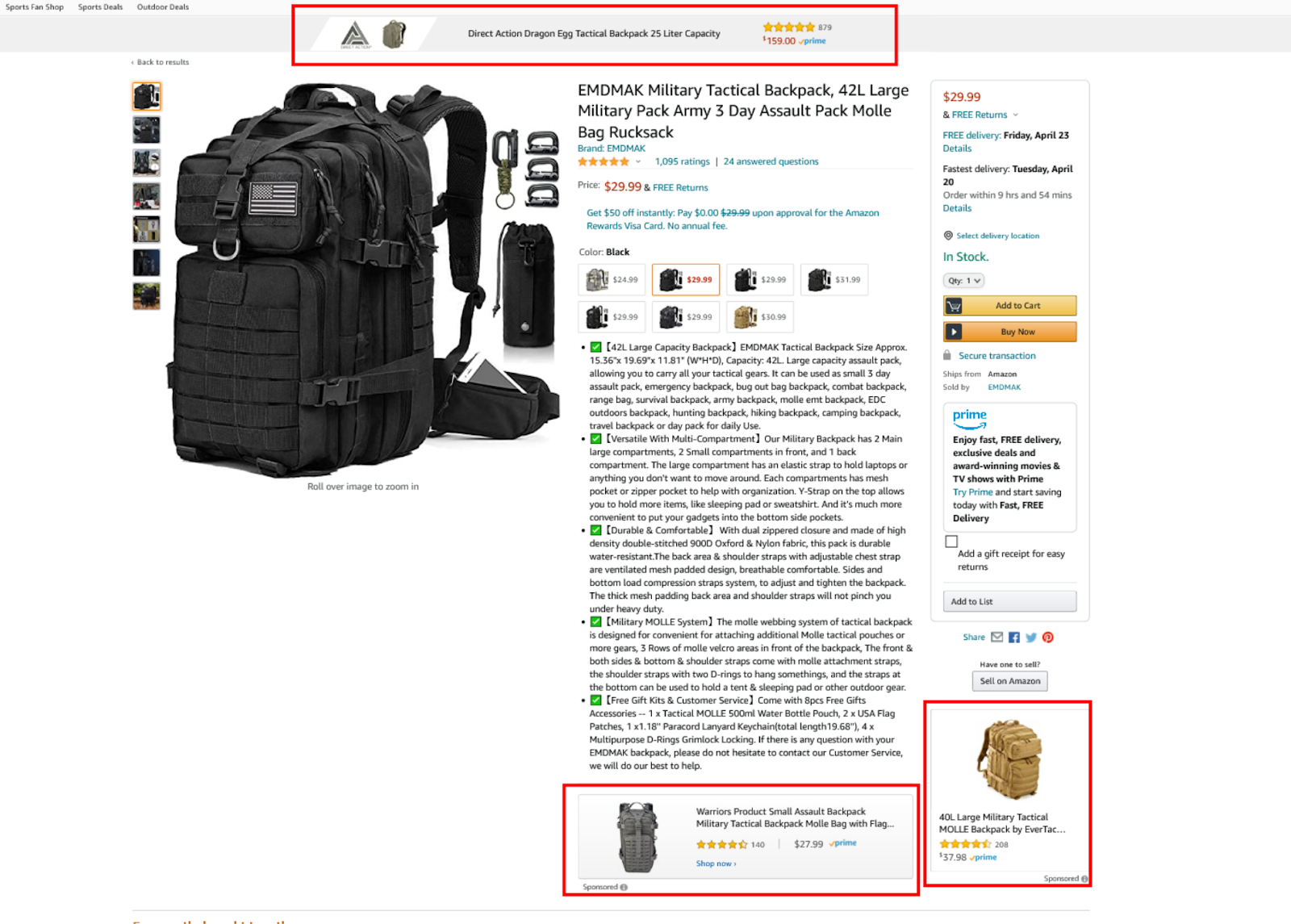 The main difference between these and the other advertising options: Sponsored Products Ads and Sponsored Brands Ads, is targeting. With Sponsored Display Ads, you generally don't target keywords, you target based on interests and behaviors.
One advantage these ads have is that they are "retail aware." Meaning, they only show up when an item is in stock, they exclude shoppers who've already purchased the product you're advertising, and bids adjust based on likelihood of converting.
Now, there are three types of targeting options available with these ads. You have product targeting, views remarketing, and audience interests (but that's for vendors only). In this article, we'll be covering product targeting and views remarketing.
Sponsored Display Ads Targeting #1 – Product Targeting
One of two targeting types you'll use for Sponsored Display Ads is product targeting. With product targeting, you can target ASINs and categories.
For ASINs, you'll enter the specific ones you want to target. They might be your other products, your competitor's products, or a complimentary product.
For the competitor products option, Amazon will actually suggest some ASINs; otherwise, you can enter them manually.
Determining which ASINs to target is simple. Use data from your other Amazon advertising methods or Brand Analytics.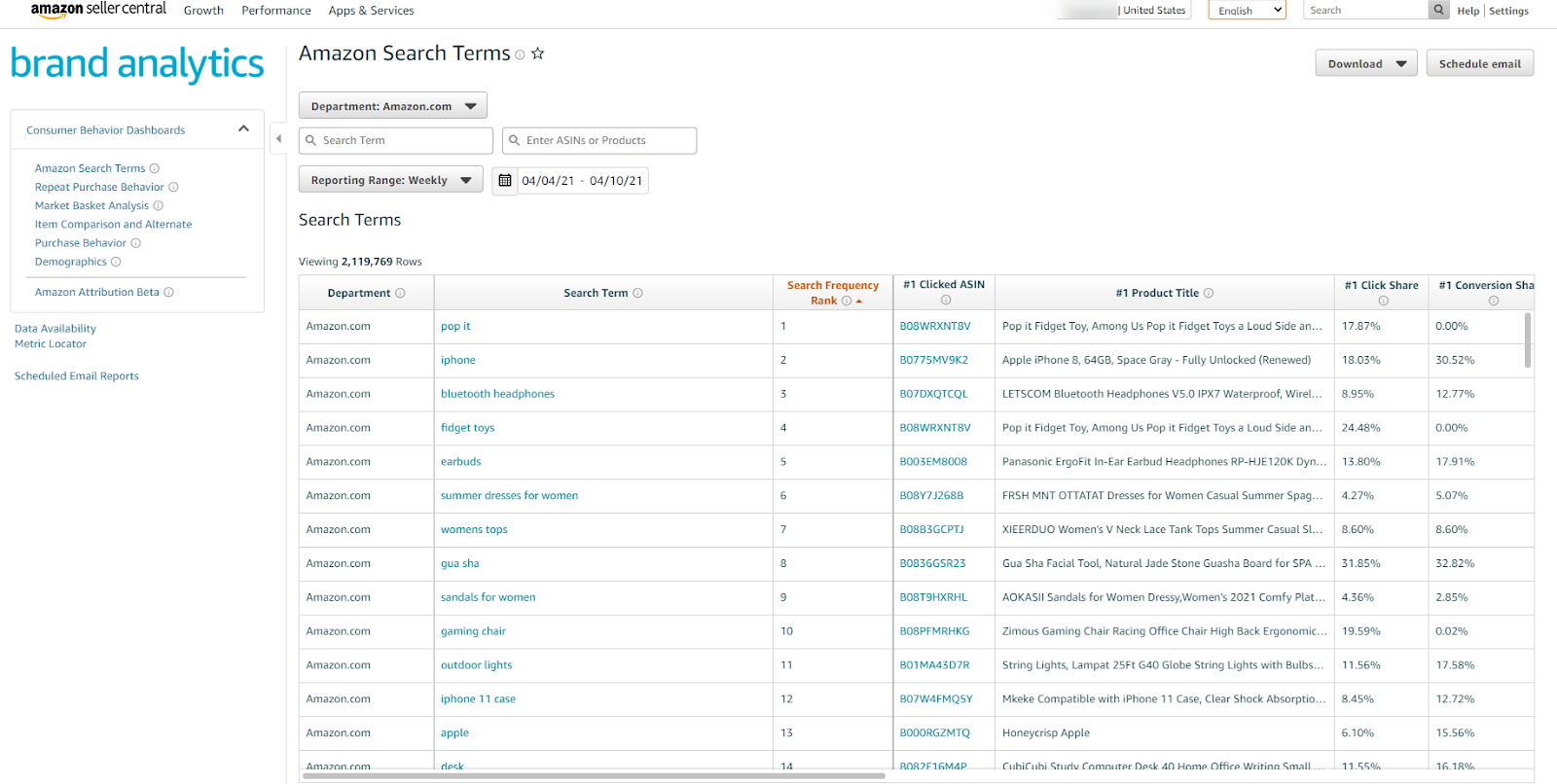 For categories, you can specify the brand, price range, product rating, and prime eligibility.
For product targeting, whether it's ASIN or category, you can use negative targeting to tell Amazon the brands and product listings you don't want your ads showing up for.
For example, let's say you specify a price range and you know of a product within that price range that you don't want to show up for. You can add that product ASIN as a negative target, so you don't show up on that listing.
Sponsored Display Ads Targeting #2 – Views Remarketing
The second targeting type you have access to with Sponsored Display Ads is views remarketing. This is the targeting type that gives you placement on and off Amazon. You can target products, searches, and categories.
With views remarketing, you can retarget prospects that visited your listing in the past 30 days but didn't purchase. You can also target people who've viewed similar products in the last 30 days as well. One important thing to note is that Amazon auto-selects similar products; so, you don't have control over that.
For searches, you can target people who've searched for specific keywords but haven't visited your product page. You get charged differently for this targeting sub-type; it works on impressions (CPM)—i.e., cost per impression. For every one-thousand times your ad appears—whether it's clicked or not—you're charged a fee.
Here's an example of a Sponsored Display Ad at the bottom of a search results page: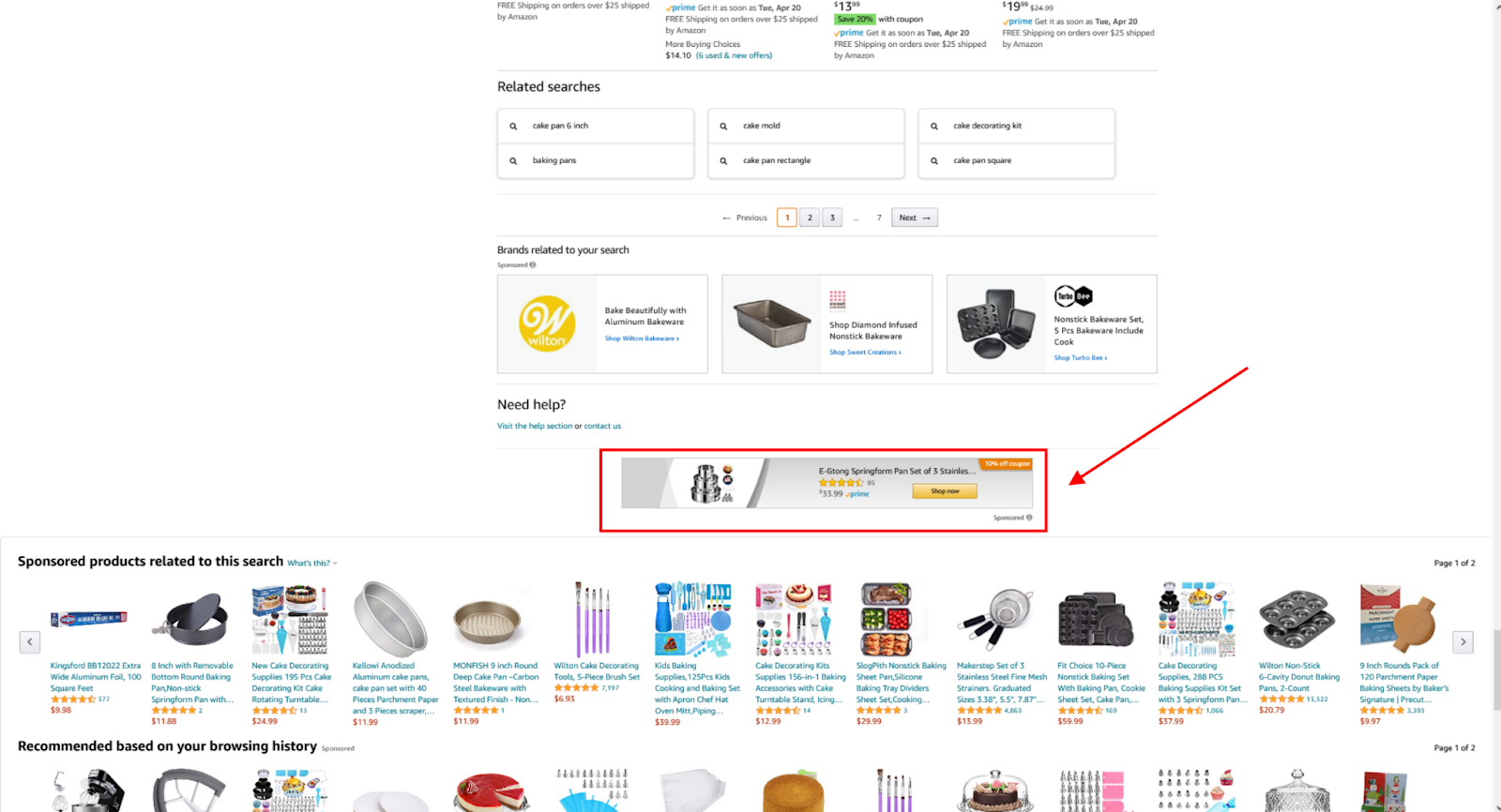 You can also target people who've purchased from you in the past. For example, maybe you sell a line of kitchen products. Well, someone who's purchased one product (as long as it's not too niche) is likely a candidate to purchase another kitchen product. You're also charged CPM for this targeting sub-type.
The great thing about views remarketing is that the people who are seeing your ads are anywhere from warm to hot. They've either seen your product, or they have shown some interest in a product like yours.
Wrapping Up
You can see how Sponsored Display Ads can fit successfully into an advertising strategy. In general, you'll want to focus on the other ad types first, but when you're ready to sustain sales or increase them through omnipresence, Sponsored Display Ads are a great tool.
Keep in mind: These ads can work as a defensive tool, just as much as an offensive tool. If you have a competitor that's targeting your listing, run a product-targeted Sponsored Display Ad and boot them off of it.
You really have a lot of range with these ads, you just have to have a strategy and keep on top of the data to get the best results.
Happy Selling,
The Page.One Team
The Last Word:
Not all products will work with Sponsored Display Ads. And some products will work with ASIN targeting better than category targeting (and vice versa). As with any advertising, you want to run experiments, pull the data, and make changes based on it.