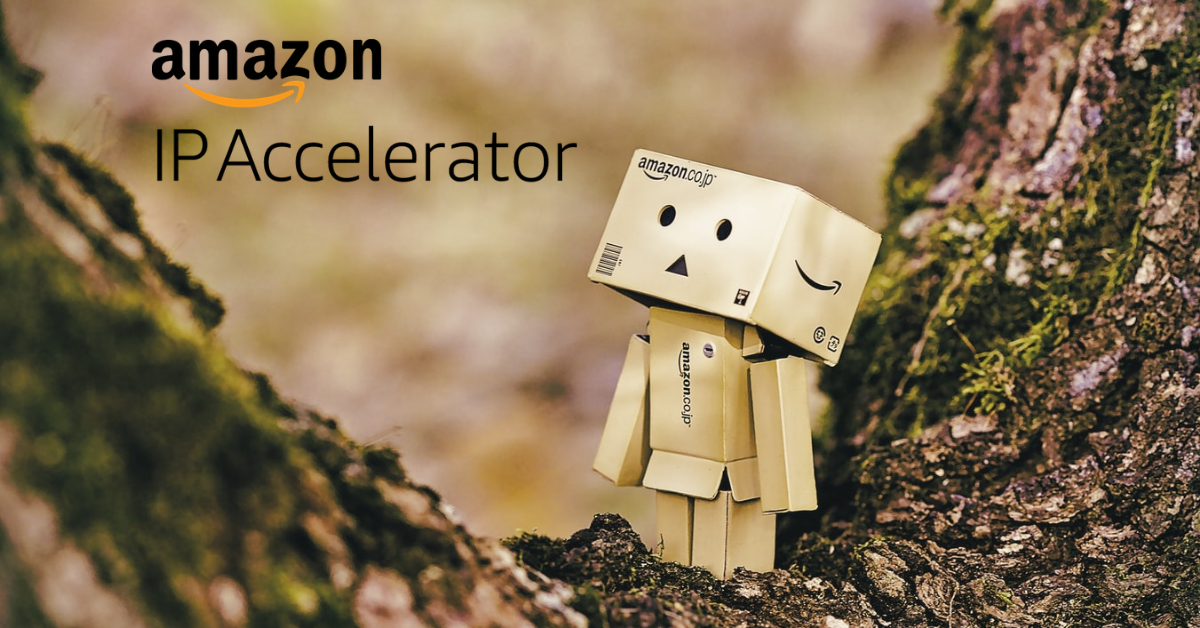 It goes without saying, Amazon dominates the eCommerce marketplace. They offer tremendous traffic, millions of daily transactions, and huge opportunities for third-party sellers.
Now, while all those factors sound great, they do come with their drawbacks.
You see, selling on Amazon isn't as easy as it might sound. As the Amazon brand continues to grow larger, sellers far and wide are hopping on the platform; and as to be expected, brands and sellers are hungrier than ever to establish themselves in their respective markets. But unfortunately, not all of them have ethical boundaries.
The result?
Counterfeit products, listing hijackers, little control over your listings, and a lot more headache.
So, how do you reduce your exposure to "bad actors" so you can build your brand authority and own your sales?
Well, nowadays Amazon makes it rather easy. The only requirement is that you have to enroll in their Brand Registry program.

However, to enroll in Amazon Brand Registry, there are a couple of requirements you must meet; the largest one being: a registered trademark.
Yes. To join Brand Registry, you have to be an owner of an actively registered trademark. Traditionally, the process of getting one is very daunting and time-consuming. The U.S. is one of the toughest countries to acquire a registered trademark. It can take anywhere from 8 to 12 months to get approved.
No brand wants to wait 8+ months to get access to the competitive tools that are available in the Brand Registry program.
But here's the good news:
You don't have to wait a month, let alone 8+ months….
If you've been recently thinking about leveling up your Amazon business and enrolling in Brand Registry, then stay tuned. In this article, we'll reveal the latest shortcut to getting accepted into Brand Registry fast and easily.
What is Amazon IP Accelerator Program?
As the name suggests, Amazon IP Accelerator is the program that helps expedite your acceptance into Amazon's Brand Registry. Now, does the IP Accelerator help to register your trademark quicker? No. Yet, it does expedite the process of getting your foot into Brand Registry with the least amount of resistance.
Here's how:
With eleven Amazon-vetted law firms—with high-quality trademark registration services—currently available in the program, you can safeguard the process of applying for a trademark quickly.
One added benefit to using these Amazon-approved law firms is that they understand Amazon's requirements. This saves you the time and hassle of searching for a law firm that can keep you compliant with Amazon standards or filing the paperwork yourself.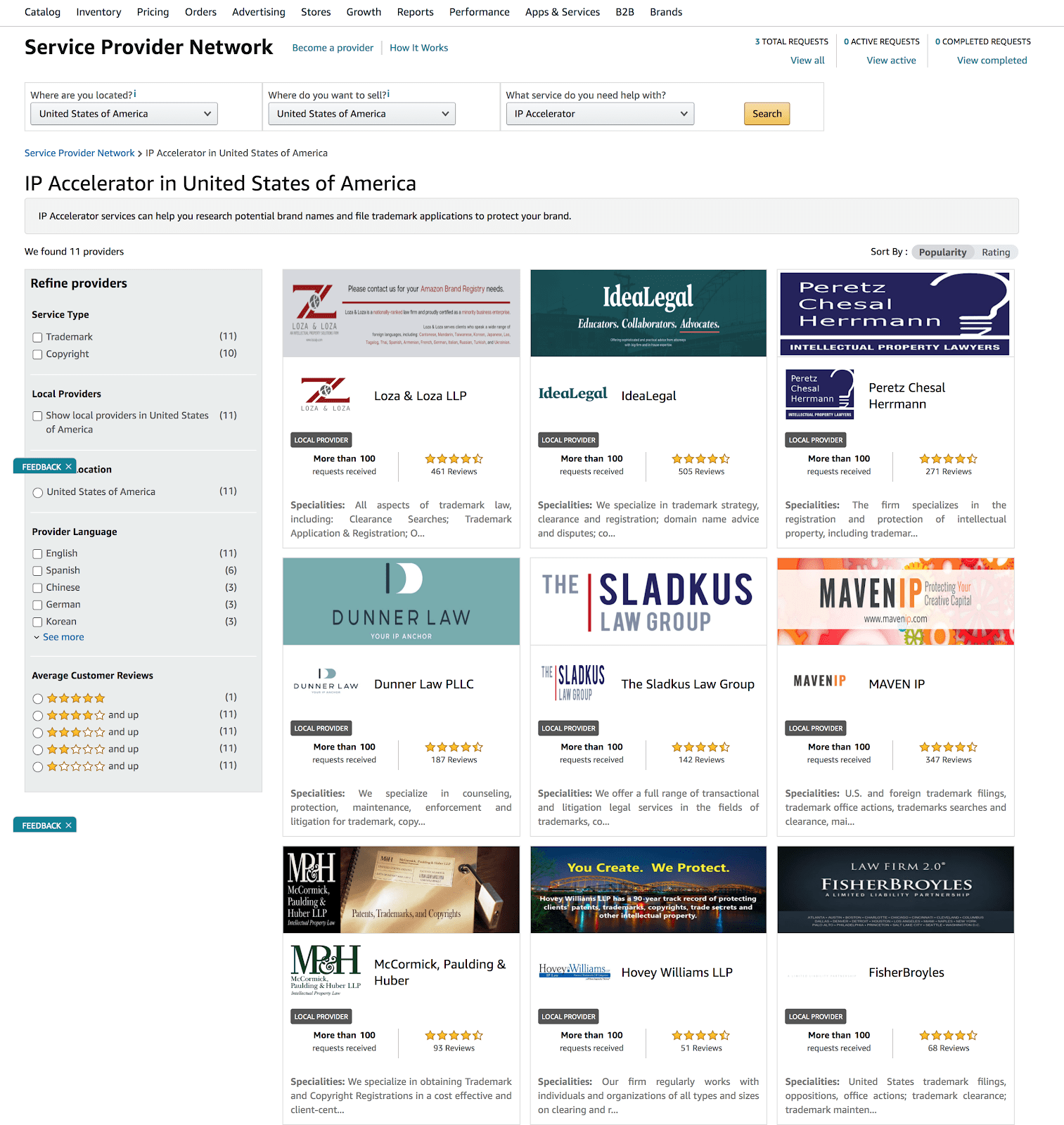 How does Amazon IP Accelerator Program work?
Under the service provider network in your Seller Central account, you can learn more about the Amazon-approved law firms, check their ratings, and see what other people say about them.
By clicking on the yellow button "Contact Provider," you'll be prompted to answer a couple of questions and submit your request for services.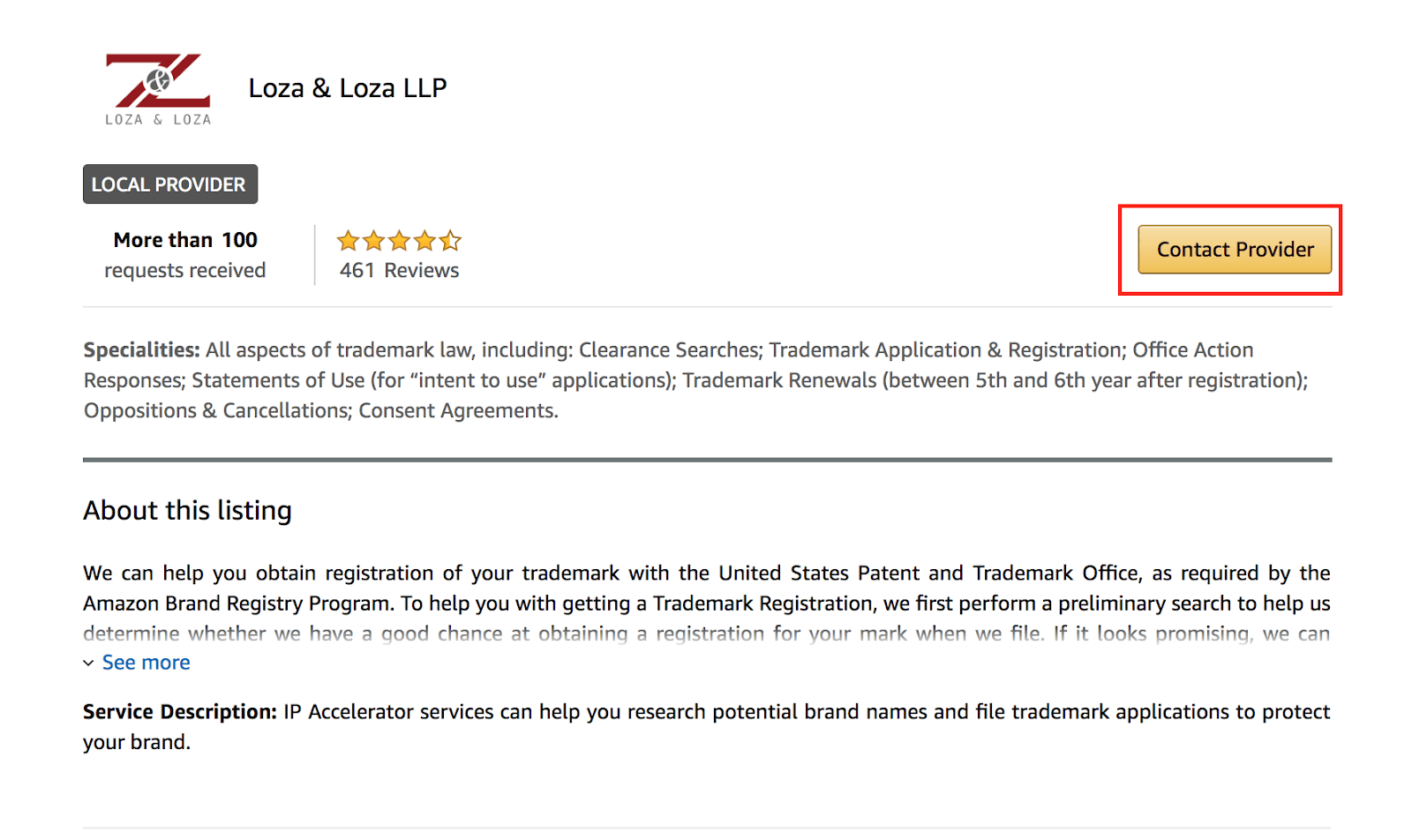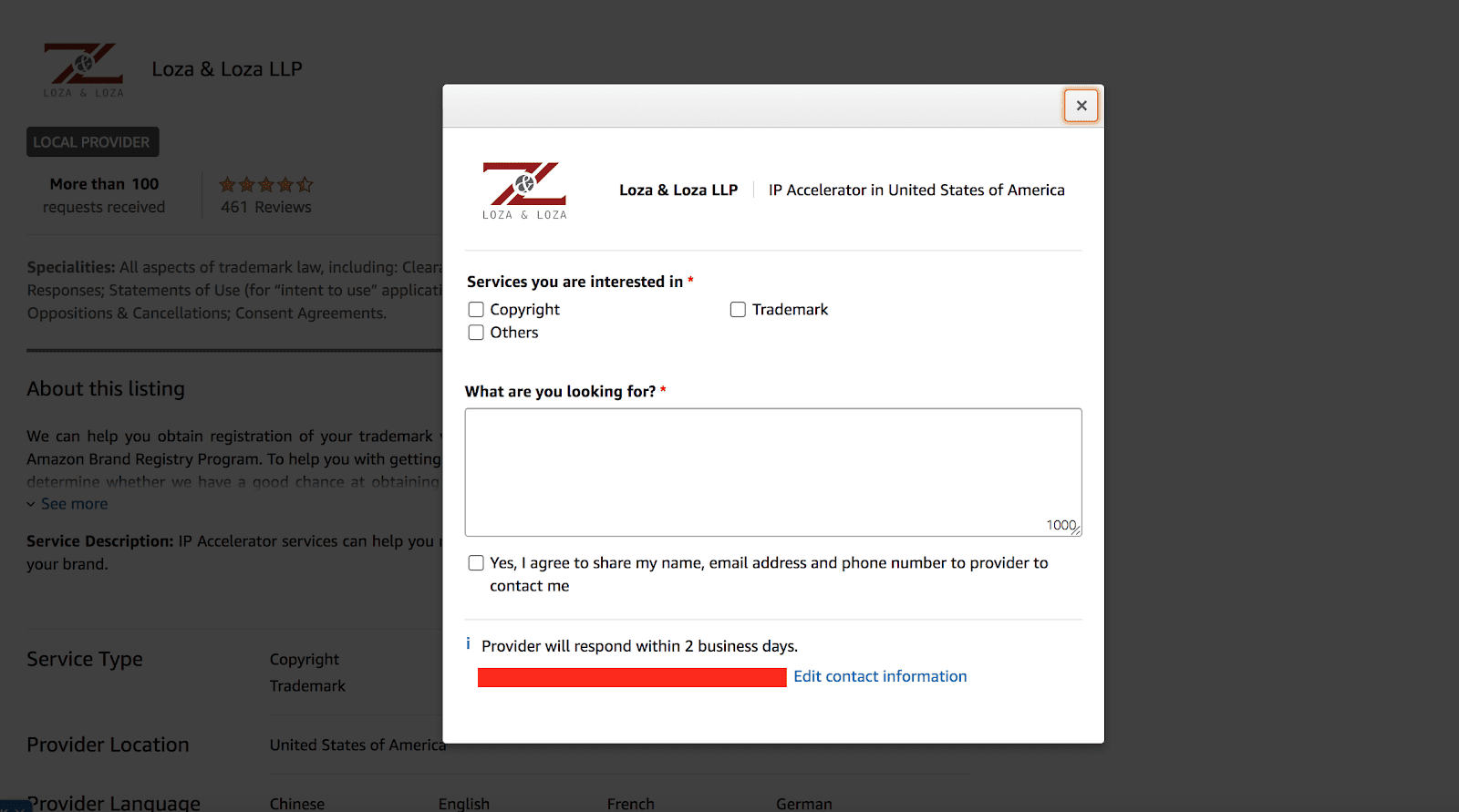 After submitting your request, in the next couple of days, you should receive an email from the provider with detailed instructions and the next steps on how to proceed.
You'll fill out their questionnaire—answering basic questions about your business, the mark you want to register, etc.—and you'll be able to see their pricing options.
In most cases, there's a $600 flat fee for filing your trademark application, plus an extra $350 for the USPTO government fees. Combined, you're looking at paying around $950 to get a trademark and quick access to the Brand Registry program.
Once you make the payment and sign the engagement letter agreement, the firm will file your trademark application, and usually within the same day, Amazon will receive the serial number of your pending application.
In about two weeks or so, you should receive an invitation from Amazon to enroll in Brand Registry.
Why We Strongly Recommend Joining Amazon Brand Registry via IP Accelerator?
If you're not convinced that enrolling in Amazon's Brand Registry through their new IP Accelerator Program is a worthwhile investment, then let's remind ourselves of one thing:
Time is the most important resource for any businessperson, and if you're willing to invest some extra money to win some extra time, you're already ahead of the game. That sort of mindset and prioritization will give you a competitive edge in your market.
Remember, joining Brand Registry gives you access to a suite of marketing and advertising tools that can help you make better decisions and increase your sales.
Here are just a few of the benefits of Amazon's Brand Registry program:
Brand Protection – You'll have better leverage and control over listing hijackers. You'll be able to remove hijackers with an exclusive self-service tool.
A+ Content – If you want to increase your conversion rates, then A+ content is the way to go. You can only say so much with words, but with visuals, you can bring those words to life in a way that speaks to prospective buyers.
Manage Experiments – As a brand owner, you may be looking for ways to increase your sales without using paid tools like advertising and deals. Well, as a brand-registered seller, you get access to the Manage Your Experiments tool. It's a free tool that lets you run A/B tests on certain content on your listing to help drive more traffic and sales.
Brand Analytics – With access to first-hand data from Amazon, you'll know who your primary competitors are, and you'll be able to make better decisions on advertising and growing your brand.
Amazon Storefronts – Want to showcase all your brand has to offer, while still capitalizing on Amazon's brand equity and large customer base? Well, when you join the Brand Registry program, you'll be able to promote your brand, products, and create product collections with a dedicated multi-page storefront.
Virtual Bundles – Notice how some listings have the ability for you to create bundles with other products? That's a feature you get access to inside Brand Registry.
Amazon Attribution – For a while, one of the biggest gripes sellers had with Amazon is that there was no clear way to track your off-Amazon advertising and marketing efforts to see what initiatives converted to sales. Well, now with access to Amazon Attribution (inside Brand Registry) you can.
Wrapping Up
Of course, Amazon IP Accelerator is not the only option you have when it comes to trademarking your brand and enrolling in Brand Registry.
If you want to save a couple of bucks, you can always hire another IP firm on the internet, or even file your trademark application yourself.
As the business owner, you're the only one who can make that decision for yourself. Just remember: The faster you get access to Brand Registry tools, the quicker you can optimize your product listings and increase your sales.
Happy Selling,
The Page.One Team
The Last Word:
As a bonus for reading to the end: We've recently heard some chatter in the seller community that Amazon now accepts brands into their Brand Registry Program with a pending trademark application. This wasn't always the case. Traditionally, Amazon required a fully registered trademark.
Recently, we've had a few clients successfully enroll in the Brand Registry program with their pending trademark application serial number. This is good news for those sellers that want to save a few bucks and file their trademark application themselves.