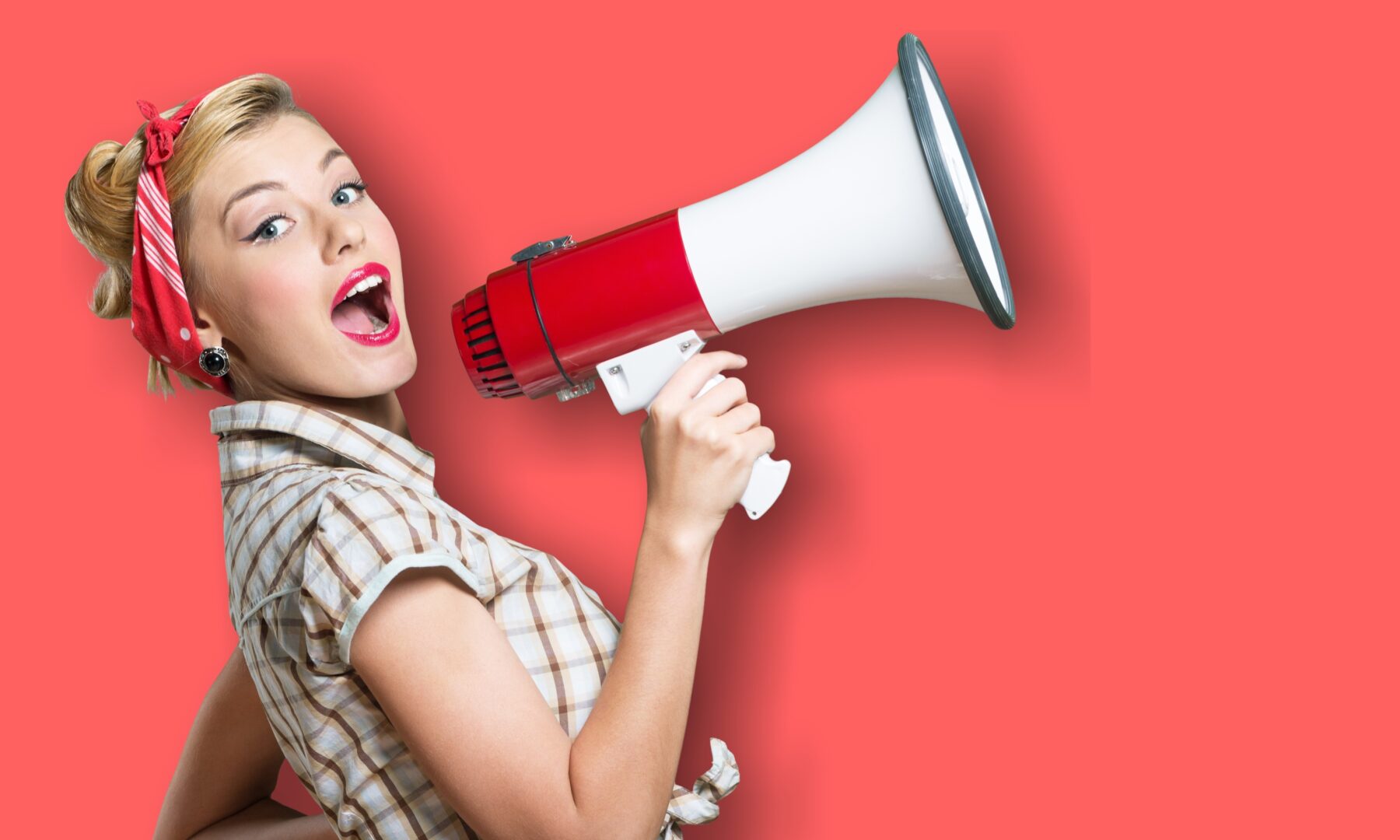 When you sell on Amazon, you don't get to control your customer list. This makes it difficult to retarget shoppers that show interest in your brand and products and cultivate customer-brand relationships that turn into long-term loyalty.
In addition to not having control of your customer list, for years, Amazon didn't provide third-party sellers with many avenues of communicating with Amazon shoppers, but today, there are several tools available.
With so many brands on the Amazon platform, establishing your unique voice and attracting attention amid thousands of products is important for your long-term sales velocity. That's why you want to explore any marketing avenue that Amazon provides.
In today's article, we're going to cover four free marketing tools that Amazon provides to you as a third-party seller. Using these tools, you're able to communicate with shoppers and stand out among the crowd.
Marketing Tool #1 – Amazon Storefronts
With Amazon Storefronts, you get a brand-dedicated page on Amazon. Currently, there's no other way to obtain a page that's focused on you and your products.
With sponsored ads and "Frequently Bought Together" carousels, not even your product page can be called brand-dedicated.
When you set up a Storefront, you get to choose the page header, sections, and menu using predefined layouts. You can choose which products you want to spotlight and how you organize your catalog.
Here's an example of an Amazon Storefront: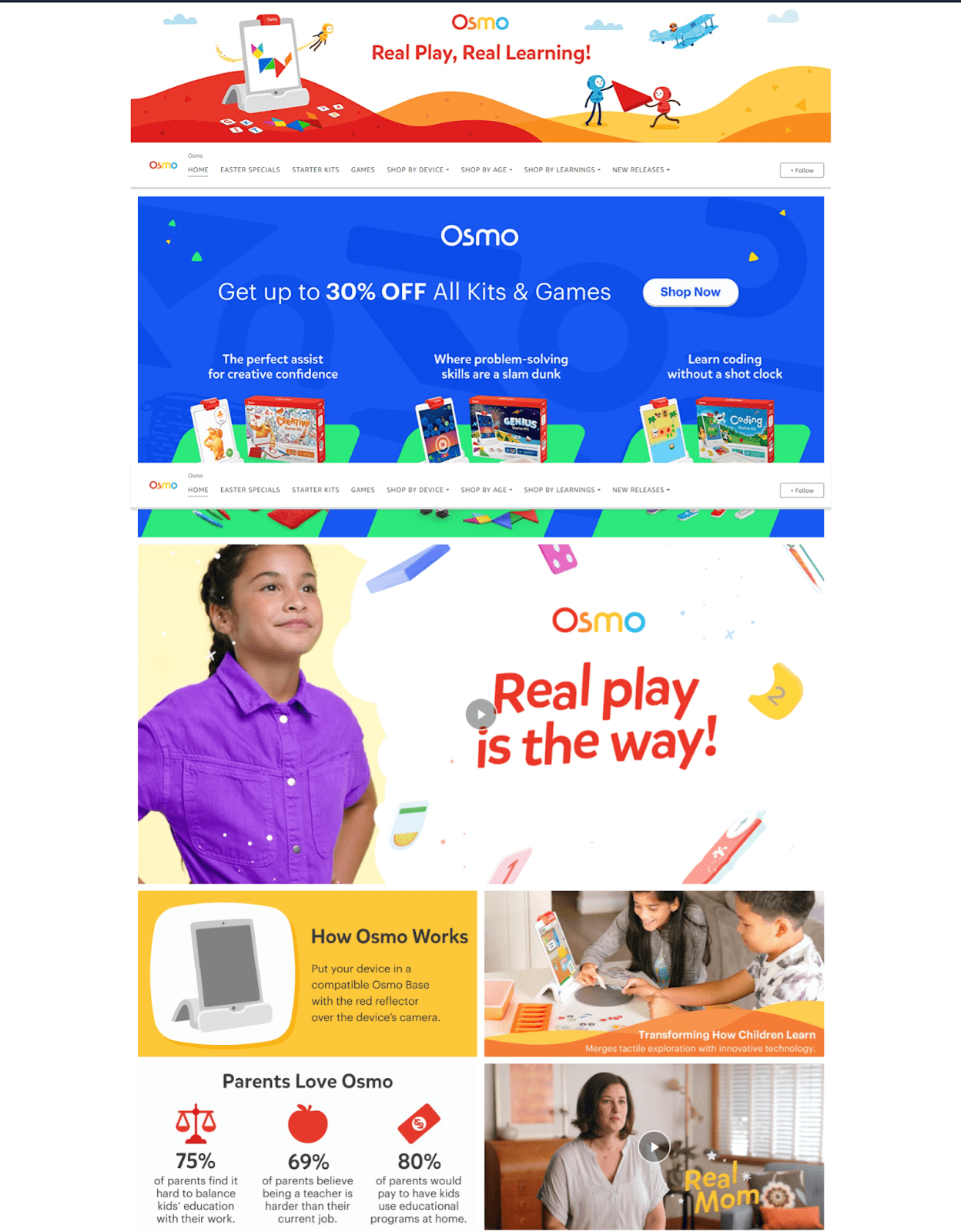 See how this brand uses the tiles to call out their target audience, educate them on how to use the products, and guide them through their product catalog with a category-based navigation menu?
You can do the same for your brand. If you sell several eco-friendly products, for example, you might create an eco-friendly page that displays all the products that fit in that category. That way, a shopper is easily able to see what else you offer that aligns with their values, instead of having to search for each product individually, which they may never do.
Additionally, Storefronts make it easier to boost new products and upsell other products in your catalog.
You can add your storefront link to your social media profiles, website, and ads, and provide customers with a convenient website to order your products, where they already have their payment details stored.
Marketing Tool #2 – Amazon Posts
Amazon Posts are an Instagram-feed-style feature where you can post photos with captions and tagged products. What makes this tool useful is that it allows you to use some of the most effective types of images: lifestyle photos, in a way that doesn't feel like it's directly selling you.
Amazon Posts don't just show up on your product pages alone, they show up on your brand feed, competitors' product page, on a related posts feed (curated based on similar products), and category feeds.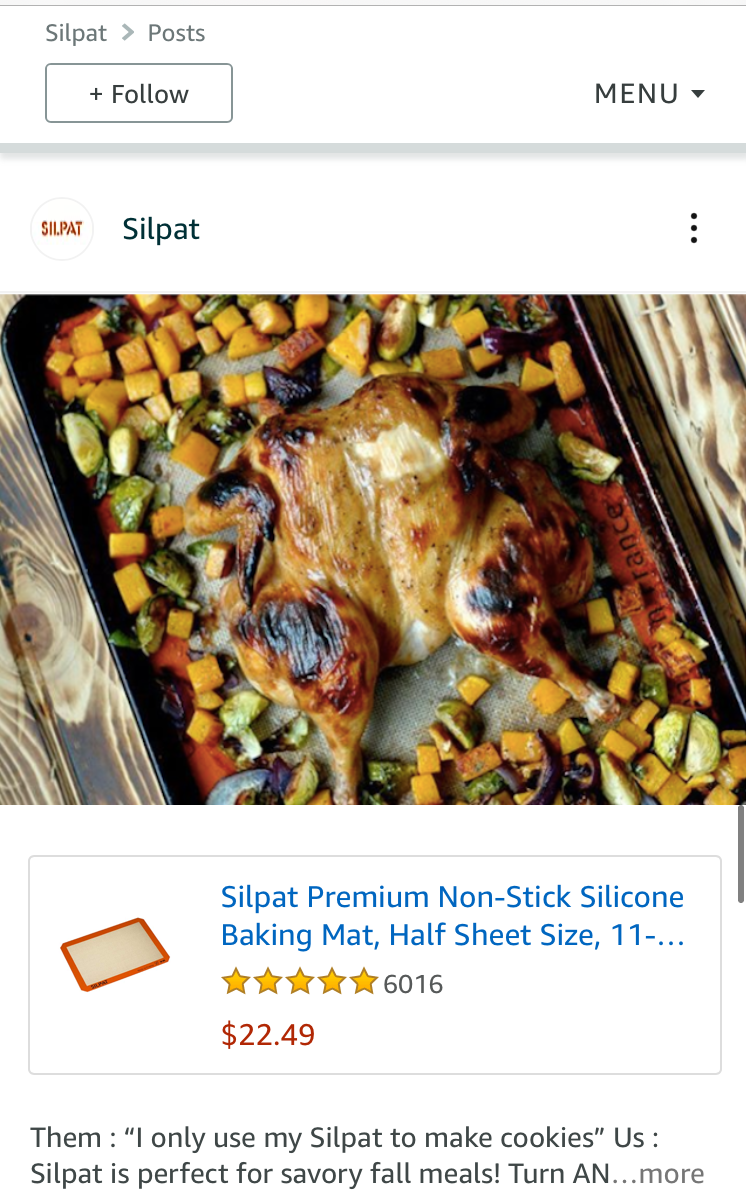 You can access Amazon Posts on a desktop device, but it's mostly optimized as a mobile feature.
There are a lot of potential benefits you can get from Amazon Posts. One, you're able to increase your reach for free because you're showing up in various places—including competitors' product pages.
Two, it allows you to test new concepts. For instance, if you see a post that has a significant engagement rate and product page clicks, it shows that the image you posted resonates with shoppers.
You can then take that image and use it in your marketing and advertising off the platform and add it to your product page photos if you haven't already.
Three, it provides you an option to educate browsing shoppers on your product. The character limit for Amazon captions is 2,200. That's plenty of room for you to describe a product, explain how to use it, and communicate the benefits.
Marketing Tool #3 – Amazon Livestreams
Online livestreaming has become increasingly popular in the last decade, and Amazon isn't missing out on embracing the trend.
In 2021, the global retail and technology research firm, Coresight Research, estimated that the U.S. live shopping market could be worth up to $11 billion—that's nearly double 2020 estimates at $6 billion.
In 2019, Amazon started allowing third-party sellers to livestream on the platform.
Livestreams show in various places, including your Amazon Posts, your product details page, on search results pages, and Amazon's homepage.
Your placement depends on your level of commitment. Currently, there are four levels: Rising Star, Insider, and A-List.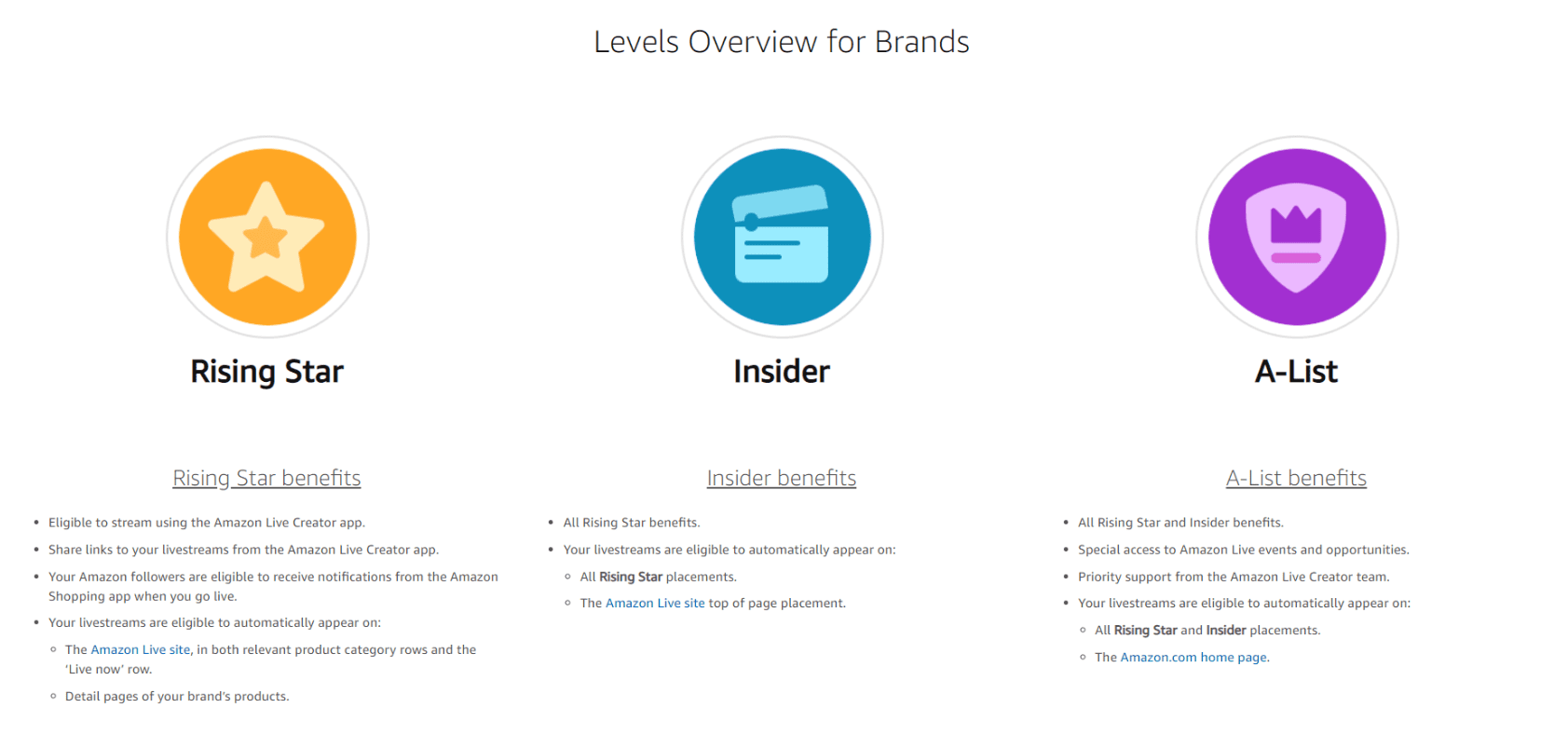 Depending on what level you're at, your livestreams will get extra placements. Your level is mostly based on how many minutes and days you've streamed.
You'll get access to data on total views, unmuted views, product clicks, follower growth, sales, and more.
As a third-party seller, you can use livestreams to promote your Amazon products and educate consumers on the use cases and benefits. But there's another benefit that might not be obvious right away: you also get to learn about your market.
With Amazon Livestreams, you can interact with viewers through live chat. This will give you exposure to the types of questions that are asked (including objections). With this information, you can edit your Amazon product page copy or images to emphasize noteworthy benefits and common concerns.
Marketing Tool #4 – Amazon's Manage Your Customer Engagement Tools
For the longest time, Amazon didn't allow third-party sellers to market to customers through email. The only emails you could send had to be specifically order-related.
In 2021, Amazon introduced the Manage Your Customer Engagement Tool. When a shopper opts in to follow your Amazon Storefront, you can send email campaigns that promote your product.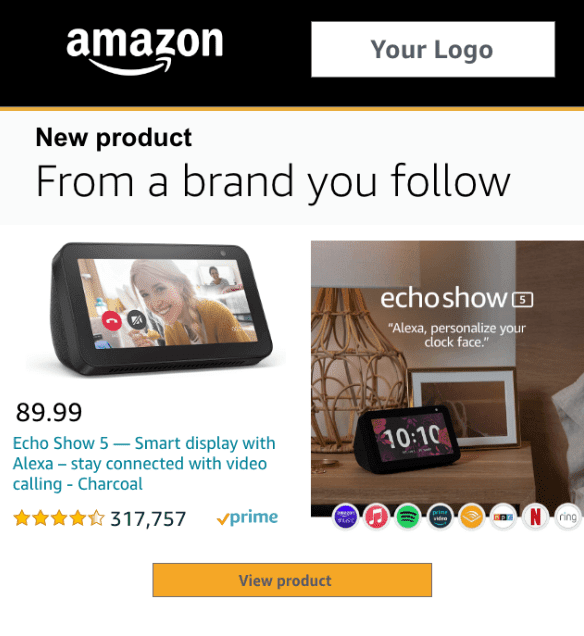 Now, Amazon hasn't completely let go of the reins. These emails are in a pre-defined, Amazon-branded format, so you get little control of how they appear.
You're also not able to include call-to-action buttons or text. Currently, they only have new product templates, but future templates may include special offers and discounts.
As a third-party seller, you know how important gaining early sales velocity is for improving your organic ranking. With the MYCE tool, you get to promote your new products to people who have self-selected to follow your brand. They know you and likely like you, so they're much more apt to purchase than the average shopper browsing the platform.
Wrapping Up
When you sell on Amazon, you have to be proactive about discovering and using the tools available to you. Amazon doesn't give you much access to consumers directly, so when they do, you want to take advantage of those opportunities.
Many of the marketing tools they provide are free, but a lot of sellers still don't use them because they don't always provide a direct correlation to sales.
Amazon as a platform will only continue to grow, so if you start establishing your presence on the platform through these indirect means, you'll be ahead of other sellers who are overlooking the long-term strategy.
Happy Selling,
The Page.One Team
The Last Word:
It's easy to focus on sales and revenue, but one thing you never want to forget about is cultivating brand awareness; especially, as consumers are becoming more brand conscious. Marketing is largely a brand awareness move. It's a longer-term investment, so you have to budget your time, energy, and financial investment with that understanding in mind.