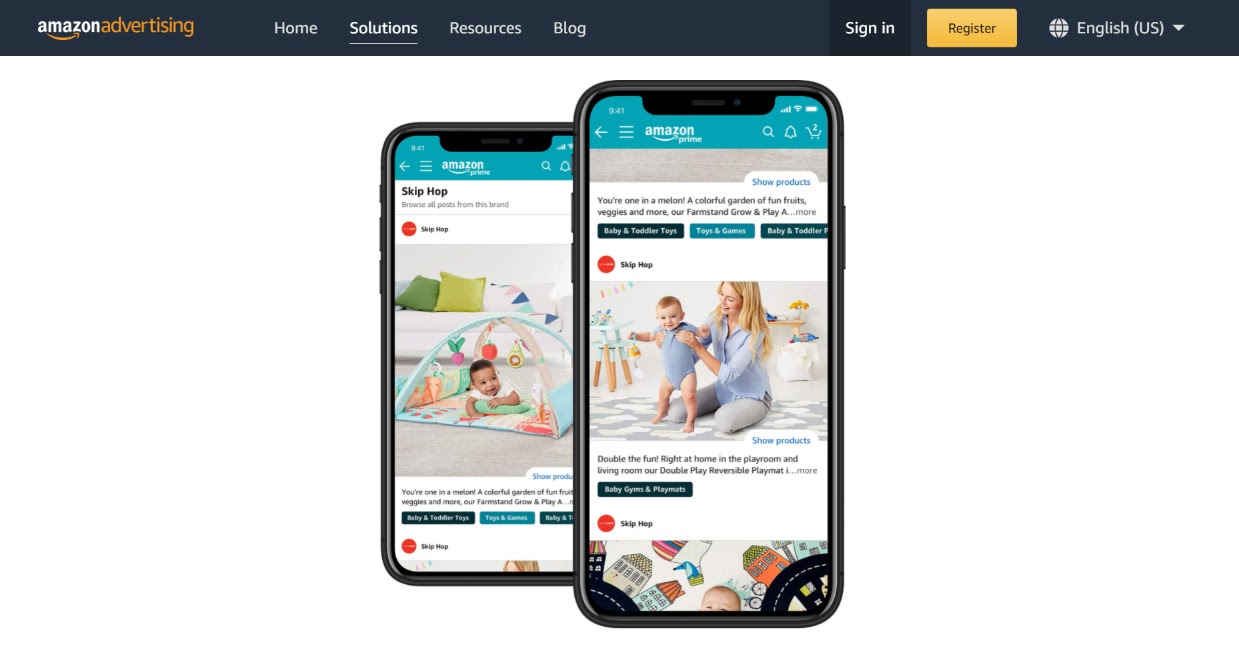 In the last few years, Amazon has been making a concerted effort to increase third-party brand awareness and engagement.
This is great for sellers.
If a seller can make an impact on customers and prospects on Amazon, it increases the likelihood those individuals will follow the brand off Amazon too.
One of the features Amazon added to increase brand engagement is called "Amazon Posts." Amazon Posts was released in October 2019. Since its launch, it has gone through several updates, which makes now a great time to start using it to your advantage.
Amazon describes Posts as "a new way to help drive brand and product discovery and consideration with curated lifestyle imagery in a shoppable feed." Currently, posts are mostly a mobile feature.
To access the feature you must meet the following requirements:
There are some products that you're not allowed to promote via posts; they include things like adult products, tobacco products, and combat weapons.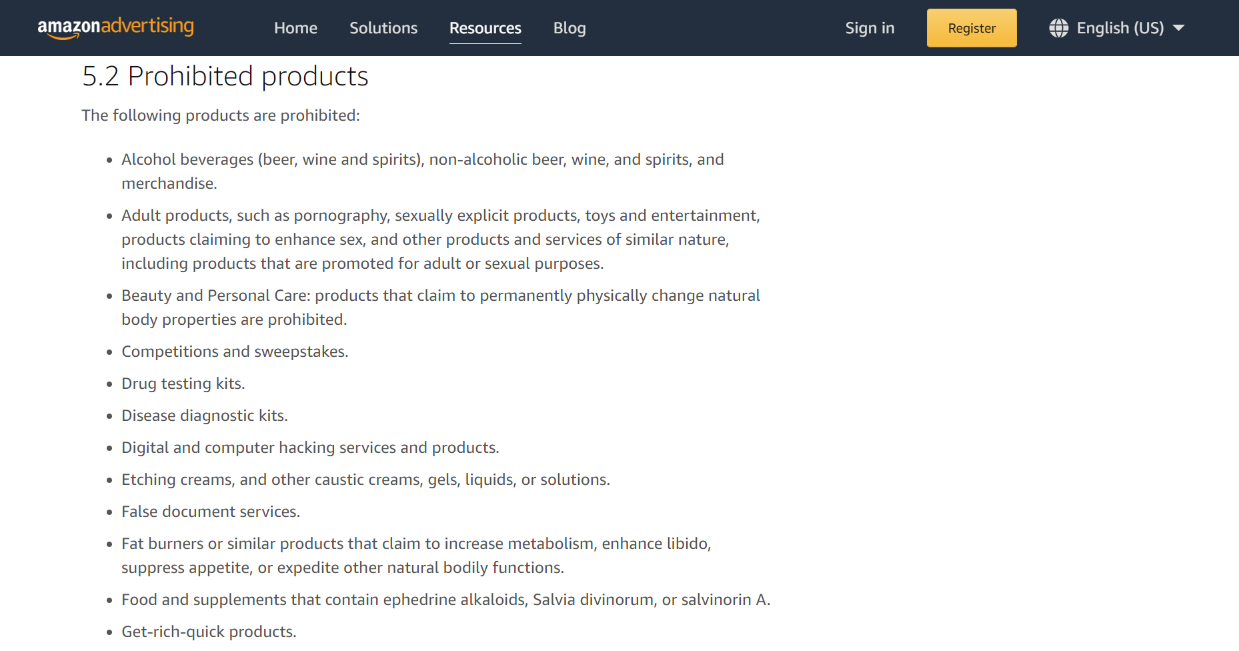 Now, what type of images do you want to use for your Amazon posts?
Ideally, you want your photos to be lifestyle images. Think Instagram. You want to show the product in action or in the setting that it'll likely be used.
You have an unlimited number of posts you can upload, so you can get as creative as you'd like, but of course, there are guidelines.
Here's what an Amazon Post looks like: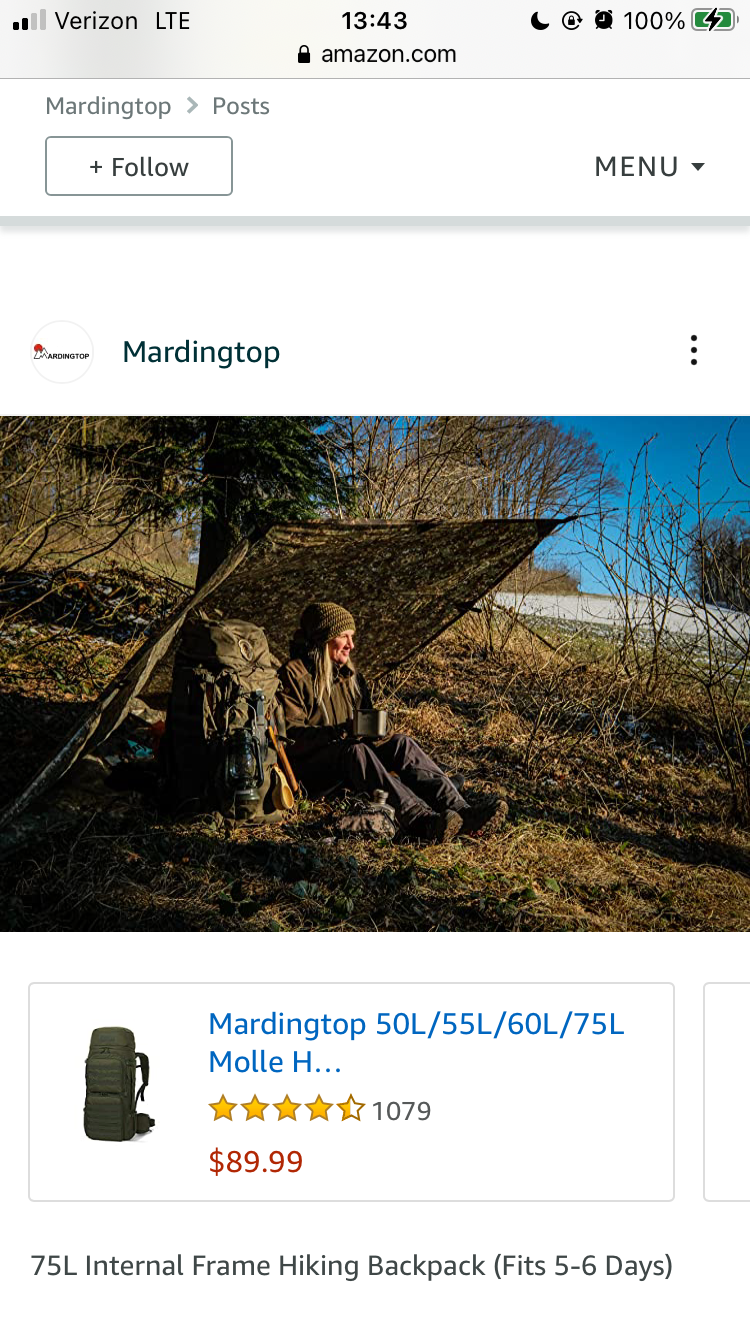 You have your brand logo and name at the top, your image, product feature, and a caption.
Here's what that same post looks like on desktop: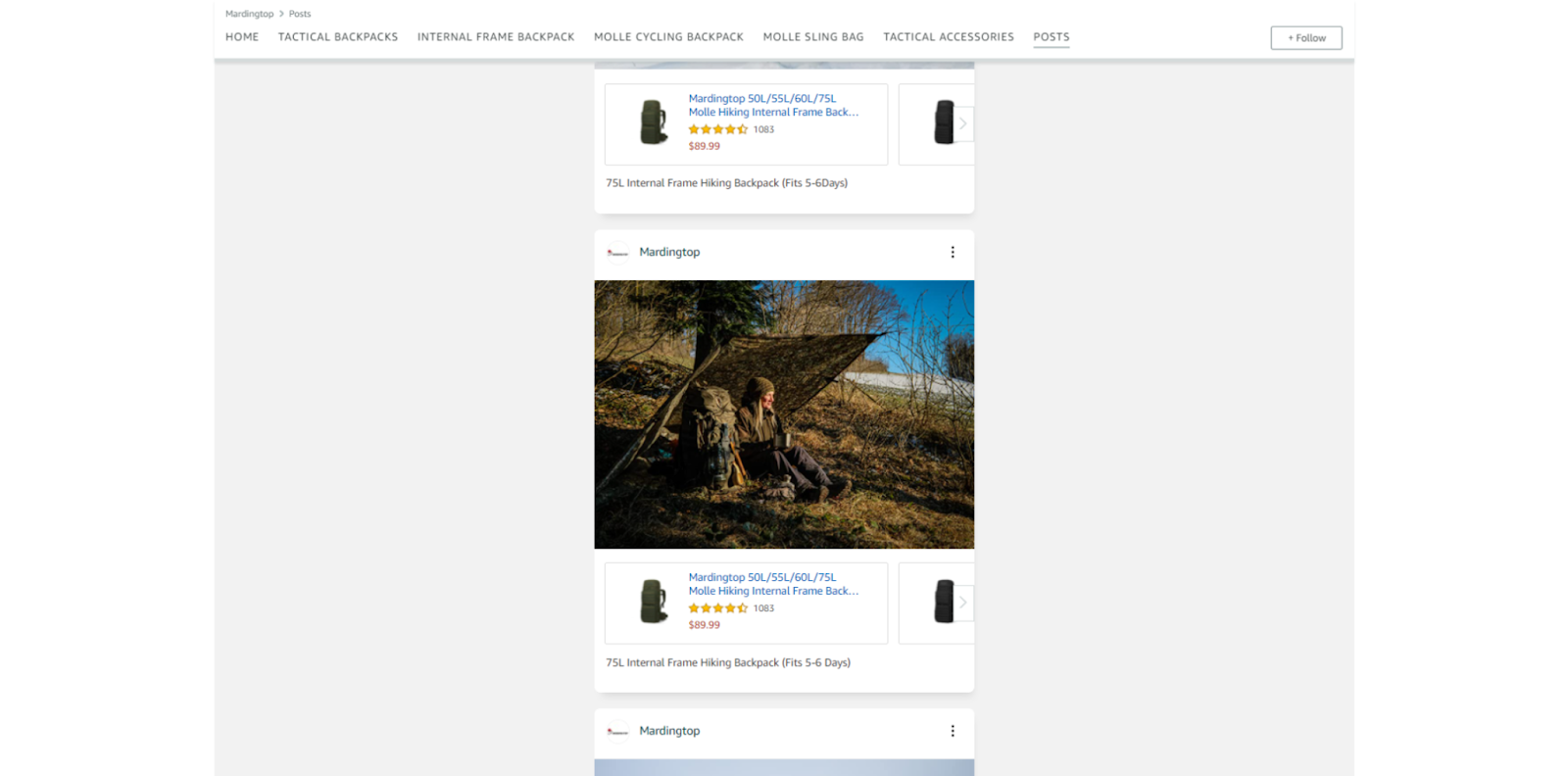 In this article, we're going to give you an overview of Amazon Posts and highlight the benefits you can get from using them. First, let's discuss the placement of these posts.
Where Do Amazon Posts Show Up?
Amazon Posts show up in several places, but unfortunately, you can't control where they show up. Here are five places you'll find them:
Your Brand Feed
By default, your Amazon posts will show up on your brand feed. A shopper can find your brand feed by going to your Storefront and clicking on Posts on the navigation menu. They can also find it by clicking on your brand logo and name in other Amazon Post feeds.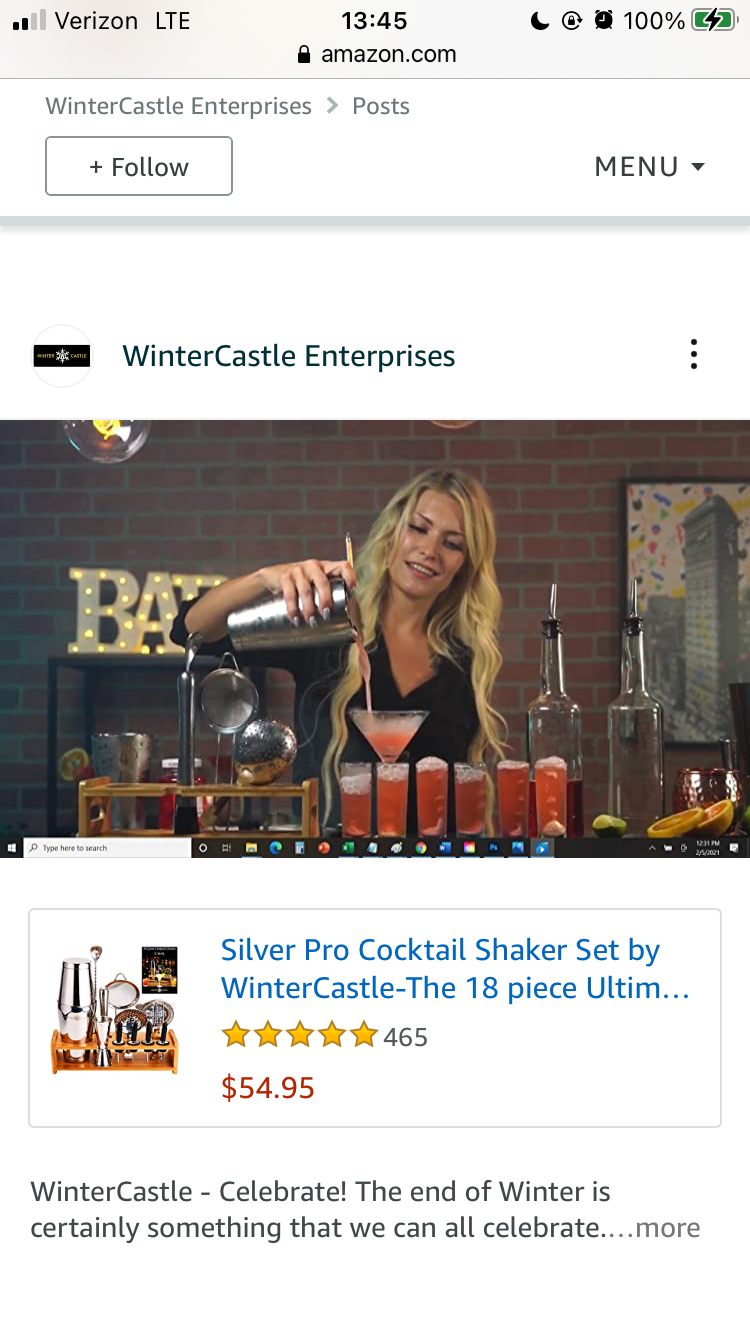 Your Product Page
Your Amazon posts may show up on your product page under a section titled "More from [insert your brand]". The posts are laid out in a carousel format.
The section is displayed between the Recommended and Questions section towards the bottom of your listing. This is a great way for prospects to discover your other products while they're already on your product page.
Your Competitors' Product Page
Your posts may show up on your competitors' product pages. Similar to how they show up on your product page, they're placed in a carousel format between the Recommend and Questions section under a section titled "Related Posts."
Now here's the thing: Just as your posts may show up on your competitors' product listings, their (your competitors') posts may show up on your listings.
When a prospect clicks on a brand logo and name within the "Related Posts" carousel, they're taken to that brand's dedicated post feed.
Related Posts Feeds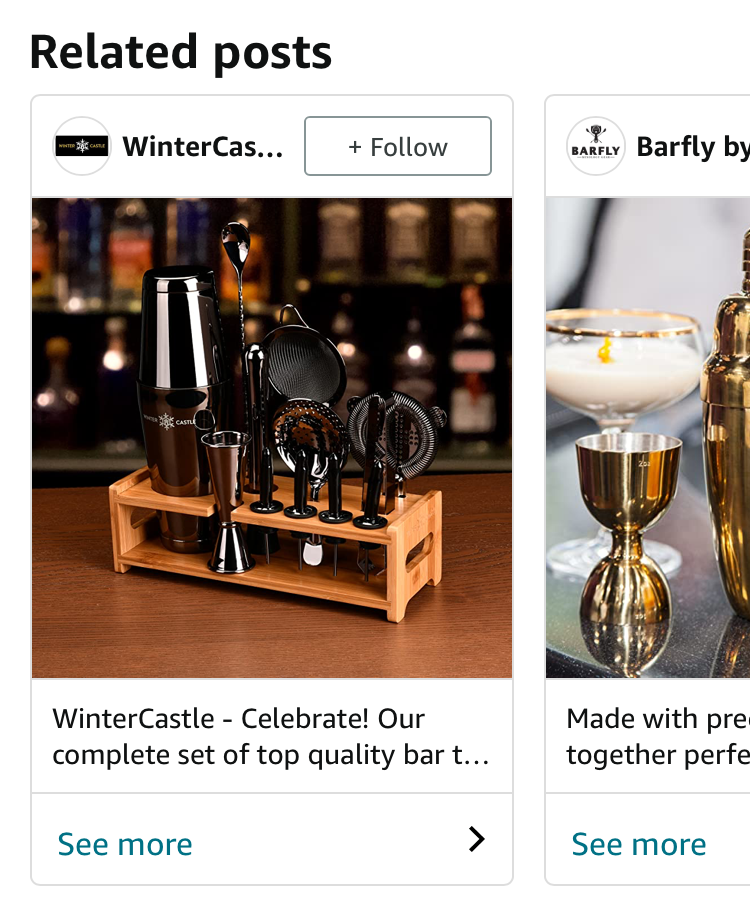 Your posts can also show on a "Related Posts" feed. It's a feed of posts selling similar products. The content is similar to the posts that show up in the "Related Posts" carousel on product pages.
"See product details" – Goes to the product page
"See all posts from this brand" – Goes to the brand's post feed
"Shop this brand's Store" – Goes to the brand's store
"Report as inappropriate" – You see a "Thanks for Your Feedback" pop up
"See more like this"
If a prospect clicks on "See more like this," they're sent to the "Related Posts" feed.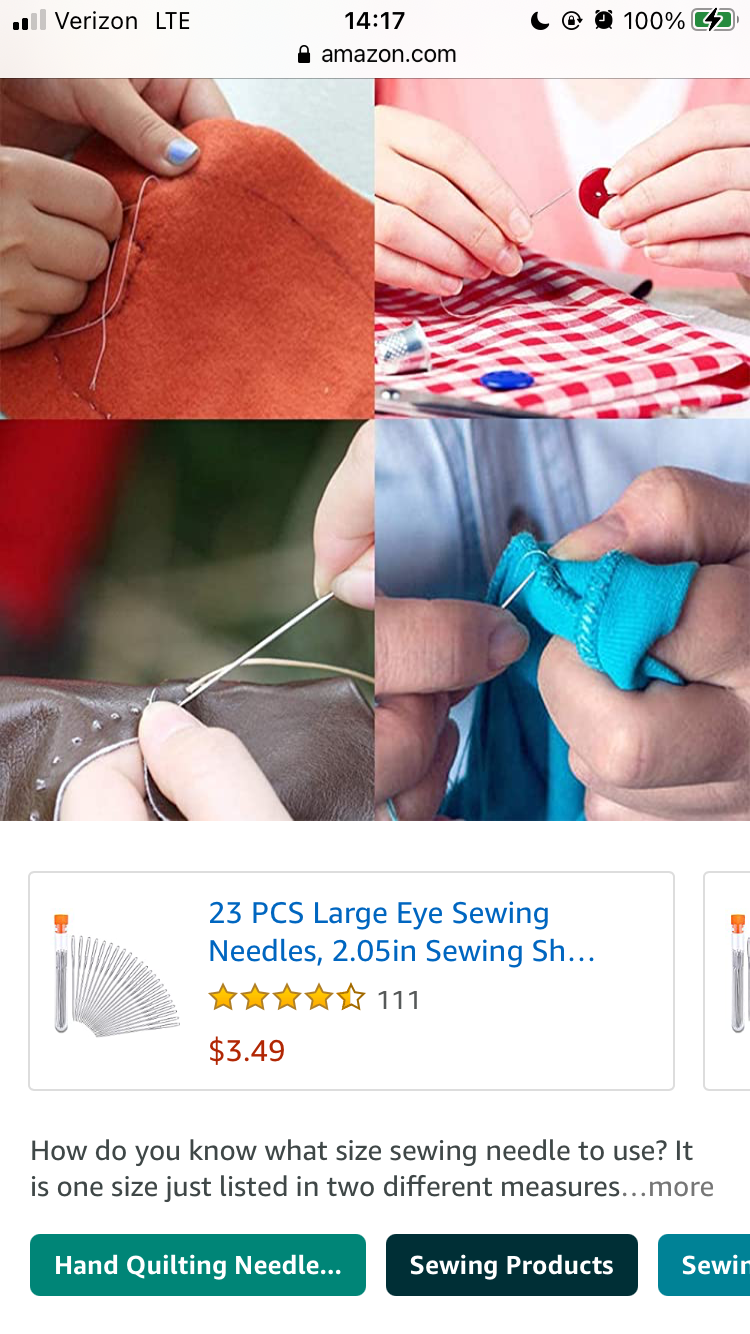 Category Feeds
Your Amazon posts can also show up on category-based feeds. Your posts are auto-categorized based on the categories the ASINs you tagged in your post are in. Under each post on the "Related Posts" feed are category tags. If you click on them, you're taken to the corresponding category feed.
When we click on the "Sewing Products" tag in the photo above, we see the "Sewing Products" category feed with a variety of product you'd use to sew: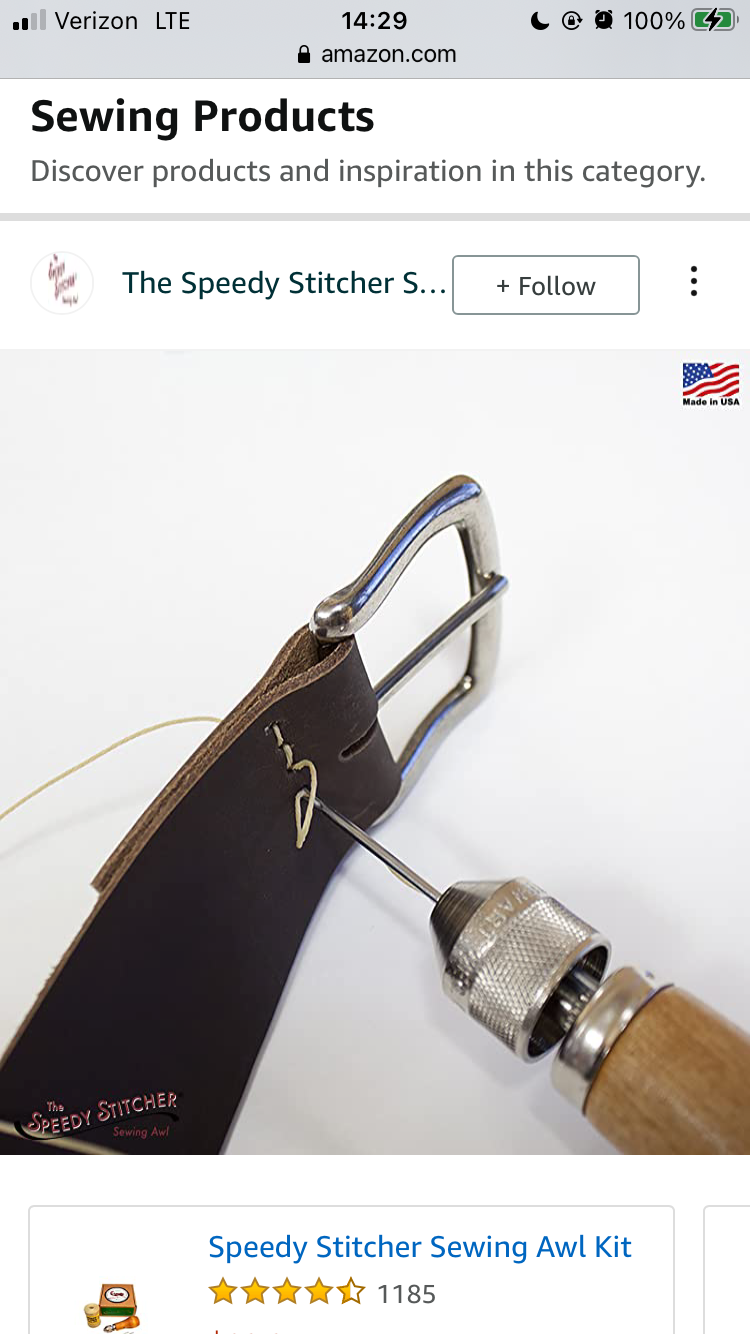 The Benefits of Amazon Posts
Benefit #1 – Increase Your Reach
One of the benefits of Amazon Posts is that it allows you to increase your brand awareness without spending money on advertising. Sure, you might spend money to do several lifestyle shots, but that's an ongoing investment that benefits your overall social media and marketing efforts.
Submit your posts and watch Amazon do the work for you by showing your post on competitor pages and category feeds. It's a simple way to increase your product line visibility and brand awareness.
You're able to link multiple products to one post; so, while a prospect may be interested in one product when they see the other products in the image, they might be motivated to explore those ones too.
Amazon Posts doesn't offer features like commenting, liking, voting, or sharing. Its sole purpose is to promote. And what's more, you can automate the process and make it easier by scheduling your posts.
Benefit #2 – Test New Concepts
Another benefit of Amazon Posts is that it allows you to test concepts. Your product may be used in a variety of settings and for several purposes. Well, with Posts, you can test various settings and purposes by posting images that reflect them in your posts and analyzing the response rate.
Yup. You can see engagement data. Here's what's available:
Viewable Impressions — the amount of times half of the post (at minimum) was shown on screen for a second or more.
Total Engagement — the number of clicks on the post.
Engagement rate — the number of clicks divided by the number of impressions.
Clicks — total clicks on a product page, brand feed, related feed, to show a product, to expand the caption. You'll only see this data in the downloadable report.
Note: As of now, Amazon Post data doesn't show you sales attribution.
Let's look at a quick example of how you might test a concept. This brand has one post of their baking sheet product being used to bake pastries and a post of the same product being used to cook turkey: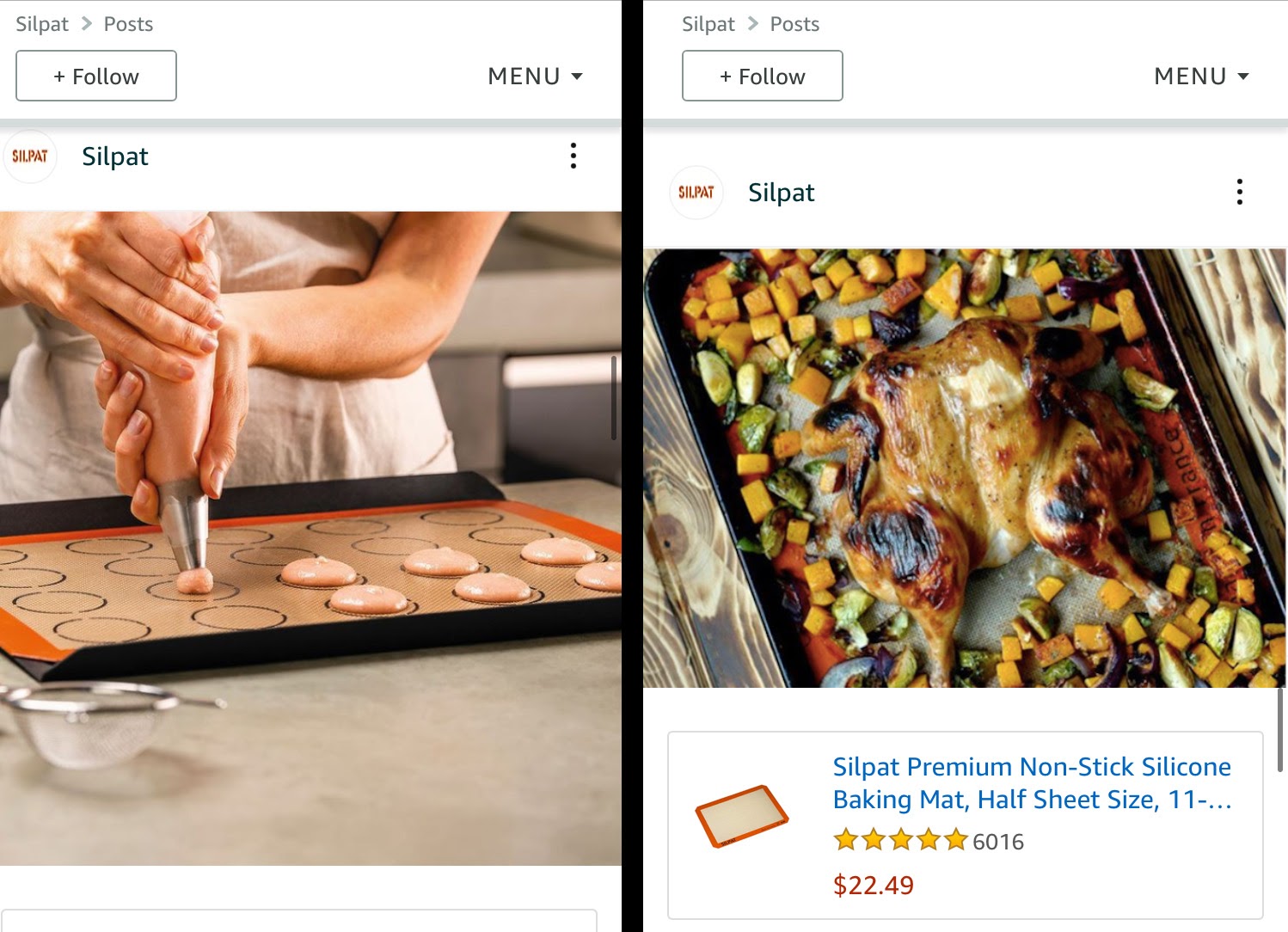 Depending on which post gets the highest engagement, this seller might include that image in their main product listing images.
Benefit #3 – Educate
Another way you might use Amazon Posts is to educate prospects and customers. You might show them how to use your product. Or, you might show them ways and places they can use it.
Amazon Posts have a 2200 character limit for your captions. So, you have plenty of room to explain what's going on in each photo.
Word of warning: There are things you'll want to avoid including in your captions. Here are several of the ones Amazon points out:
Questions that speak to the user directly (e.g., "Do you want to…?")
Customer reviews.
Requests to like, comment, or share.
Contact requests outside of Amazon.
Deals or promotions.
Content that revolves around controversial or highly debated social topics.
Emotionally charged language (e.g., "Last chance," "Don't miss out")
References to other brands or their products.
Wrapping Up
Amazon's finally providing opportunities to promote your brand and product line free of charge. Unlike on your typical social media channels, these posts are for selling, not vanity metrics like liking and commenting. If you have the bandwidth, definitely consider getting started with Amazon Posts today.
Remember, you have to be selling in the U.S., brand-registered, and have a Storefront. But once you have all that set up, you can start posting!
Happy Selling,
The Page.One Team
The Last Word:
Good news: You can edit your Amazon posts after publishing. You have the option of editing the image, caption, and ASINs. Let's say a post is getting high engagement, then you might consider adding more text to the caption that explains how a prospect might use the products that are tagged in the post.